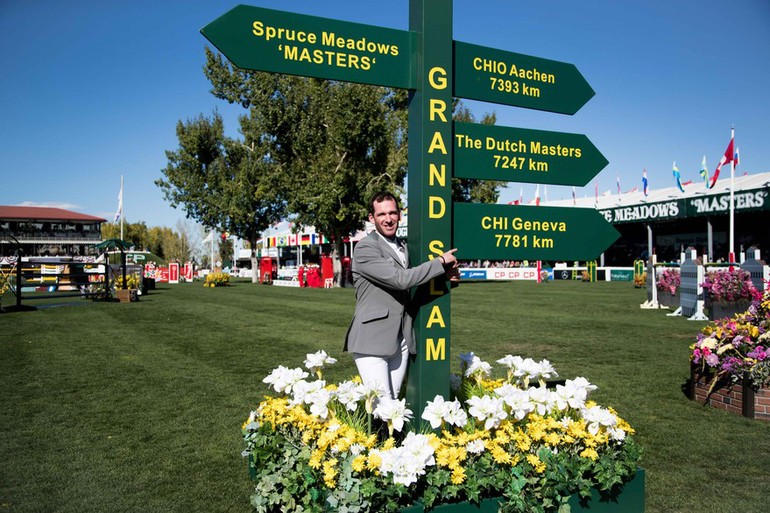 Philipp Weishaupt, winner of the CP 'International' presented by Rolex at the CSIO Spruce Meadows 'Masters 2017. Photo (c) Rolex Grand Slam of Show Jumping/Ashley Neuhof.
On Sunday, Philipp Weishaupt won the CP 'International' presented by Rolex, the Grand Prix of the CSIO5* Spruce Meadows 'Masters' 2017 and was able to celebrate the second Major victory in his career after his triumph in the Rolex Grand Prix at the CHIO Aachen 2016. The 32-year-old German rider gave an interview about his latest sensational result in the Rolex Grand Slam of Show Jumping.
Congratulations on your victory in the CP 'International', presented by Rolex, the Grand Prix of the CSIO Spruce Meadows 'Masters' 2017! Other riders dream about winning a Major their whole lives long, you are now celebrating your second win. Are you as elated as the first time round?
Philipp Weishaupt: Definitely! Aachen and Calgary, these are two Grands Prix that every rider wants to win once in their life. I simply can't describe in words the feeling of having won both in my comparably young career! My sincere thanks go to my horse LB Convall, who contributed so much towards these victories. Without him they wouldn't have been possible. He has simply incredible quality! When we won in Aachen, LB Convall was just nine years old and at the start of his career. The victory came as a surprise for many people and made him famous on the international circuit overnight. In Calgary, we were among the favourites from the very beginning and it wasn't exactly easy for me to fulfil this role. But LB Convall actually did make it easy for me. He gave me a fantastic feeling throughout the whole week of the show and he jumped superbly on Sunday.
After all he knows Spruce Meadows very well…
Weishaupt: Indeed. At the young age of ten LB Convall has already been to Calgary five times. LB Convall simply loves the "International Ring". He feels particularly at home on such a huge grass arena. We spent five weeks competing at the summer show series here in Spruce Meadows this year and last. That was always great preparation for the CHIO Aachen and of course also for the 'Masters'.
In the next two legs of the Rolex Grand Slam of Show Jumping you will however have to assert yourself in an indoor arena and on sand. How do you rate your chances at winning a further Major?
Weishaupt: I believe in LB Convall's quality, also indoors, and will of course prepare him as well as I can for the indoor shows. But we can train as hard as possible and be in fantastic form, but at the end of the day we still need that extra bit of luck on top to win a Major. What Scott Brash pulled off two years ago, namely three Major victories in a row, was sensational and probably no one will be able to repeat this feat in a hurry. But the Grand Slam legs are the four best shows in the world. Uniting the two best indoor shows and the two best outdoor shows is something very special and every rider dreams of winning the Grand Slam. I will certainly concentrate all my energy on this goal!
Highlights news film from the CP 'International' presented by Rolex at the CSIO Spruce Meadows 'Masters' 2017
---
Interview, picture and video © from Rolex Grand Slam of Show Jumping