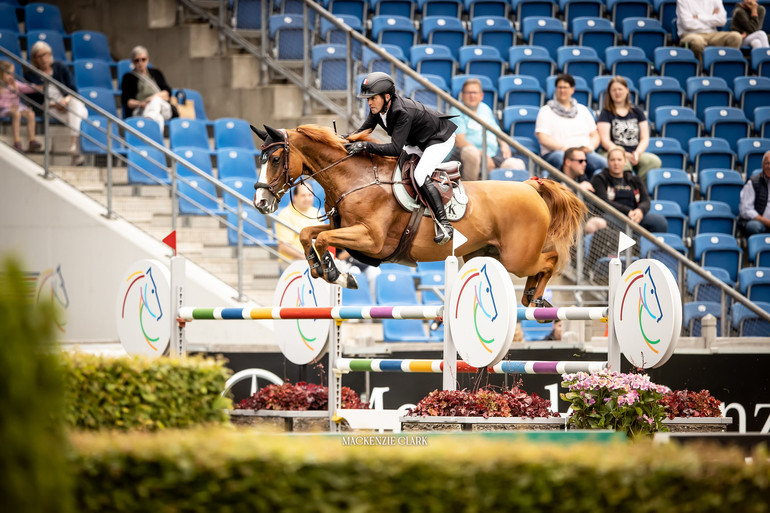 Marc Dilasser and E2K Abricot Ennemmelle won the Prize of Handwerk at CHIO Aachen. Photo © Mackenzie Clark.
With only six left to go in Wednesday's CSIO5* 1.45m Prize of Handwerk at CHIO Aachen, Marc Dilasser (FRA) and E2K Abricot Ennemmelle (Quaprice Bois Margot x Lux Z) snatched the win from Laura Kraut (USA) and Haley (Quality Time TN x Manhattan).
As no. 15 of the 42 starters in the ring, Kraut had set the time to beat to 59.53 seconds which proved difficult to match for those to follow but Dilasser managed to shave it down to 59.41 with his quick and clever 13-year-old gelding. Once again, Germany's own Maurice Tebbel and Quasi Top (Quasimodo van de Molendreef x Graf Top) were in the ribbons taking the third place with a time of 60.22 seconds, followed by Olivier Perreau (FRA) and O. Ziezo DB (Zilverstar T x Lord Z) in fourth and Jörne Sprehe (GER) in fifth aboard Hickstead White (Hickstead x Coupe de Coeur 2).
"As you can see, he's a bit wild," Dilasser laughed when speaking about his winning partner E2K Abricot Ennemmelle. "He is a little lion and I love him so much! He has already won many classes at big shows. He is a fighter and so clever."
"Riding here is just a dream! I said to my groom that I now can tell my little sons that I won in Aachen. Okay, that wasn't the biggest class, but it was still a win in Aachen!" the happy winner said after his victory.