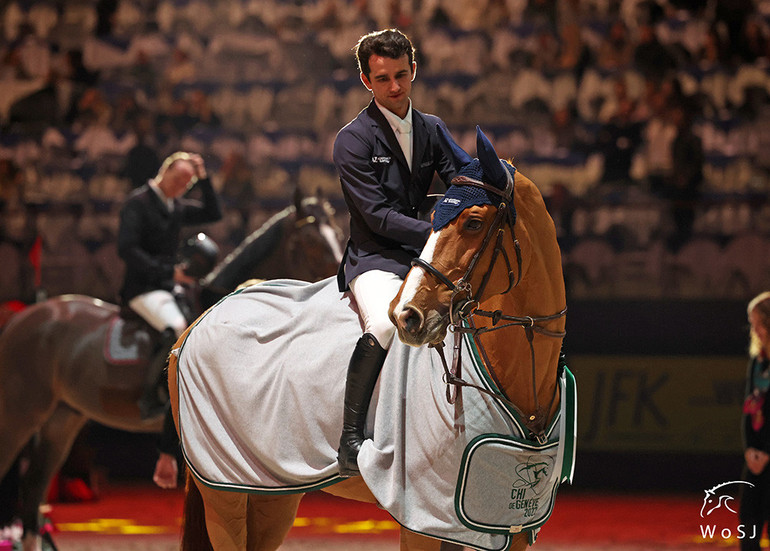 Marlon Modolo Zanotelli and VDL Edgar M won the CSI5* 1.60m Trophée de Genève, a qualifier for Sunday's Rolex Grand Prix in Geneva. Photo © Jenny Abrahamsson for World of Showjumping.
Thursday's highlight at CHI Geneva 2022 was the CSI5* 1.60m Trophée de Genève, a Table A against the clock with a jump-off. As the first qualifier for Sunday's Rolex Grand Prix, the class had 50 of the world's best horses and riders at start.
The first-round track set by course designers Gerard Lachat (SUI) and Louis Konickx (NED) counted 13 obstacles and 16 efforts, and finishing off with a delicate plank, it asked plenty of questions. However, a total of 18 pairs cleared their way into the deciding jump-off, where Henrik von Eckermann (SWE) and Calizi (Cellestial x Stakkatol), Martin Fuchs (SUI) and Commissar Pezi (Commissario x Bockmann's Lord Pezi), Ben Maher (GBR) and Dallas Vegas Batilly (Cap Kennedy x l'Arc de Triomphe Bois Margot), Mclain Ward (USA) and Contagious (Contagio Z x For Keeps), Shane Sweetnam (IRL) and James Kann Cruz (Kannan x Cruising), Peder Fredricson (SWE) and H&M Christian K (Namelus R x LBH Calvados), Harry Charles (GBR) and Borsato (Contendro I x Nijinski), Laura Kraut (USA) and Baloutinue (Balou du Rouet x Landor S) were joined by Jana Wargers (GER) and Limbridge (Guardus Limbus x Cambridge 8), Nicola Philippaerts (BEL) and Katanga vh Dingeshof (Cardento 933 x Tornedo FCS), Victor Bettendorf (LUX) and Mr Tac (Non Stop x Toulon), Wilm Vermeir (BEL) and Iq van het Steentje (Toulon x Kannan), Christian Ahlmann (GER) and Dominator 2000 Z (Diamant de Semilly x Cassini), Gilles Thomas (BEL) and Calleryama (Casall x Contender), Steve Guerdat (SUI) and Venard de Cerisy (Open Up Semilly x Djalisco du Guet), Marlon Modolo Zanotelli (BRA) and VDL Edgar M ( Arezzo VDL x Marlon), Pieter Devos (BEL) and MoM's Toupie de La Roque (Kannan x Nabab de Reve) and Andreas Schou (DEN) aboard Darc de Lux (Darco x Contender).
In the end, only the top seven delivered another clear in the jump-off where Sweetnam and James Kann Cruz took an early lead when stopping the clock on 35.26. However, Bettendorf and Mr Tac crossed the finish line in 34.98 seconds and held on to the time to beat until Zanotelli and VDL Edgar M entered the ring. Shaving off over a second on Bettendorf's time, the Brazilian took home the win with a time of 33.87, leaving Bettendorf to the runner-up position, Sweetnam to third, Ahlmann to fourth and Vermeir to fifth.
"Edgar is just amazing," Zanotelli said after his victory. "He loves the ring here and always jumps great here. I normally never put him in a big class on the first day, but now he that he has a lot more experience he felt ready for it – so I thought I will give it a try. The jump-off suited us, and I think I made the difference at the beginning from one to two. Edgar is very good in the roll-backs; I think I got a few strides less than the others from two to three and then I was a bit careful to the double – I did not take all the risk there. Edgar is a naturally fast horse, even though he might not always look like that but he is quick on the ground."
"He is really an amazing horse," Zanotelli continued. "I have to thank the Gjelsten-family for giving me the chance to ride him and the VDL Stud that brought him to me. I am just a lucky rider, and so pleased and happy with him."