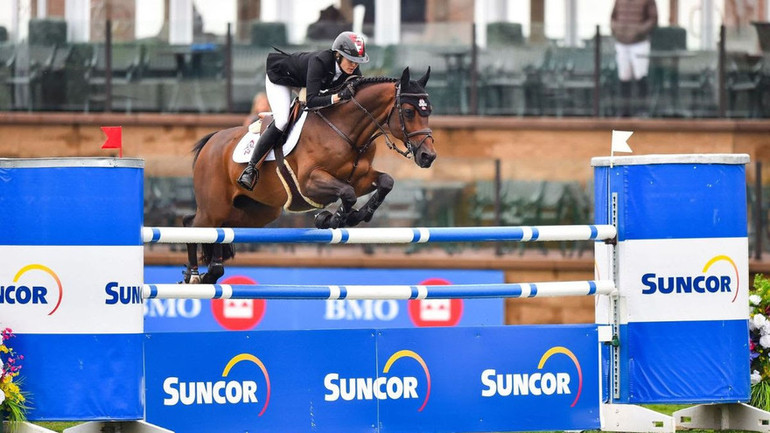 Tiffany Foster and Brighton over the signature fence in the Suncor Winning Round. Photo © Spruce Meadows Media/Mike Sturk.
Edited press release from Spruce Meadows
---
Saturday of the Spruce Meadows 'Masters' brought with it a rainy morning to start off the BMO Nations' Cup day of the tournament. The day began with the 1.50m Suncor Winning Round, a competition that features two rounds; an initial first round, and then a second round in which the top 10 placed riders after the first round return to determine the final placings.

The second round of the competition featured the following riders, who returned to the ring in reverse order of qualification:
1. Jordan Coyle (IRL)
2. Matthew Sampson (GBR)
3. Daniel Coyle (IRL)
4. Tiffany Foster (CAN)
5. Conor Swail (IRL)
6. Eric Lamaze (IRL)
7. Jim Ifko (CAN)
8. Amy Millar (CAN)
9. Nayel Nassar (EGY)
10. Zoe Conter (BEL)

In the end, only four of these riders had two clear rounds: Lamaze, Nassar, Swail, and Foster. It was Foster's time of 51.82 seconds aboard Brighton (Contendro II x Quick Star) that secured her victory, after she was able to quickly navigate a difficult track designed by FEI course designer Leopoldo Palacios (VEN). Conor Swail and Koss Van Heiste (Breemeersen Adorado x Contact vd Heffinck) finished second in a time of 52.12, while third place went to Nayel Nassar and Igor van de Wittemoere (Cooper Vd Heffinck x Orlando) in 52.62.
It was a great win for Foster, and her second win so far of the Spruce Meadows 2021 September Series.