Text © World of Showjumping
---
With France's former world number one Simon Delestre in the saddle, the 10-year-old gelding Cayman Jolly Jumper (Hickstead x Quaprice Bois Margot) has taken the international five-star scene by storm this season. The two were a part of the winning French team in the CSIO5* Nations Cup in Knokke, jumped double clear in the CSIO5* Nations Cup in Rotterdam and in the CSIO5* Nations Cup in Rome – performances that gave the pair a spot on the French team for the Agria FEI Jumping World Championship in Herning, Denmark, where they impressed to finish 7th overall.
To learn more about the fiery gelding, World of Showjumping spoke with Delestre, as well as Cayman's breeder Nathalie Chevalier, Grégoire Oberson – who discovered Cayman when he was six years old, and Duarte Romao – who rode Cayman from he was seven to nine.
Sensitive like his mother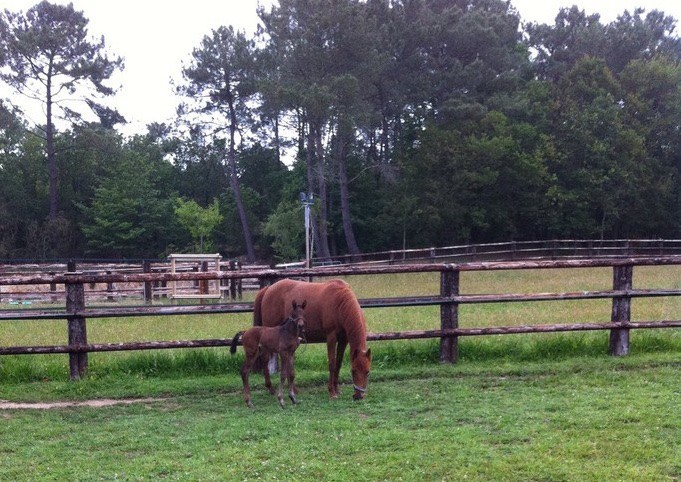 "As a foal, he was not complicated and had a very good surrogate mother. He was a colt like the others; a bit small, but very intelligent," Nathalie Chevalier, Cayman Jolly Jumper's breeder, says. Photo © Nathalie Chevalier.
Nathalie Chevalier, Cayman Jolly Jumper's breeder, runs Haras Jolly Jumper in Vannes, France. "Riva de Pleville is a mare who was not used to the best of her abilities because she remained under my saddle – and I am an amateur rider," Chevalier tells about Cayman's dam. "She has a lot of blood and energy and a fabulous jumping quality. At each show I did with her, I got offers for her. However, I made a choice: I wanted to keep her for my pleasure – and she taught me a lot. I also wanted to breed with her, and do embryo transfers. Cayman Jolly Jumper is the first embryo transfer we did."
"For me, the greatest quality for an athlete – human or horse – is their mind. And Hickstead had always fascinated me because he seemed to have an infallible mind," Chevalier tells about Cayman's sire, Eric Lamaze's legendary Hickstead. "I was convinced when I saw Hickstead jump in La Baule in 2011. A year later, Cayman was born in the field. As a foal, he was not complicated and had a very good surrogate mother. He was a colt like the others; a bit small, but very intelligent. There was one particularity about him though: He would sit on his hind-end, like a dog, and stare at the landscape."
Chevalier kept Cayman until the gelding was four. "I rode him during the winter of his fourth year, before giving the ride to Paco Diouf and Mathieu Bourdon. I always believed that Cayman had something more than the others; he had so much blood and energy. I always called him "my little crack". However, he is not easy, because he has a real personality and the rider must be accepted by him. Under saddle, he is extremely sensitive – just like his mother. Seeing him now, I feel a satisfaction of having been right to believe in him. He has confirmed all the potential I saw in him and has fulfilled all my hopes and dreams. My only wish is that he will be well taken care of, because he has already given so much for the French team and for his riders – especially Simon."
The next King Edward?
Grégoire Oberson discovered Cayman when the gelding was six years old. "Cayman had been jumping well, but had already been with a couple of different riders, because even though he jumped great, he had a very special character," Oberson recalls. "He was not so easy in the stable, not simple to ride – in that sense he is living up to his name. However, when I saw him, I thought he was something really special. I used to own Clooney and a few other good horses, and when I saw Cayman, I knew he had something of that calibre in him. There was quality, scope – and a very strong character. In my opinion, a character like his is needed for the very top of the sport. What really caught my eye with Cayman was his type; he seemed to have a strong body. He was super careful, had a huge stride and jumping was easy for him – it is in his blood. The easiest thing with him is the jumping; he judges the jumps on his own. The box is his territory; outside he is easier to handle."
"Even though I found the horse, I owned him together with Philippe Berthol," Oberson explains. "In December last year, Berthol wanted to give the ride to Simon Delestre. My job is to buy young horses, produce and sell – I am not a sponsor. Therefore, I sold my part of Cayman so that he could go to Simon and do the big sport with him and so far, they have been very successful together."
"No, he has a huge canter," Oberson says when asked if Cayman's small size ever worried him. "I am 58-years-old and I have been around long enough; I remember horses like Jappeloup. When you look at the history of the sport, there are many great horses that have been very small. Hickstead was not big either! In my opinion, Cayman is one day going to win something huge – I am sure about that. I am very happy to see him now; I always said he will be one of the best horses in the world. Maybe this year in Herning he was still lacking a bit of experience, but Simon is one of the best riders in the world. For Cayman, you just had to find the right rider; good and sensitive, but not too tall. Simon has the exact profile to ride this horse. With horses you always have to be mindful of what you say, but for me – touch wood – Cayman is the best French chance for the Paris Olympics. He can become the next King Edward."
Outstanding intelligence
After showing at youngster level as a five- and six-year-old with Diouf and Bourdon, Duarte Romao – who rides for Grégoire Oberson - took over the ride from Alexa Ferrer when the gelding was seven. "I did a few shows with him, and he was an unbelievable jumper – always clear," Romao recalls. "He was complicated in the stable though; it was not easy to manage him. However, he is for sure one of the most intelligent horses I ever met, and you need to treat him as such – you cannot control him."
When Cayman turned eight, Romao took him to Vilamoura, where the gelding continued his clear round record. "Shortly after, the first wave of Covid broke out and all the shows got cancelled," Romao recalls. "We were at home for nearly two months and then Cayman was sent to Steve Guerdat. He was there for about four months before he came back."
As the gelding turned nine, Romao took him to a few bigger shows. "We won the three-star Grand Prix in Peelbergen. After our win in Peelbergen, he started to jump better and better. He is a small horse though, and it is complicated to get to the first fence at the show, but after the first fence, he is the easiest horse I ever rode. He is talented, has so much scope, he is careful. Regardless of the distance, I know he can clear it, because he has so much energy and scope," Romao tells.
"It is always a pleasure to see horses do well with other riders," Romao tells about the success Cayman has gone on to enjoy since leaving his stable. "I have been lucky to ride a few good horses during my career – like Excalibur from Penelope [Leprevost] and Qlassic Bois Margot from Simon [Delestre] – but I never rode a horse like Cayman. It was hard to convince people about him though; I was telling everyone that I thought he is one of the best horses in the world – and I think I was not wrong."
A story to remember
In the fall of 2021, Cayman's co-owner Philippe Berthol – also the co-owner of Hermes Ryan – wanted to give Delestre the ride on the gelding. "I was aware that other riders had tried Cayman, but he is so special, no one was going for him," Delestre recalls. "I knew Cayman was complicated to ride, but when I saw him jumping, I fell in love. His jump, what he could do with his body – I was really impressed. The only thing I was really worried about, was that Steve [Guerdat] had ridden the horse, and they didn't match. That worried me, because if you don't match with a rider like Steve… However, I thought that maybe I could find a way to manage him. We bought Cayman in 2021 without me trying him, because I think it is very difficult to try a horse like him. With such a delicate horse, I believe you have to really know them before shaping an opinion and I didn't want to make a mistake."
"I knew I had to learn to understand Cayman," Delestre continues. "He is not a horse that comes to you; you have to find a way to approach him and create a relationship with him. In the very beginning, I didn't even jump him – I just wanted to a get a feeling of him. If you do something he doesn't like, he gets really hot and active. I wanted to find the best way to start jumping, and the first time I did the feeling was something different. I would say he has the scope of Berlux combined with the cleverness of Ryan. He has a massive canter and all the scope in the world, but when you see his type, you cannot tell where it all comes from. I have no explanation for that. This is what is so interesting with horses in general; you see a type, you think you know something… But we must keep our minds open and keep thinking outside the box; horses teach us every day."
Cayman is a delicate horse and still a challenge to handle. "We have had to be very cautious with him, but he is getting better all the time," Delestre tells. "My groom Audrey has done an incredible job with him. The way she handles him has made him friendlier, which is very nice. He is a very cautious horse, and if he doesn't know you, he can be scared and aggressive. Now, he trusts Audrey and with her, he is like a dog. I think especially with a horse like Cayman, having the right people around him and a match with his rider is essential. He is my type; small and bloody, with the last quality. He is a small horse, but I feel comfortable on him."
Endless ability
"Finding out what a horse likes and dislikes always takes time, but especially with horses as sensitive as Cayman," Delestre continues. "When I felt ready, we went to Valence and jumped a 1.45m on the first day and were double clear. The second day, I directly put him in a 1.50m class, and again; double clear and placed third. Then, I went to La Coruña for the five-star World Cup show. There is a good Grand Prix on Saturday, and I entered Cayman in this 1.60m class. He won, and that was the second show we did together. Normally, this never happens so quickly; usually you have to work for months or even years, to win a class like that. He was the only double clear in the class, and it was his first five-star show, his first indoor show. After this, I was convinced: He might be tiny, but his capacity is something different, nearly something I have not seen before. Cayman is the last careful, scopey and has so much blood, he is absolutely not spooky – what else could you want?"
"This year, he has been placed in every Grand Prix he has jumped," Delestre says about the impressive record the tiny gelding has. "To be only ten, doing his first season on this level, for me his results are something really incredible. I still have a feeling I have work to do with him and things to fix though – there is still room for improvement. Every time I show him, he gets better, he gives me more confidence and he trusts me more. I spoke with Eric [Lamaze], and he told me how Hickstead was also very hot and active when he was younger and difficult to handle in the box – so they seem quite similar. Even their technique looks quite the same; they are similar in many ways."
Wouldn't change a thing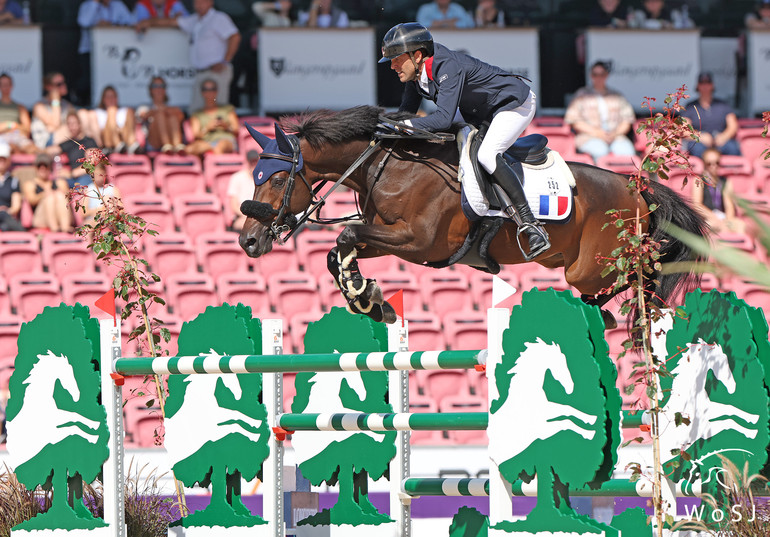 "Now, we can only continue to work and take care of him; he is a very special horse. I don't want to compare horses, because for me, every horse is a unique story. However, I believe Cayman will for sure be a big one – a story to remember," Delestre says. Photo © Jenny Abrahamsson for World of Showjumping.
Watching Delestre and Cayman in the ring, they can often be seen approaching the first fence in trot. "The most difficult part of the course with him are fences one, two and three, after that it's easy," Delestre explains. "In the warm-up, he gets hot because we keep jumping the same fence. I try to jump as little as possible in the warm-up, and because of that, we usually arrive in the ring too fresh. When he doesn't know where he is going, he calms down, but when he sees the first fence, he gets aggressive; he wants to go. The less speed I have, the easier it is for him, so I approach in trot as far as I can. I know he can jump 1.60m out of nothing – which is also something incredible."
"At home, on the flat, he is actually very nice to ride now. I don't jump him so much at home; he doesn't need it as he knows what to do in the ring. Just for his body, I do a few jumps. However, he is not a horse you can jump gymnastics or do ground poles with – this you can forget. I jump a few single fences and that's it. Cayman is a horse you cannot put in any system; he has his way and it is that or nothing. You either adapt, or you don't have a chance. In the end, there is nothing I would change in him. He is what he is, but he has endless ability. However, this is how I always work; I don't like to try and change horses, I prefer to let them be who they are and only try to help them with my riding. That is the only way I want to ride."
"I know I can still improve him," Delestre says about the future with the gelding that was recently secured for the French rider by his owners H-Jumping. "I'm sure that next year, he will be even better. He has jumped some of the biggest Grand Prix classes this year like it was nothing. Jumping the Grand Prix of Rome with the feeling of ease that he gave me, doesn't happen every day. I am also really, really proud of him and the job he did in Herning; it was something incredible, as he is only ten and jumped at this level for the first time. Every round, I felt he jumped with a lot of ability and it was a great feeling for me and a great experience for him. I can only thank H-Jumping and the Hochstadter-family for securing him until the Olympics in Paris. Now, we can only continue to work and take care of him; he is a very special horse. I don't want to compare horses, because for me, every horse is a unique story. However, I believe Cayman will for sure be a big one – a story to remember."
No reproduction without written permission, copyright © World of Showjumping.com