Producing young horses from scratch to the top, competing at the highest level of the sport and mentoring young talents, plus being a father of four – Ireland's Shane Breen has a lot going on. Traveling all over the world, we caught up with Shane to discuss the ever-expanding sport of showjumping and the horse power needed to stay on top.
"The showjumping calendar has become so global with many great events. However, you do need a team of very good horses behind you," Shane begins. "It is not just one five-star show in a weekend, it can be two or three of them – it is incredible. It gives everybody the opportunity to jump at the highest level, and it gives everybody something to aspire to. Personally, I think the sport is extremely healthy. For young riders that have talent and want to do the job it is a great time to be a part of it. Over the last 20 years, I think the sport has proven that it is just growing and growing – which is marvellous."
"I think it is an extremely foolish thing, to say that there is too much of anything," Shane says when asked if the event calendar is starting to push the athletes, both equine and human, too far. "These are top class events and organizations. We should be praising the people who run them, and be a 100 % behind them," he says. "Certainly, there are not too many shows. There are so many talented young riders, talented young horses and talented combinations," he explains. "It is up to each individual rider and at the end of the day, everyone is professional. You don't have to over-jump the horses, even if you have the opportunity to do all these great events. The more, the merrier, I think."
The feather in the cap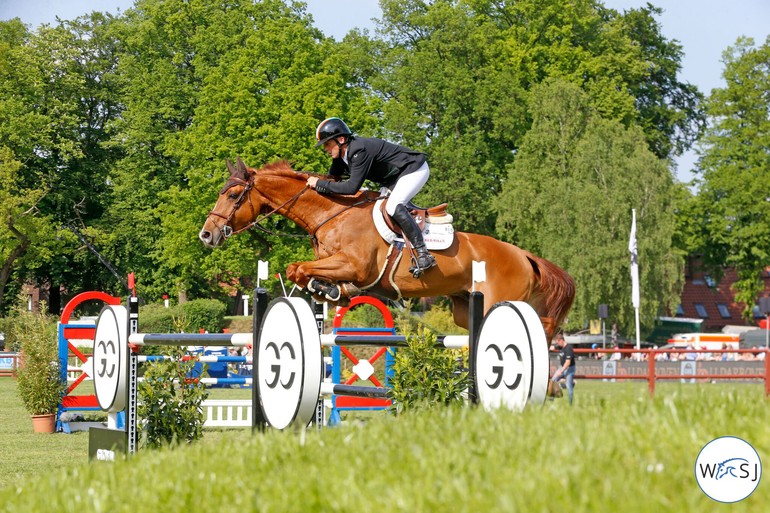 "Over the last 20 years, I think the sport has proven that it is just growing and growing – which is marvellous," Shane says. Photo © World of Showjumping by Jenny Abrahamsson.
Shane himself has a strong group of horses at the moment – something he has worked hard and long for. "I have brought a lot of horses from novice up top level," he explains. "For a lot of my owners and investors, that is the program we work with and once they are at top level we usually sell them. It works really well for all concerned. When you have a plan like that, you know what lies ahead," he says. "Both Ipswich and Golden Hawk I have produced myself from they were 6-year-olds. It is quite nice when you bring them from 1.20m classes all the way up to five-star Grand Prix level. Having purchased them as youngsters, I am very fortunate when they turned out as we hoped they would be."
It was with these two horses that Shane had an incredible 2018. "It was interesting," Shane smiles humbly. "It was a great honour to be a part of the Miami Celtics for the Global Champions League. We had a very good team there and Helena Stormanns does a really good job managing it. Frank and Monica McCourt, they are very supportive of all of us. I suppose one of the highlights was to win in Monaco, which also qualified us for the Prague Playoffs. I think in general all my horses performed well all year at different events. I am very fortunate to have so many good owners and investors, as well as an unbelievably driven and talented team of staff, that makes the job a lot easier. Every single member of the Breen team is top class, but ultimately without the investment in good horses, the rest doesn't happen. Winning in Liverpool with Golden Hawk was a nice way to finish the year, especially since he has been second in a lot of major Grand Prix classes. To actually win one with him was a way to finish the year on a high note."
To win with horses that he has produced himself and believed in for a long time, makes the victories much sweeter for Shane. "It is like a feather in your cap. It gives you confidence to go and buy young horses, to be patient enough and give them the time they need."
Being patient is at the core of Shane's system when it comes to working with the future stars. "Each horse is an individual and some of them progress quicker than others in regard to height categories," he explains. "I think if you are of the opinion that you have a real super star in the making, what they do as four- to six-years-old is not really crucial. When they come seven, if those horses can go and jump 1.40m classes comfortably and you educate them how to be competitive without being speeding around – that is enough. When they are 8-years-old, it is the next step. Then I usually try to do some ranking classes. I am not a great believer in pushing the horses when they are young. I am kind of happy just popping around, so that they are comfortable with themselves. They must be brave in the ring and go around the courses a bit by themselves. I think the bottom line is, because the courses are so technical now-a-days, the horses need to be very obedient and very rideable. If you can install that in them when they are young, the rest is easy afterwards."
The Breen-business
Even though he's constantly on the road, Shane's home base is at the world famous All England Jumping course, Hickstead in the UK. "Obviously I don't get to ride in any of the arenas, but we have a lot of sand rings there that we can use," he laughs when telling us about his farm, Breen Equestrian Ltd, that counts 44 boxes and all the facilities needed to run a successful business and a complex of breeding barns to house the herd of breeding horses. "It is perfect really," Shane says. "The horses vary from 4-year-olds up to Grand Prix horses and every staff member has their own lot of horses that they ride and look after. On the breeding side of things, we breed with about 20 to 22 mares a year, and have quite a few stallions. I ride for Team Z Seven, and Sheikha Maitha bint Mohammed bin Rashid Al Maktoum, the owner of the team, likes to do a lot of breeding as well so we have a lot of young horses coming along. When they become three years old, I send them to Ireland and they get under the saddle there. Then they come back, and we take over the reins. We try to produce the young horses so that they can suit everyone."
Even though the Breen-operation at Hickstead is huge, it is all run by the family. And family is where it all started for Shane. "They always brought us as a family to Dublin Horse Show," he says about his parents. "I won the pony championships in Ireland, got a silver medal at the European Championships – Malin Baryard-Johnsson beat me," he smiles. "My family, my uncle and my father in particular, has been big supporters of my career."
The now 44-year-old knew early on what he wanted to do for a living. "I was 12-years-old when I bought and sold my first pony – and I thought it was fun," Shane smiles. "A lot of people thought I should have done eventing, because I enjoyed the hunting and cross country so much. I did try and did two events successfully, but my heart was always for showjumping. I tried a bit of racing too, when I was 16-years-old. Tommy Wade, who was Irish Chef d'Equipe years ago, had a racing stable and I rode there. It was great fun and one day I asked Tommy what he thought I should do – showjumping or racing. He gave me a good advice, and said: 'If you go racing, you will have many, many broken bones in your body – it is a very hard life. And you will probably be retired when you're 45. But if you go showjumping, your body will have a more comfortable time and if you are foolish, you will still be jumping when you're 60.' So, I thought I would go showjumping. And I definitely don't regret it," Shane laughs.
The main motivation
To this day, his family is what keeps Shane going. "My kids," he answers when asked about his motivation. "Lorna is 11, Darcy is 9, Dougie is 5 (named after his grandfather Douglas Bunn) and the youngest, Wolfie, is four, and they all ride. With four kids at home, doing all these great shows and traveling around the world would not be possible without my wife Chloe. I am away a lot, pretty much every week Wednesday to Sunday, for 50 weeks of the year. My kids are a huge fan of the LGCT as they mainly finish on Saturdays so I can be at home on Sundays. Chloe has sacrificed a lot to allow me to do this. She was also a successful showjumper, winning the Speed Derby at Hickstead in 1999. We are the only husband and wife combination to do so. Now she does a fantastic job with the kids whilst running Breen Equestrian with me and fulfilling her obligations as a board member and co-owner of the Bunn family businesses – Hickstead and Bunn Leisure."
With a successful 2018 season behind him, Shane is now looking forward to exciting events in the coming year. "It would be nice to represent Ireland at the Europeans," he says about his goals. "And to do some Nations Cups, it is always good fun to be a part of the team. I will be a part of the Miami Celtics again this year, so I am looking forward to a lot of team competitions," he adds. "I have some new, younger horses that are turning eight and nine, and I plan to do some major Grand Prix classes with them this year. There are a lot of things to look forward to."
---
Text © World of Showjumping by Nanna Nieminen
Photos © World of Showjumping by Jenny Abrahamsson and Nanna Nieminen, as well as from the Breen-family's private collection
No reproduction without permission, copyright © World of Showjumping