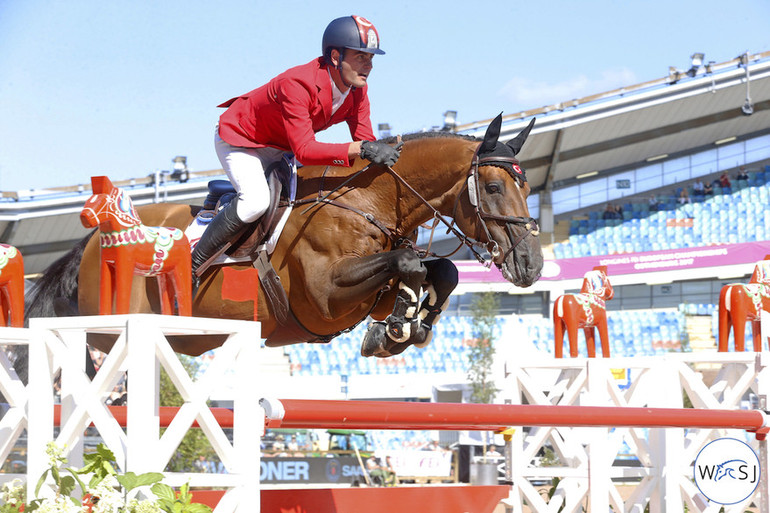 Derin Demirsoy and Harry K at the European Championships in Gothenburg. Photo (c) Jenny Abrahamsson.
After years of training with Bert Romp, Henk Nooren and Jos Lansink as well as graduating from his international business-studies with a major in finance, 23-year-old Derin Demirsoy is ready to stand on his own feet: "I know I still have a lot to learn, but in the future I would like to see myself having produced nice young horses, have my own management and the business running smoothly. I love producing younger horses, and also enjoy a bit of dealing next to the competing. For me, it's about the whole package," Derin explains as he meets World of Showjumping at the Longines FEI European Championships in Gothenburg where he was one of the two individuals flying the flag for Turkey.
The talented Turkish rider, who is based close to Maastricht, Netherlands has despite his young age made himself a name in Europe. "I feel very much at home," he told us about Maastricht, his home away from home. "In the equestrian world, I feel more at home in Europe than in Turkey. Basically, because I moved out when I was very young, and most of my friends are here in Europe."
It all started far away though – in Istanbul, Turkey to be more precise, when Derin's parents thought their boy needed to be more involved with nature and animals. "I was three and a half when I started to ride at a pony club in Istanbul. Riding is not a big sport in Turkey, but it is growing," Derin tells. "Luckily, I was in a generation where the sport peaked and we had good teams for children and juniors. At the end of the junior years, most of the people quit and chose further education. I wanted to combine both sport and studies and that is why I came over to Holland and Maastricht University."
Derin moved to Netherlands when he was 17-years-old, and started combining riding with studies. "I studied international business with a major in finance and graduated in 2015," Derin tells. "I really like finance, math and calculating – math and science I have always loved. I have always been good at school, and I really enjoy studying," Derin smiles – a statement not so often heard from a young man with goals set high in sports, too. "I will eventually do my masters but as long as everything is going well with horses, I want to see how far I can get in the sport."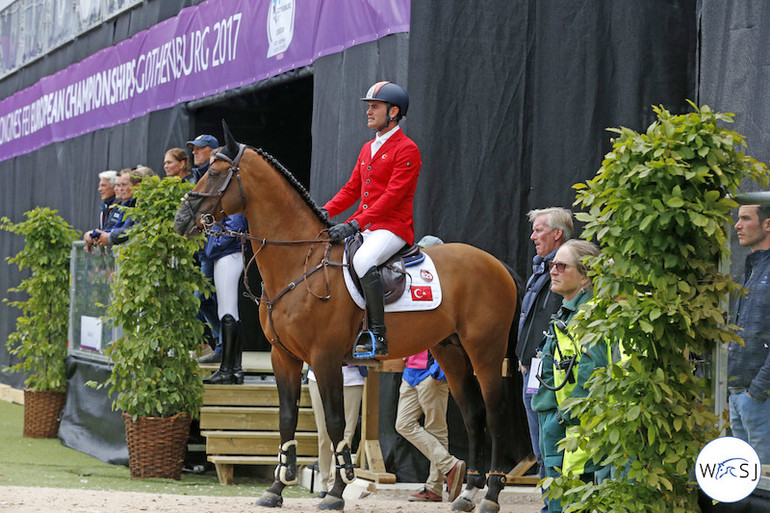 Derin is currently coached by Jos Lansink, and says: "It has been fantastic for my career and my horses". Photo (c) Jenny Abrahamsson.
"Before moving to Holland fully, I trained with Bert Romp for over five years and in 2011 I won individual silver as a junior at the Europeans under his guidance. In 2012, I moved to train with Henk Nooren for the next four and a half years," Derin tells us. "Over that period, I learned to develop horses in Henk's system – it's given me a fantastic foundation to build on as a rider and horse-person. My top-horse Harry K was bought during my time with Henk, and I brought him up to the level he's at now with Henk's system. Through Henk, I also met Barnabas Mandi who still helps me with my flatwork."
After finishing his studies, Derin is running his business and doing the sport full time. "I moved to Guttecoven at the end of 2016, and my goal is to find talented young horses and produce them by combining the knowledge I have attained from Bert, Henk and Jos," Derin explains. "I have a few younger horses together with Leon Thjissen and Jos, and a group of older horses for the bigger shows. We always knew Jos very well, but specially through the help from A Young Riders Academy I got the chance to collaborate with him and it has been fantastic for my career and my horses," Derin tells about the program that has made a big difference in his career path.
"I started in the Academy's educational programme in 2016. We learned a lot and are a great group of friends now. They are still supporting us, and I am very grateful for that," Derin says. "A Young Riders Academy's goal is to form a complete rider, a complete sportsperson – I feel very lucky to have been given their support."
Being a part of the next generation of showjumping, and recently named as a member of the International Jumping Riders Club's working group for young riders – in a time where the sport is going through some immense changes – Derin thinks working together is the only way forward. "There are always pros and cons to each side; I just hope eventually all sides start working together," he says about the future of the sport. "It might seem that people have different objectives. I am sure some do, but at the end of the day we are all working in the same industry, for the same sport and it is in all of our favour that the sport grows in the right way. I hope that instead of trying to pull each other down, we can use the opposites to perfect each other."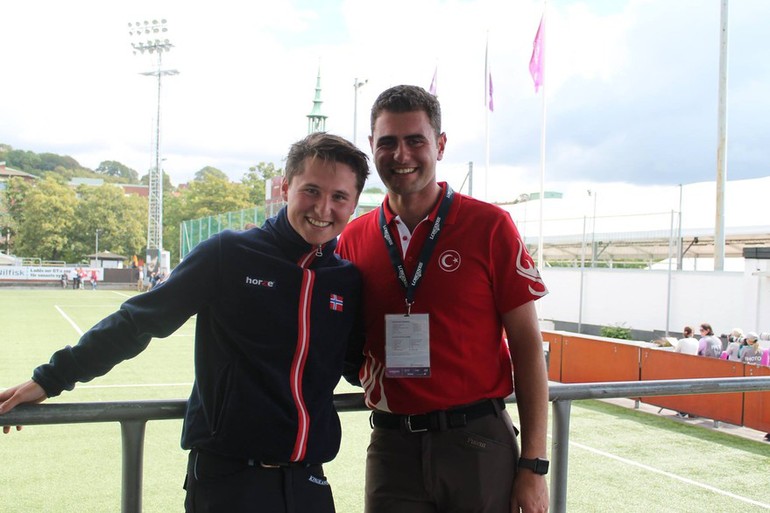 Derin together with his friend Pål Flam, also a former 'A Young Riders Academy'-member: "We learned a lot and are a great group of friends now," Derin says about the graduates of the 2016-programme. Photo (c) Nanna Nieminen.
What Derin himself enjoys most about the sport, is seeing hard work pay off. "My favourite part of the sport is to compete on the highest level with a horse I had for a long time and produced myself, like for example Harry K," Derin tells us with a warm smile on his face. "We have been together for four and a half years, and we have done our first five-star Grand Prix classes and championships together. Spending days, weeks, months and years with the horses, and then seeing them do well – under me, or under someone else – to see your own production, that is what I enjoy the most about the sport."
Harry K obviously has a special place in Derin's heart. "I am the only child, I have no siblings – except for Harry," he smiles. "He at times is my older brother, at times he is my younger brother – we both learned so much from each other. He is a very sensitive horse and he appreciates the love you give him and returns it in most fantastic ways," Derin tells about the horse that he competed with in Gothenburg for the Europeans. "I am very grateful to have him. My horses are all special in their own ways; there is Vancouver, who has been with us for over eight years now and is still going strong. Then there is Surprise, who is now retired, who carried me through all my junior years, brought me to the highest level of the sport and accepted my mistakes. They are all a part of the family – although Harry has a special place," Derin says.
Living in Europe and competing with the best in the world has given Derin some invaluable lessons. "There are so many incredible riders, I try to learn something from each of them," he tells. "For example, I admire Ludger's management – he has the sport, the students, the whole stable, riders that ride for him, he does a lot for Asia now – I find that amazing. I admire Kevin Staut and Henrik von Eckermann for their discipline and hard work," he tells.
Working hard is something Derin does not mind. At the moment, his days are full with riding, trying and looking for horses as well as meeting customers. "It is busy, but I really enjoy what I am doing. If I am having a day off – which hardly happens – I still like to try to do something related to the horses," Derin says. "I'm also lucky to be able to surround myself with great horse-men like Jos Lansink, Jos Kumps and Barnabas Mandi – in this sport you never stop learning."
As Turkey does not have a team to field too often, Derin has gotten used to riding as an individual – still he works the sport in his home country. "I am doing what I can to help the sport grow in Turkey. There are some good riders, who just haven't got the right opportunities and right horses. It looks like we might have a team for next year though," he tells us. "For the moment, I have set my own goals. And with the help of my family and my sponsor Beko – that has been there throughout my whole career – I do my best to achieve them. I just want to give it my best shot, and see how far I get."
---
Text © World of Showjumping by Nanna Nieminen // Pictures © World of Showjumping by Jenny Abrahamsson and Nanna Nieminen
No reproduction without permission