World of Showjumping sat down with Marco Kutscher's Finnish show groom Annamari Lahtinen during the LGCT Cannes to talk a bit about her love for the horses, how she ended up travelling the world with one of Germany's leading riders and about one certain bay stallion.

"My sister used to ride and I was always hanging along when she went to the stables," Annamari says when we ask her how it all started. "The rest of my family have nothing to do with horses". When Annamari was 16, she spent one summer working abroad for a Finnish rider and that left a little spark in her. Straight after she was done with high school Annamari headed to Belgium and Stephex Stables to explore more about the sport.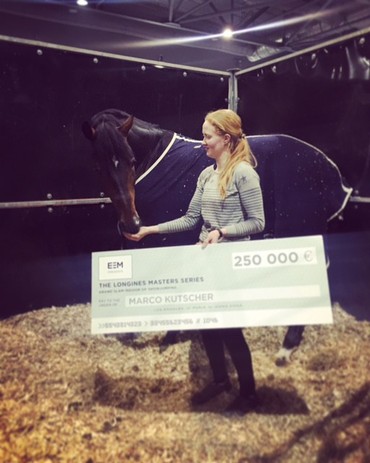 Annamari with Van Gogh and the big check after the success in Los Angeles and Hong Kong.
"After about a year there I went back to Finland and studied business information technology. It took me five years to graduate, and it was important for me to finish my education, but after I was done I felt bored with 'the normal' way of life." Through a few friends Annamari got in contact with Marco and decided to give Germany a go. "My family wasn't very happy with my decision at first, but I have always been the one to go my own way... But, now they are happy for me and that I was following my heart."
It's Annamari's second year working with Marco and as we all know they have been hugely successful lately. When asked what the highlight has been so far, expecting her to name one of the big wins, there is a huge smile instead. And then a whisper: "Van."
And with "Van" she means Van Gogh, the 14-year-old stallion (Numero Uno x Bernstein) that earned Marco the historical 250 000 Euro bonus for winning both the Los Angeles and Hong Kong Longines Grand Prix competitions. There is no doubt this stallion has stolen her heart: "He is just such a personality. He can be very difficult to handle at times, but he is so cute. I can't be too strict to that cute face," Annamari smiles.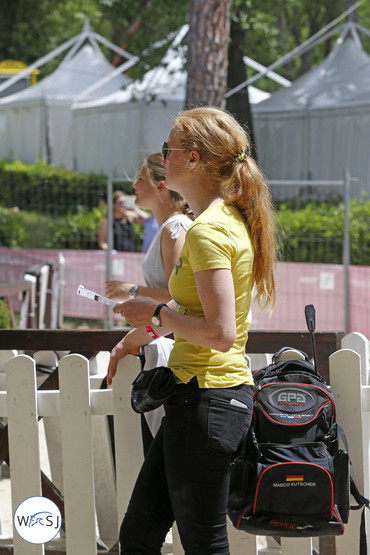 Annamari Lahtinen in action.
Marco and Annamari have nine horses in the stable at the moment, and she can find something nice to say about all of them: "Balermo, Quadros, Clenur, Chaccorina and Van have travelled with me the most, and they are all fun in their own ways."

Watching Annamari at shows always she radiates calmness, and it makes you wonder if working with one of the best riders in the world can really be that stress free. "Marco is an easy going person and we work good together. Of course there are ups and downs, but neither one of us likes drama," she reflects.

"Smart," is the first word Marco mentions when asked to describe his groom. "I am very happy to work with her." And the praise doesn't stop there; "she simply has all the qualities you need to be a good groom – and in general she is a nice, easy going person to have around."

Working for a German rider brings with it a little bonus; an extremely strong national team. The Germans are known for their great team spirit and Annamari says she has been welcomed warmly: "We spend so much time together, it feels almost like a little family." To illustrate their unity, the German team members stayed back and helped Annamari get home from Rome after Marco and Van's scary accident during the Grand Prix. "That trip was tough, I didn't sleep for three days," Annamari says quietly.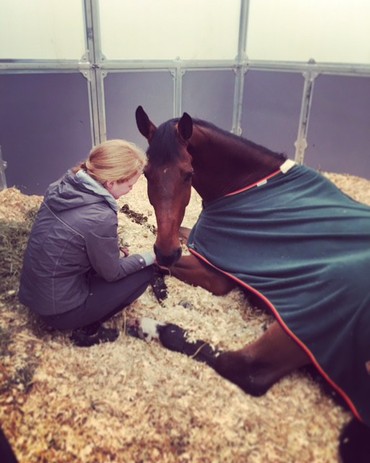 Annamarie
But what makes a person stay up for three days in a row, and drive countless kilometers? Annamari's answer comes quick and clear: "The horses". For her, these wonderful animals are the motivation and the driving force in every day life. "I guess I must be a little mad to love them so much, but it's just the whole life style around the sport that I like. Even if they take all of my time, I couldn't imagine myself in an office," she says.

And for sure her hours are a lot different from a regular office job; "At home we start at 6.30 AM and finish at 6 PM. At the shows the working hours are much more varied depending on the classes, it is basically a 24/7 job." A normal week for Annamari is being at home for a day or two, and on the road most of the time. "Picking a favorite showground is difficult, naturally the places where we have won have a special feeling about them, but mostly I like the shows where the conditions for the horses are good."

With the Olympics knocking on the door we are tempted to ask her if she has thought about the possibility of travelling to Rio as a part of the German team. "Of course it has crossed my mind, but Germany has such a strong string of riders. Surely everyone dreams of winning an Olympic medal."

And for the future in general the 28-year-old jokes; "I used to have this plan, to work with horses until I turn 30. When I took this job I said to the people back home that I might be back in one month, or I might never be back. As long as I'm happy, I will just take each day as it comes."

Seeing the light in Annamari's eyes when she talks about her horses and the calmness that surrounds everything she does, it feels safe to say she has chosen to right path. It might not be the average road, but it sure is exciting. Maybe it will lead to Rio, with Van?
---
Text (c) World of Showjumping // Photos (c) World of Showjumping.