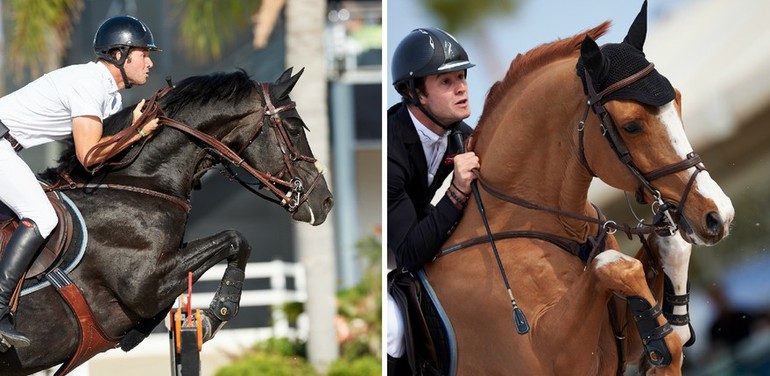 Constant Van Paesschen's full brothers Vendetta Treize and Verdi Treize. Photos © Hervé Bonnaud / www.1clicphoto.com.
Text © World of Showjumping
---
Constant Van Paesschen's two top horses Vendetta Treize and Verdi Treize are full brothers, both embryos out of the mare Elisa and by the legendary Diamant de Semilly. The two brothers were born in 2009 and grew up together at their breeder's Amandine Wittouck. However, their rider tells that the siblings could not be more different – both in looks and personalities.
While both horses have success with Van Paesschen at top level – they can be seen regularly on the Global Tour-circuit – their rider reveals they have little else in common.
"Amandine, their breeder and owner, had a lovely mare called Elisa and after her sports career she decided to breed with her," Constant tells. "The second year Amandine tried, she managed to get two embryos from Elisa. My dad had recommended to use Diamant de Semilly, and so the year after Vendetta and Verdi were born. The following year, another foal was welcomed – Atys Treize – also by Diamant."
Until the end of their third year, Vendetta and Verdi stayed with Amadine. "Then we decided that it was time to bring them under the saddle," Van Paesschen tells. "As four-year-olds they came home to our stable, and already back then I would jump them occasionally – although I wasn't a big fan of so young horses at that stage," he laughs. "It quickly turned out that they were completely different horses. While Verdi had an easy and quiet character, Vendetta was way bloodier and hotter – harder to analyze. However, compared to Verdi, Vendetta had a far easier and more balanced canter – nevertheless he was more difficult to bring to the fences and lines you could forget. I often had headaches over him, while Verdi would always try what he was asked."
The following year, Van Paesschen started up Atys. "He was not like his brothers at all," Van Paesschen laughs. "But, maybe it was my luck that his brothers got all the talent!".
"We tried a while with Atys, but decided it was better to put our energy in Verdi and Vendetta. When Verdi and Vendetta were young horses we gave them a lot of time. They did not do many shows as five and six-year-olds and they were given plenty of rest in the field in between. We actually thought they might end up a bit behind others in their age group, but they were not. I guess if the horses have the right system, the amount of shows don't matter."
To this day, the brothers remain different. "They are both very nice in the stable though, as stallions they behave really well – this they have in common," Van Paesschen tells. "Verdi, he still needs his motivation, likes everything relaxed and easy going. Vendetta, on the other hand, still finds it hard to channel his energy the right way."
"I guess that is the beautiful part of what we do though, not one horse is the same. It's why we love our job, it's never the same!" Van Paesschen concludes.
No reproduction without permission, copyright © World of Showjumping