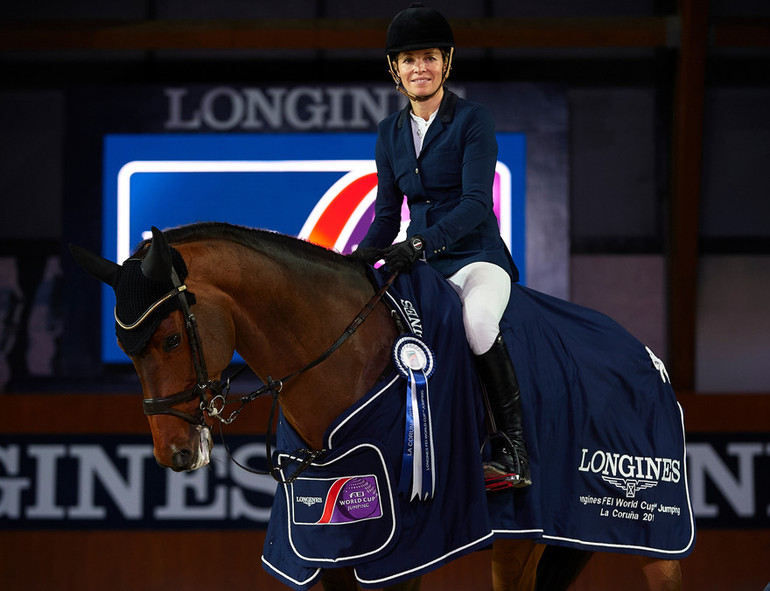 One happy lady! Australia's Edwina Tops-Alexander celebrating victory with her lovely mare, California, in today's seventh leg of the Longines FEI World Cup Western European League series in La Coruna, Spain. Photo (c) FEI/Manuel Queimadelos.
Australian wonderwoman Edwina Tops-Alexander scorched to victory with the lovely mare California (l'Esprit x Libero H) in today's seventh leg of the Longines FEI World Cup Western European League in La Coruna, Spain. In an eight-rider, eight-nation jump-off against the clock the three-time Olympian simply out-raced all the others who managed to leave Santiago Varela's track intact, and today's result leaves her within a few points of qualification for the Longines Final in Paris, France next April.
Austria's Max Kuhner lined up second with Chardonnay (Clarimo x Corrado I) while the home crowd-pleaser was third-placed Manuel Fernandez Saro with Cuidam (Verdi x Chellano). Tops-Alexander was filled with her trademark determination today.
"California has been jumping great, but here and there we kept having stupid faults and I was getting a bit mad! I was determined to have a good class here yesterday, but it didn't work. Today I did my best and it DID work, so now I'm really happy!" said Edwina afterwards.
Fernandez Saro produced the first clear of the jump-off when third to go, but his time of 43.89 seconds always looked beatable. Two horses later Ireland's Denis Lynch was also fault-free, but he didn't pressure All Star (Argentinus x Alme) who broke the beam in 45.77 seconds so eventually slotted into fourth place.
Tops-Alexander was taking no prisoners however, galloping from the start and resetting the target at 40.08 seconds as she flew through the finish. She wasn't entirely satisfied with her own performance - "I did one too many strides from (fence) 1 to (fence) 2, but that just made me go faster the rest of the way! I wasn't convinced I was quick enough to win, I thought maybe I'd be second if I was lucky!" she pointed out afterwards. But Austria's Max Kuhner trailed her by more than two seconds when second-last to go with his fabulous grey stallion who clinched runner-up spot.
Tops-Alexander said her 10-year-old mare had "a nice break" while the Australian star, who only stopped competing in March, waited for daughter Chloe to be born at the end of July. The horse-and-rider partnership returned to the ring in early September. "She's an amazing horse, and when we both went back to work I came strong and she did too!", said the amazing athlete.
She now heads for the London International Horse Show at Olympia (GBR) next week and will continue her Longines FEI World Cup™ Jumping campaign at Bordeaux (FRA) and Gothenburg (SWE) in February.
---
Source: Press release from FEI // Picture © Manuel Queimadelos / Oxer Sport