Carlos Lopez receives his Longines watch after his win. All photos (c) Herve Bonnaud/FEI.
Colombia's Carlos Lopez claimed the win in today's sixth leg of the Longines FEI World Cup Western European League in Madrid. Riding Prince de la Mare (Bequin de Moens x Socrate de Chivre), Lopez proved unbeatable in an eleven horse jump-off. Closest came Edwina Tops-Alexander on Lintea Tequila (Campbell x Corrado II), while the only 23 year old Alexandre Fontanelle ended third on Prime Time des Vagues (Diner's Time).
Belgium's Judy-Ann Melchior set the early target in the jump-off, at 41.80 seconds after opting for a safe clear round on the wonderful As Cold as Ice Z (Artos Z x Carthago Z) that is back in great shape. Eventually it would prove to be good enough for fifth place. The next two riders – Paul Estermann and Pilar Cordon – both had a rail down each.
Carlos Lopez was next in the ring and made no mistakes though. Setting off with full speed from the start to the finish, not once pulling back Lopez stopped the clock on 38.69 to put some serious pressure on those to come.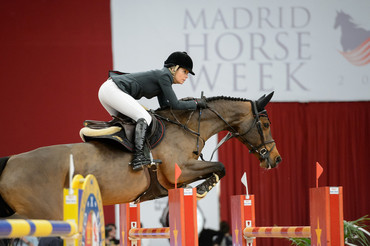 Runner-up was Edwina Tops-Alexander on Lintea Tequila.
The young Frenchman Fontanelle came very close, only 0.22 separated him from Lopez – and he slotted into second. Next in the ring Dag Ove Kingsröd, Sergio Alvarez Moya and Daniel Deusser all had to see a rail fall to the ground, with Moya producing the fastest jump-off round of the day on the lovely Carlo 273 (Contender x Cascavelle) but with the pole down he had to settle for sixth place.
Emanuele Gaudiano is always a danger against the clock, but even he could not catch Lopez today. Riding Admara (Padinus x Murano) the Italian rider crossed the line in 39.14 seconds, going in behind Lopez and Fontanelle. Robert Whitaker – winner of Friday's big class – set off determinedly but things did not go quite according to plan for the British rider who had to settle for 11th place in the end.
Edwina Tops-Alexander was the final rider in the ring. The Australian rider went all in, and was again clear on Lintea Tequila shaving off 0.01 seconds on Fontanelle's time to slot in between him and Lopez – pushing Gaudiano down to fourth and Melchior to fifth.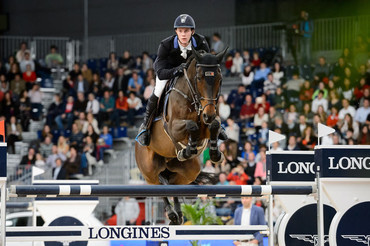 Alexandre Fontanelle riding Prime Time des Vagues ended third.
As to his partner, Prince de la Mare, Lopez commented; "I saw him and fell in love with him, he is very careful and has the heart of a fighter although he has his problems. He wasn't broken too well and I didn't try him before we bought him which is always risky, but he is much better now."
On the question if he thought his lead would last, Lopez said; "No, I didn't. I thought I might be in the first three because I didn't start too fast and I had a problem with the hackamore (bridle) on the turn to fence seven so I knew I had to gallop from there! That's the sport, sometimes you are lucky, sometimes not, and little things make a big difference."
Result: 1, Prince de la Mare (Carlos Lopez) COL 0/0 38.69; 2, Lintea Tequila (Edwina Tops-Alexander) AUS 0/0 38.90; 3, Prime Time des Vagues (Alexandre Fontanelle) FRA 0/0 38.91; 4, Admara 2 (Emanuele Gaudiano) ITA 0/0 39.14; 5, As Cold as Ice Z (Judy-Ann Melchior) BEL 0/0 41.80; 6, Carlo (Sergio Alvarez Moya) ESP 0/4 38.27; 7, Pironella (Daniel Deusser) GER 0/4 39.13; 8, Castlefield Eclipse (Paul Estermann) SUI 0/4 39.17; 9, Nuage Bleu (Pilar Cordon) ESP 0/4 39.51; 10, Dimaro vd Looise Heide (Dag Ove Kingsrod) NOR 0/4 41.71; 11, Catwalk IV (Robert Whitaker) GBR 0/8 51.00.
Source: fei.org