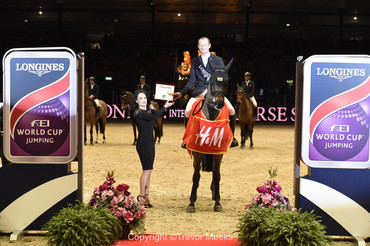 Marco Kutscher and Cornet's Cristallo won the Longines FEI World Cup in London. Photo (c) Trevor Meeks.
Marco Kutscher riding Cornet's Cristallo (Cornet Obolensky x Pilot) triumphed in the thrilling Longines FEI World Cup qualifier presented by H&M at Olympia, The London International Horse Show today. The 2003 European Champion snatched the victory by just 0.78 seconds from his fellow countryman Daniel Deusser on Carriere (Catoki x Contango). Appropriately for H&M day at Olympia, the Swedish company's rider Malin Baryard finished third on H&M Tornesch (Lux x Libero H).
Britain's Robert Whitaker didn't allow being drawn first to put him off and finished fourth with a masterful performance on Catwalk lV (Colman x Corleone), winning a handy €12,450 to put towards his wedding in Barbados next month.
Thirteen of the 38 combinations in the class went through to the jump-off, with the last four riders – Marco, Belgium's Constant Van Paesschen, Irish rider Bertram Allen and John Whitaker – all going clear. Constant had 12 faults and Bertram, who is 40 years John Whitaker's junior, just missed at the penultimate fence with the lovely grey mare Molly Malone V (Kannan x Cavalier) but had the fastest time of the day in the jump-off.
John had the packed house on the edge of their seats, but he also had his stallion Argento too far off the second-last fence and, to disappointed groans, it came down. "I had to give it a go," said John ruefully afterwards.
It wasn't Britain's day, as Spencer Roe (Wonder Why), William Whitaker (Fandango) and Tim Gredley (Unex Annika B) all incurred cricket scores and Michael Whitaker (Viking) and Ben Maher (Diva ll) marred clear rounds with an annoying time fault apiece. Scott Brash on the exciting youngster Hello Sunshine had the frustration of hitting the last fence.
"I thought it was good sport and entertainment," said the course-designer, Irishman Alan Wade. "I knew it was a field of mixed experience and some new combinations and that I had to keep my head. We put up the fences in the jump-off, because we want really good jumpers to win as well as fast jumpers."
Marco Kutscher, who has now moved up to third place in the Longines FEI World Cup rankings with five more rounds to go before the final in Las Vegas, takes home a cheque for €41,085. His ride, Thomas Sagel's Cornet's Cristallo, an 11-year-old gelding, is by Cornet Obolensky, the great stallion which whom Marco is perhaps most associated.
The rider admitted that his week had improved dramatically. "So far my show hadn't been going that well, but I knew that if I could get into the jump-off I would have a good chance," said Marco, who got the call-up for Olympia only 10 days ago when other German riders dropped out. "It wasn't the perfect jump-off. I was trying to cut out a stride because my horse is brilliant and can do anything, but I got him in too deep to a fence and he really helped me out."
The 39-year-old has recently left his long-time mentor Ludger Beerbaum to set up a yard with his girlfriend. "I will be raising a glass to Ludger tonight because he helps me a lot. And it's partly thanks to him not coming to Olympia that I managed to get in. It's a really special show that I always want to come to."
Source: Press release Revolution Sports + Entertainment