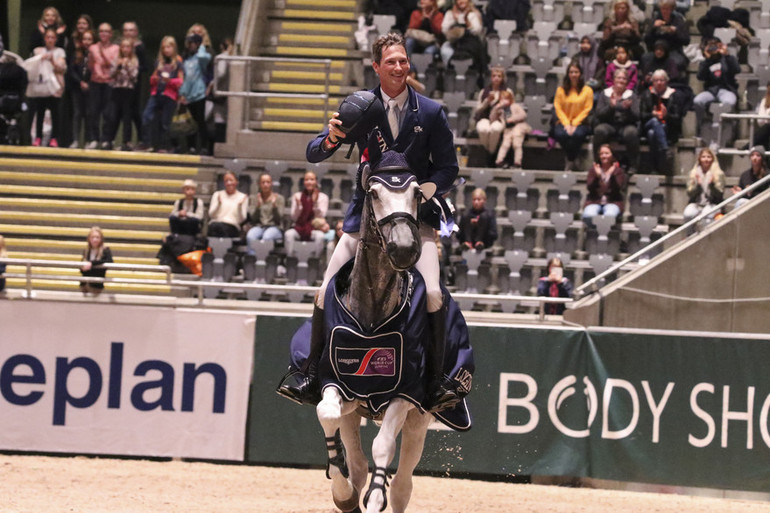 "I had my plan, the strides I wanted to do and the distances and it worked out really well," Daniel Deusser said after hiw win. Photo (c) Alice Bjerke.
The top three riders of the Longines FEI World Cup Western European League opening in Oslo met the press on Sunday afternoon, and the winner Daniel Deusser shared his thoughts before going into the jump-off as second last to go: "I had my plan, the strides I wanted to do and the distances and it worked out really well. In the end, I was just a little quicker than Kevin."
"That was my first win with him (Cornet). We had to get used to each other, but the horse had good results before and he jumped at that level before. Slowly I felt that he understands what I am doing, and I think we will be able to win a few more classes," Daniel continued when talking about his relatively new ride.
Cornet was previously seen under America's Lauren Hough, and on the question if Hough and Deusser are similar in their riding the answer could not have been clearer; "Absolutely not!"
"Lauren has the American style, and she is half the size of me," Deusser explained. "It was a little adjustment for the horse, but the horse is very careful and has a good instinct," Deusser added.
Runner-up Kevin Staut confirmed that he was equally afraid of the two riders, Deusser and Allen, that came behind him in the jump-off. "I am happy that I did not finish third…." the French rider said.
"I think it was a really good round. Seven clears are good, the combinations were not too difficult. My horse jumped well, and especially in the jump-off. I had my plan and I did not expect that someone could be faster.." Kevin finished.
Edwina Tops- Alexander tried to "explain" where she lost her seconds today: "I saw the first two go and the distances they did from 1 to 2 and 2 to 3. I haven't really gone fast with my horse. The last indoor she won, but I wasn't that fast. Not being back in the saddle that long I did not feel that I was ready to win today. I came out of the ring and I was very happy with my round, she jumped fantastic. I actually said I was going to finish third. So, I was very happy with the result and happy to be third. I think Bob Ellis did a good job. "
"She (California) is not too experienced at this level. She has got plenty of jump and a great mind. We are still getting to know each other," Edwina Tops-Alexander finished.