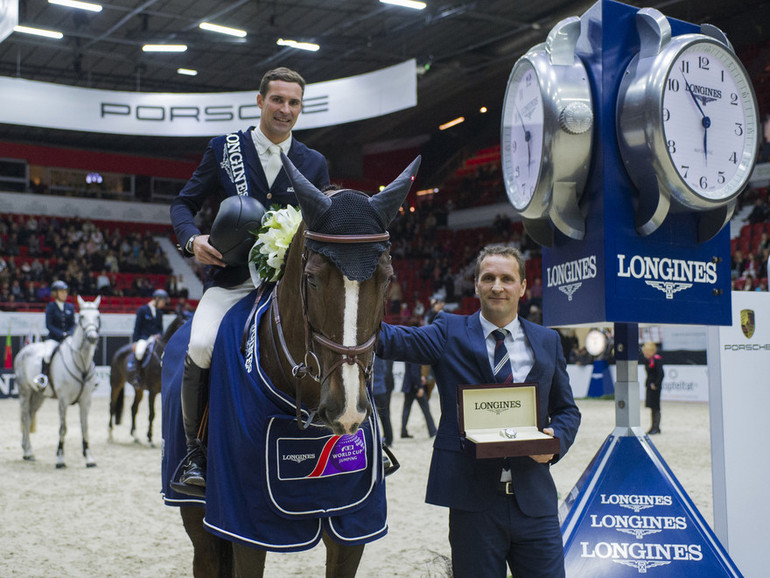 Romain Duguet and Quorida de Treho won the Longines FEI World Cup Western European League leg in Helsinki for the second year in a row today. Photo (c) FEI/Satu Pirinen.
The second leg of the Western European League of the Longines FEI World Cup was true to tradition hosted by Helsinki International Horse Show, and offered pure entertainment with a very exciting jump-off that saw Switzerland's Romain Duguet go out on top.
For the first round the Brazilian course designer Guilherme Jorge had build a course consisting of 13 fences with 16 efforts. The second fence was a delicate vertical with white poles, but as the class unfolded it became clear that it again would be the combinations that would make the difference for the riders. Jorge had put fence number four, a huge oxer with FEI coloured poles, right at the in-gate followed by three strides to a vertical. As number nine he had created a delicate plank upright followed by a one-stride distance to a massive oxer. Many riders struggled in the triple combination; an oxer-oxer-vertical with two long strides between the oxers and one to the vertical.
The class started positively with nice clear rounds from Shane Breen (IRL) riding Market Irminka (Irco Mena x Tinka's Boy), and Yuri Mansur (BRA) riding Babylotte (Dollar du Murier x Concorde) as number one and three in the ring. Maiju Mallat (FIN) on the flashy Vatson Sitte (Cardento x Chellano Z) had the b-element of the triple combination down and one time fault, her total of five faults ended up being the best results for the host country. Lorenzo de Luca (ITA) on Limestone Grey (Try-Time) rode a very nice round but had a very unfortunate fault on the last fence, a Longines vertical, just like Henrik von Eckermann (SWE) riding Mary Lou 194 (Montendro x Portland L), Holger Wulschner (GER) on BSC Skipper (Stolzenberg x Lord Liberty) as well as Eduardo Alvarez Aznar (ESP) on Rokfeller de Pleville Bois Mar (L'Arc de Triomphe x Apache d'Adriers). It seemed the best horse-rider combinations were saved to last; out of the last seven riders five rode clear and it turned out to be a jump-off of 15 participants.
In the jump-off it wasn't until rider number four, Mathieu Billot (FRA) on Shiva d'Amaury (For Pleasure x Lando) that a clear round came. Billot stopped the clock on 32,70 seconds. Maikel van der Vleuten (NED) on VDL Groep Arera C (Indoctro x Voltaire) was faster than Billot, but had one fence down. Niels Bruynseels (BEL) on Cas de Liberte (Cracky Z x Chellano Z) went even faster and stopped the clock at 31,87 seconds – sadly also he had a pole down. Last year's winner of this particular class in Helsinki, Swiss rider Romain Duguet on his Olympic mount Querida de Treho (Kannan x Tolbiac Des Forets) made the crowds go wild with his stunning performance. Duguet went all in, and his horse lost a shoe on the fourth fence – but was luckily able to finish the course with a clear round and an unbelievable time of 30,96 seconds. Meredith Michaels-Beerbaum (GER) on the beautiful Comanche (Coupe de Coeur x Baloubet du Rouet) was the last rider in the jump-off and she did a fast round, stopping the clock on 32,78 seconds taking over the third place.
"My horse gives me so much, she is unbelievable and I am so lucky to have a horse like her in my stable," the happy winner said at the press conference after the class. "To the last fence I saw nothing, I only pushed. I was a little bit scared after she lost her shoe, but she gave me a lot – she is a very fast horse. My groom Hanna is from Helsinki, so I am really happy we had a win at home for her. I am very proud of the work she does for me, it is nice to have people like her working with me."
Billot who came second, said: "I am very happy with my performance and my horse jumped amazing. Hopefully my good results here and last week in Oslo will give me more places in the World Cups – I think I will give our Chef d'Equipe a call tomorrow."
Third placed Meredith was also very happy with her horse: "Comanche is a very careful horse and I haven't done many fast jump-offs with him, but I wanted to please the crowds and give it a go – I knew Romain's fantastic round was not beatable. I am a big fan of our course builder (Guilherme Jorge) and I was very pleased to see him here in Helsinki this year. I think the show in Helsinki has made a tremendous step forward. I also think the World Cup series is a very important part of our sport – I think the final being based on qualifications is a great judge of the best horse and rider combination at the time." Also Meredith has a Finnish groom, so the third place was special for the team: "Anu has been with me for 18 years, she is a part of our family. I don't know what I would do without her, she is not only fabulous with the horses, she is like a best friend and a right hand for me. We love Finnish people and we have what we call a 'Finnish Mafia' at home."
---
Text by Nanna Nieminen for © World of Showjumping // Picture © FEI/Satu Pirinen