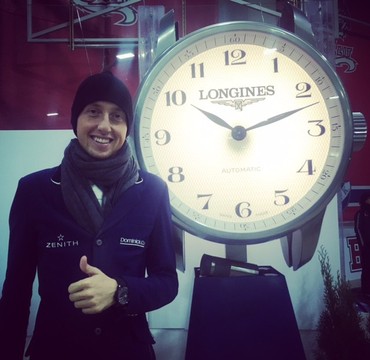 Martin Fuchs wins the first Longines ranking class in Helsinki. Photo (c) Nanna Nieminen for World of Showjumping
The first CSI5* Longines Ranking class in Helsinki, a 145 class against the clock presented by Fortum Horse Power, was mostly about Switzerland with Martin Fuchs on top after all 43 riders had entered Helsinki Jäähalli.
The class was kicked off in style with Steve Guerdat and Albfuehren's Happiness (Heartbeat x Lambrusco Ask) as start number two. The former Olympic Champion made an incredible turn to fence number seven and crossed the finish line on 51,77 seconds.
From there on it was clear that the class would turn into a race as the combinations to come all did their best to catch Guerdat's time. Fence number four and the double at number nine caused trouble for many and it was not until Martin Fuchs and Chaplin (Verdi x Concorde) came as start number 14 that Guerdat's time was threatened as Fuchs' stopped the clock at 51,44 seconds to take over the lead.
Riding VDL Groep Miss Untouchable (Chacco-Blue x Aldatus), Leopold van Asten did the same tight turn to fence number seven as Guerdat and Fuchs, but his time 51,93 placed him behind the Swiss riders in third place.
"This class is every year a specially fast class here in Helsinki. It is one of the fastest classes every year so I knew this before coming here. I chose a horse that is new with me, Chaplin. This is the fifth show I am doing with him. He is a naturally fast horse but I was not sure if I knew him good enough to take all the risks needed. After I saw my team mate Steve (Guerdat) go, I knew I had to risk everything if I wanted to be in the top three. I did that and my horse jumped good, so I am really happy to win here in Helsinki. I brought my top horse Clooney with me here also. He did the opening 140 class this morning and was second even if I took it as a training round. Tomorrow Clooney has a day off and he jumps the World Cup on Sunday. I will jump Chaplin again tomorrow in the Grand Prix," Fuchs said after his win.
The 140 class earlier in the day got a very popular home win from Sanna Backlund and Wilhelmina (Indoctro x Bulat). Martin Fuchs was second on Clooney (Cornet Obolensky x Ferragamo) came third with Urmas Raag on Ibelle van de Grote Haart (Verdi x Robin Des Bruyeres).
---
Text and photo (c) Nanna Nieminen for World of Showjumping .