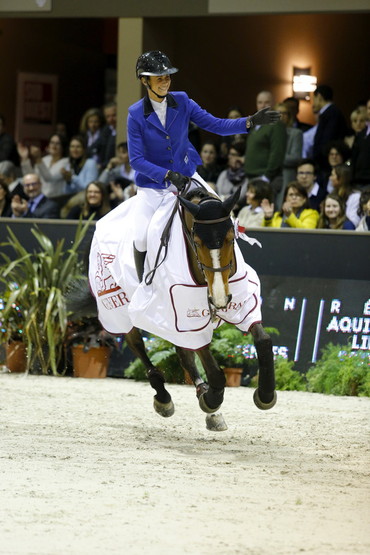 Penelope Leprevost was all smiles after winning on home soil in Bordeaux aboard Nice Stephanie. Photo (c) Tiffany van Halle.
Penelope Leprevost took her first win for 2016 on Friday, when she went to the top in Friday's 1.50 Longines Ranking class in Bordeaux. Riding her faithful 12-year-old mare Nice Stephanie (Cardento x Ralme Z), Penelope took a popular home win to lead an all-French-podium on home soil.
It's never easy to beat the likes of Penelope's compatriots Kevin Staut and Roger Yves Bost, but that was exactly what France's leading lady rider did when she topped the speed class tonight in Bordeaux. And, it was no coincidental win as Penelope had 1.5 seconds down to Staut who finished as runner-up with Elky van het Indihof HDC (Toulon x Thunder van de Zuuthoeve). Almost 0.20 seconds behind Kevin followed Bosty on his flying grey Pegase du Murier (Adelfos x Le Tot de Semilly), while Germany's Christian Ahlmann and Marcus Ehning came into fourth and fifth.
Earlier in the day, it was another French victory as Patrice Delaveau and Ornella Mail HDC (Lando x Alligator Fontaine) won the opening 1.40 class.
---
Text © World of Showjumping // Photo © Tiffany van Halle