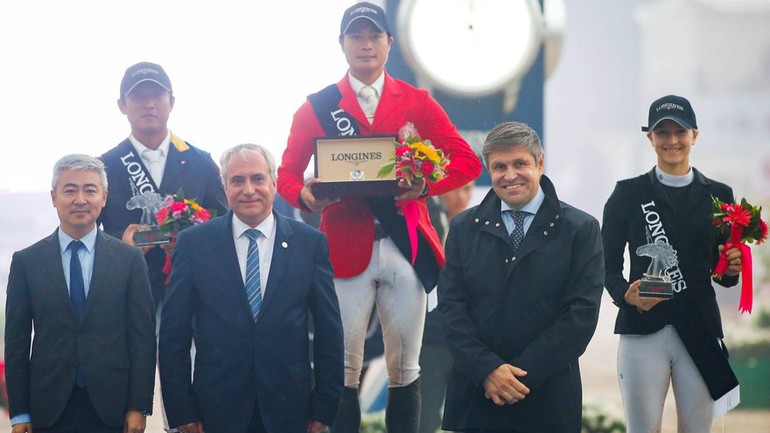 Chinese rider Ruiji Liang won the Longines FEI World Cup Jumping China League Final. The winner received an elegant Longines timepiece from the hands of Juan-Carlos Capelli, Longines Vice President and Head of International Marketing. Photo (c) Longines.
The Longines FEI World Cup Jumping China League Final took place in Chaoyang Park, Beijing from October 5-8 and ended with a home win for Ruiji Liang on the 9-year-old mare Indiana van't Heike (Darco x Nabab de Reve).
The Chinese rider claimed victory ahead of his compatriot Yihua Duan on the 10-year-old gelding Fritz Filou (For Edition x El Bundy), with Liang finishing on one time penalty and Duan on two. Third place went to USA's Lucy Davis riding the 9-year-old mare Clarissa (Chess Cor x Grabenstein I), recording four penalties in this 1.50m competition.
Ruiji Liang also claimed the title overall in the China League, topping the series with his 47 points.
As FEI's Top Partner, Longines is the Title Partner of the Longines FEI World Cup Jumping, including the Western European League, China League and North American League, as well as the Longines FEI World Cup Jumping Final, taking place in Bercy, Paris, in 2018.
At the same time, the FEI also announced a brand new partnership with China National Sports International (CNSI), a sports and entertainment company that specialises in equestrian sports in China.
The five-year deal, which sees CNSI become Official Business Partner of the FEI in China, is expected to rapidly increase the profile of equestrian sport in China.
The FEI and CNSI will develop a large-scale e-sport, e-commerce and social media presence for equestrian sport to launch in 2018.
The FEI's decision to focus efforts in China comes on the back of rapidly growing enthusiasm for equestrian sport in the world's second largest economy, which also now boasts the world's second biggest horse population.
---
Source: Press releases from Longines and FEI // Picture © Longines