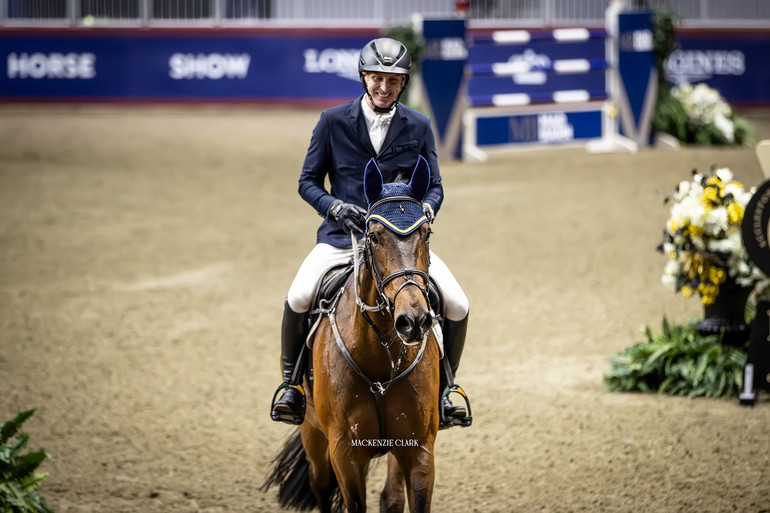 Daniel Coyle and Legacy, winners of the $150,000 Mad Barn Big Ben International Challenge in Toronto. Photo © Mackenzie Clark Photo.
Edited press release from Jump Media / Photos © Mackenzie Clark Photo
---
Daniel Coyle of Ireland and his veteran partner Legacy stormed to victory in the $150,000 1.55m Mad Barn Big Ben International Challenge on Thursday evening, November 9, at the Royal Horse Show in Toronto.
Twenty-two starting combinations contested the first-round track set by British course designer Kelvin Bywater, and seven jumped fault-free to advance to the jump-off. U.S. Olympian Kent Farrington set the time to beat at 36.75 seconds aboard Greya (Colestus x Contender), a nine-year-old Oldenburg mare owned by Kent Farrington LLC. Galloping across the Coca-Cola Coliseum, it looked like Farrington was on the cusp of another victory, until Coyle entered the arena two rides later. After taking every risk, the luck of the Irish paid off for Coyle with a clear round and an unbeatable time of 35.72 seconds. In the end, Farrington would settle for second this time around after winning on Wednesday, while Switzerland's Beat Mändli completed the top three as the fastest four-faulter in the jump-off in 37.03 seconds with Dsarie (Veron x Ahorn), a 15-year-old Dutch Warmblood mare owned by Grant Road Partners.
In 2022, Coyle and Legacy triumphed in the marquee event of the Royal Horse Show, the $250,000 Longines FEI Jumping World Cup™ Toronto. It was a meaningful win for Coyle as Legacy's owner, Ariel Grange of Lothlorien Farm, is a Toronto native. Now, they look poised to repeat that success in 2023.
"When we won the World Cup here last year it felt like the biggest thing I ever did because this is Ariel's local show," reflected Coyle, who is ranked 12 on the Longines Ranking. "Any win here is brilliant, but last year to win the World Cup was unbelievable. Now to win the Big Ben Challenge as well is amazing. Hopefully we'll be able to do the same on Saturday."
With gasps from the packed crowd as a dauntless Coyle was matched by impressive efforts from Legacy at every fence, cheers erupted as Coyle and Legacy raced through the timers and straight to the top of the class.
"Legacy now knows how to go very fast," explained Coyle of his star mount, a 13-year-old Zangersheide mare (Chippendale Z x Bon Ami). "I knew it was a risk, but I believed she could do it. She's an amazing horse, and I'm delighted to have her. It probably wasn't the smoothest round I've ever had, but she's such a fighter."
"She's an amazing horse, and I'm delighted to have her," Coyle said of Legacy. Photo © Mackenzie Clark Photo.
Earlier in the day, 15 combinations took on the first round of the $38,500 1.50m Brickenden Trophy, where just six advanced to the deciding jump-off. Fresh off her team silver medal at the 2023 Pan American Games in Santiago, Chile, Canadian Olympian Amy Millar saved the best for last, guiding GCS Athena (Vigo d'Arsouilles x Numero Uno), a nine-year-old Irish Sport Horse mare, to the top prize in 39.63 seconds.
"It's so exciting to be here," shared Millar. "I love The Royal so much. It's one of my favourite horse shows. We just got back from Chile, and if it had been any other horse show, I would be at home relaxing, but you can't miss The Royal!
"Athena is so talented," she continued of her mount, owned by Brookstreet Stables Corporation. "I've been riding her for two years, and just to see her progression and how she's really grown into an unbelievable jumper makes me very proud. One of my favourite things about her is how fast she is. She's scopey, she's careful, and all of those are prerequisites to even get in that ring, but on top of that she's naturally really fast and agile, so you're along for the ride."
Fellow Canadian Vanessa Mannix rode Carmela Z (Candillo 3 x Nissan Caretano Z), her 12-year-old Zangersheide mare, to the runner-up spot in 41.05 seconds. Just behind her in a time of 41.87 seconds, Jimmy Torano of the United States completed the top three aboard his own Kochio Z (Kannan x Diamant de Semilly), a nine-year-old Zangersheide gelding.
The week of incredible world-class show jumping continues to thrill, with athletes representing seven countries in the CSI4*-W division. The $80,000 Canadian Open Speed Challenge on Friday, November 10, will have riders racing for the top prize, while the week culminates in the highly anticipated $250,000 Longines FEI Jumping World Cup™ Toronto on Saturday evening, November 11, in front of a sold-out crowd of over 7,000 people.