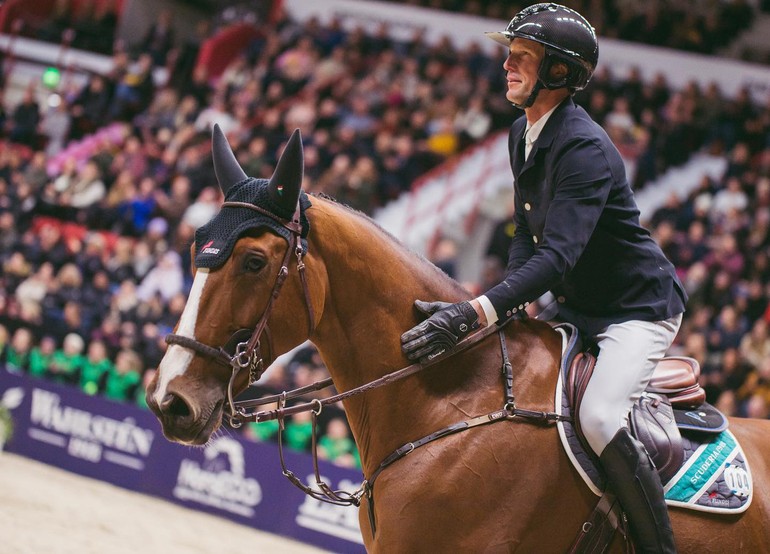 Kevin Staut (FRA) and Beau de Laubry Z won Saturday's CSI5*-W Helsinki Grand Trophy. Photo © Helsinki International Horse Show/Satu Pirinen.
The Longines FEI Jumping World Cup™ 2023/2024 Western European League continues this week in Helsinki, Finland, and Saturday's highlight was the CSI5*-W 1.60m Helsinki Grand Trophy.
With a triple combination early on at fence 4abc and another combination at 12ab before ending on a bending line away from the in-gate to the final, airy, white vertical at fence 13, the 1.60m course set by Brazil's Guilherme Jorge asked plenty of questions, and only four pairs out of the 36 horse-and-rider-combinations at start delivered a clear.
In the end it was Kevin Staut (FRA) and Beau de Laubry Z (Bisquet Balou vd Mispelaere x Nabab de Reve) that took the win with a time of 35.70 in the jump-off, ahead of Francesco Turturiello (ITA) and Quite Balou (Quite Capitol x Baloubet du Rouet) in second in 39.63.
"First of all, I am very happy and grateful for my horse, who has reached the top level only 2-3 months ago," Staut said in a press release from Helsinki International Horse Show. "He finished fourth in the Oslo World Cup last weekend, but I knew it was going to be more technical here. Since he doesn't have much indoor experience yet, I thought it would be better to jump the Grand Prix instead of the World Cup. However, the Grand Prix was really very difficult and technical. I'm very happy with how it turned out."
With a fence down, Shane Breen (IRL) and Cuick Star Kervec (Quick Star x Diamant de Semilly) had to settle for third, after clocking the fastest time – 35.61, while Philipp Schulze Topphoff (GER) and Carla NRW (Comme Il Faut x Potsdam NRW) finished fourth with a fence down in 36.39. As the fastest four-faulter from the first round, Mark McAuley (IRL) and GRS Lady Amaro (Amaretto d'Arco x Over The River) finished fifth.
Later during the evening, Martin Fuchs (SUI) and Viper Z (Vigo d'Arsouilles x Grannus) won the CSI5*-W 1.50m Finnlines International ahead of Leopold van Asten (NED) and VDL Groep Urane de Talma (Argentinus x Landor S) in second and Eveliina Talvio (FIN) aboard Glamour (Numero Uno x Iroko) in third.