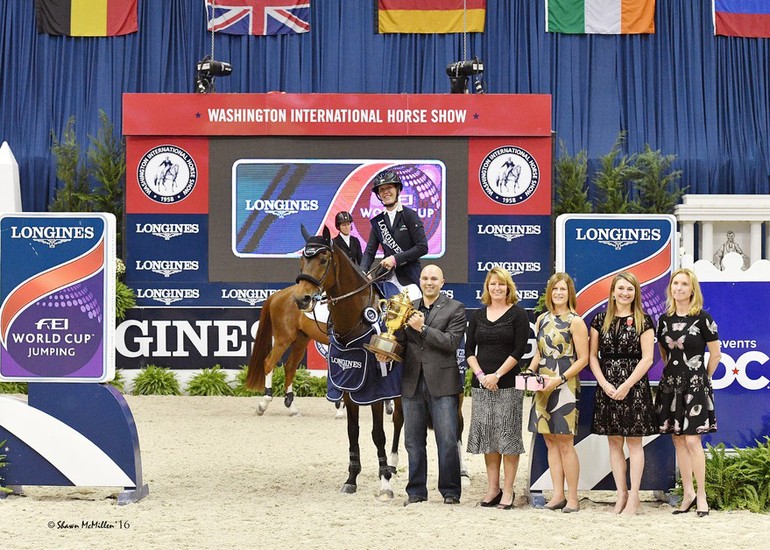 Lauren Hough and Ohlala in their winning presentation with Pete Kirschner, Director, Communications and Marketing, Events DC; Connie Sawyer, Manager, Longines FEI World Cup North American League; WIHS Executive Director Bridget Love Meehan; WIHS President Vicki Lowell; WIHS Director Emeritus Juliet W. Reid. Photo (c) Shawn McMillen Photography.
Top U.S. showjumpers Lauren Hough, Laura Kraut, and Kent Farrington were the top three in Saturday night's $130,000 Longines FEI World Cup in Washington, presented by Events DC, on Saturday night at the 2016 Washington International Horse Show (WIHS). Competing for the coveted President of the United States Perpetual Cup, as well as valuable Longines FEI World Cup qualifying points, the Grand Prix was the highlight event of the week at Verizon Center in downtown Washington, D.C. Hough and Ohlala (Orlando x Cardento) took the victory, with Kraut and Confu (Contact me x Cambridge) in second, and Farrington aboard Creedance (Lord Z x Notaris) third.
Course designer Alan Wade (IRL) set the tracks for jumper competition throughout the week at Verizon Center. In Saturday night's feature event, Wade saw 28 starters over his first round course, with seven advancing to the jump-off and two double clear rounds in the race against the clock. Carrying on their winning momentum from Thursday's $35,000 International Jumper Welcome Stake, which was also the grand prix qualifier, Hough and Ohlala earned another exciting victory.
Kraut and St. Bride's Farm's Confu were first to clear the jump-off track without fault in 37.80 seconds for their eventual second place finish. Beezie Madden (USA) and Abigail Wexner's Quister (Kannan x Eyken des Fontenis), followed by Kent Farrington and R.C.G. Farm's Creedance, both had the same fence down in the last line and finished with four faults each. Madden's time of 36.89 seconds took fourth place, and Farrington's blazing time of 34.28 seconds placed third. Last to go, Hough and Ohlala were clear, topping Kraut's time to take the win in 36.56 seconds.
"She was incredible the whole week," Hough said of the 12-year-old Swedish Warmblood mare owned by The Ohlala Group. "Thursday was a really nice warm-up for her. I ended up winning, but I tried not to take every risk in that class with tonight in mind.
"I was really lucky to be able to go last," Hough continued. "In the first round, she touched a couple and then jumped the end of the course very well. Then I was able to see Kent go in the jump-off, who took every risk I thought, and ended up having one down. I saw the difference in time between Kent and Laura, and I thought it was smarter to ride the round that I thought suited my horse. I did one more step in the first line and also in the last line than everybody else, but she is very quick across the ground. All the stars were lined up for me this week, so I'm thrilled."
Hough has been second in the WIHS grand prix multiple times, but never got the win until now and was happy to get the honor on home turf in the U.S. and earn points to qualify for this year's Longines FEI World Cup Finals in Omaha, Nebraska.
"I think being second a couple of times makes you hungry for it," Hough remarked. "I really had to stay focused and not get ahead of myself. Some of Ohlala's owners were here tonight, and they don't get to see her that often because she is based a lot of the time in Europe, so it was special for everyone. I haven't ridden in a World Cup Final in some years and I think Ohlala is very suited for the format, so I am making it a big priority to try to qualify. This is the first one that I have done, and my next one is in Toronto."
Kraut and Farrington also have the Longines FEI World Cup Finals on their agendas for the coming season, and this week's competition was great experience for both of their young horses. Kraut's mount, Confu, is a nine-year-old Holsteiner gelding.
Speaking of Confu, Kraut noted, "I wasn't really sure what to expect because I have never jumped him indoors. On Thursday, he jumped very well. I went medium in the jump-off tonight. He is not particularly quick; he is a little bit slow in the air, and he is still a little slow across the ground. My goal was to be double clear, and when I saw the line-up, my ultimate goal was to be third because I knew Ohlala and Creedance are for sure faster than he could be. I ended up getting lucky because Kent had one down. I was very happy with second, and I am very happy for Lauren and Lala."
Commenting on his night with Creedance, a nine-year-old Dutch Warmblood gelding, Farrington stated, "I think he has made great progress. He is a very special horse, and I think every round he is getting better. I wasn't able to really watch anybody go after the first one in the jump-off, and I heard Laura was clear and pretty quick, so I just tried to do a fast round. I was competing for the win, and you have one of the fastest indoor horses going last, so at that point I was just trying to do what I thought would be a very competitive round and put a lot of pressure on Lauren at the end of the class. I think with his experience I should have slowed down before the last line. It is a work in progress, but we are improving. I was disappointed with the result, but very happy with my horse."
Course designer Alan Wade was happy with the track he set for Saturday night and acknowledged that it is a challenging class to set.
"The horses come from the warm-up into the lights, and the crowd, and the razzmatazz," Wade remarked. "I tried to build the track up, but problems appeared at certain fences that I was surprised at. I think it was fair. I think there were a lot of people that had an unlucky four faults and would feel that if they got a second chance at it they could have been clear too, but it's down to the athletes and the horses at the end of the day. Whether the course was good or bad, they would have provided good sport and entertainment."
WIHS President Vicki Lowell enjoyed both the night's sport and entertainment, and thanked all of this year's athletes for their great effort in making this event a success.
"I can't thank the riders and the competitors enough. They put it all out there to put on a great show," Lowell stated. "They stay late, they sign autographs. This is top sport, and to bring this top sport to the nation's capital is a really special opportunity that we all have. I thank them for coming and being here for us and for the fans. The fans love it, and we are really happy to host everybody here."
---
Source: Press release from Jump Media // Picture © Shawn McMillen Photography