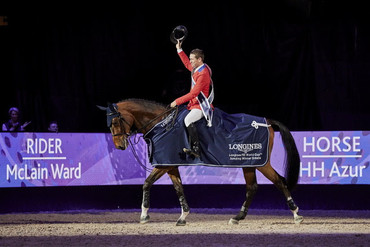 America's McLain Ward realised a lifetime ambition when claiming the Longines FEI World Cup 2016/2017 title on home ground in Omaha, Nebraska last season. Photo (c) FEI/Liz Gregg.
The days are getting shorter and the nights longer, but all across Western Europe equestrian fans know that means just one thing - the start of the much-loved Longines FEI World Cup season. And this is going to be a really special one, as the series celebrates its 40th anniversary and the final returns to Paris where it was held just once before, 30 long years ago.
The record books show Germany and the USA neck-and-neck in terms of title victories with 10 apiece, and nothing could demonstrate just how much success means more than the sheer joy of 2017 champion, America's multi-medalled McLain Ward, who won through in a classic finale on home ground in Omaha, Nebraska earlier this year. Because this is one they all want, no matter what other prestigious titles they have taken. The trophy has legendary status and the winners take their place in the annals of equestrian history amongst giants of this hugely popular sport.
It took Ward at least 25 attempts to do it, and he didn't disguise his sheer delight when he succeeded at last.
As the new Western European League gets underway in Oslo, Norway next Sunday, the battle for one of the 18 coveted qualifying spots in this region commences. And with five of the top 10, and 11 of the top 20 in the Longines Rankings lining out, the opener looks like a sizzler.
Currently world no. 3, Frenchman Kevin Staut enjoyed another incredibly consistent season when topping the 2017 Western European League table, and he'll be hoping to collect some useful early points on his journey to the 2018 final which will take place at the AccorHôtels Arena in his country's capital city next April. However Oslo has also attracted so many of the other big names, including Italy's Lorenzo De Luca who has enjoyed an extraordinary run of form over the last 12 months, and the newly-crowned European Champion Peder Fredricson from Sweden.
Add in the 2012 Olympic Champion Steve Guerdat from Switzerland who posted a back-to-back double of World Cup wins in 2015 and 2016, and 2014 Champion Germany's Daniel Deusser along with so many more, and it's clearly going to be an awesome start to the 13-leg series.
Moving on to superb indoor venues in Helsinki (FIN), Verona (ITA), Lyon (FRA), Stuttgart (GER), Madrid (ESP), La Coruna (ESP), London Olympia (GBR) and Mechelen (BEL) before 2017 draws to a close, the action resumes in 2018 with the last four legs in Leipzig (GER), Zurich (SUI), Bordeaux (FRA) and then Gothenburg (SWE). The Swedish city has hosted many finals including the inaugural edition in 1979 when Austria's Hugo Simon won the first of his three titles. But the only time the final was previously staged in Paris it was an American who came out on top, Katharine Burdsall steering The Natural to victory ahead of French rider Philippe Rozier, then aged just 24, who would go on to be part of that gold medal winning side at the Rio 2016 Olympic Games 29 years later.
Every season new talent shines throughout the qualifying rounds and last year Italy's Alberto Zorzi announced his very definite arrival at the top end of the sport with victory in Oslo. The 28-year-old was lying 109th in the Longines rankings at the time, but put himself very firmly on the map by pinning German ace, and three-time FEI World Cup Champion, Marcus Ehning into runner-up spot despite a first-to-go draw in both rounds of the competition. He returns to the Norwegian fixture this year having relentlessly climbed up the rankings list all the way to 13th spot, and brings his winning ride, Fair Light van't Heike with him. Zorzi may well be one to watch as this new Western European League progresses.
The excitement begins on Sunday 15 October, and if you can't be in a ringside seat then follow all the season's action LIVE on www.feitv.org.
---
Source: Press release from FEI // Picture © FEI/Liz Gregg