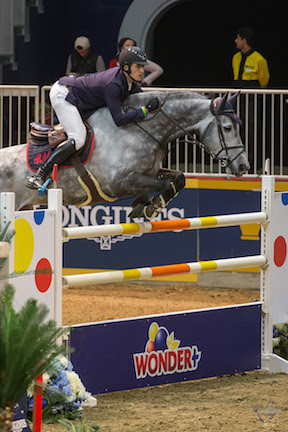 Belgium's Nicola Philippaerts claimed victory riding H&M Harley vd Bisschop in the $50,000 Weston Canadian Open. Photo (c) Ben Radvanyi Photography, www.benradvanyi.com.
Belgium's Nicola Philippaerts scored victory in the $50,000 Weston Canadian Open on Friday night, November 13, at the Royal Horse Show®, held as part of The Royal Agricultural Winter Fair in downtown Toronto, ON.
British course designer Richard Jeffery set a challenging speed track for the starting field of 21 entries. With high speed came great risk, and only two riders managed to cross the finish line with all the rails still intact. Philippaerts did it in the fastest time, coming home in 59.83 seconds riding H&M Harley vd Bisschop while U.S. veteran Leslie Howard opted for a more conservative approach, stopping the clock in 64.04 seconds riding Utah. By comparison, fellow American Mclain Ward, winner of Wednesday night's $132,000 Longines FEI World Cup™ Jumping Toronto, posted the evening's fastest time, a blistering 55.82 seconds riding HH Carlos Z, but at the expensive of a rail to finish third.
"The course was pretty big for a speed class," said Philippaerts, 22. "There were only two clears and many were fast. There were a few that were faster than me but had one down. There were some difficulties, like the combination and the skinny vertical, but I was lucky enough to leave the rails up."
Fellow Belgian competitor Francois Mathy, Jr., was another rider who produced a faster round in 58.34 seconds riding Polinska des Isles but had four faults to place fourth. American Charlie Jacobs was also faster than Philippaerts, clocking in at 59.58 seconds, but again failed to leave all the jumps in place to take fifth with Cassinja S.
"I didn't think I was fast enough," continued Philippaerts, who has been partnered with H&M Harley vd Bisschop, a grey Belgian Warmblood gelding, since last year. "I was halfway through the class and my horse is quite fast naturally, but he's only eight and he doesn't have all the experience yet. He did great today and I'm super happy with him. I think it's a great horse. I hope it's going to be one of my good horses in my future."
Philippaerts and his twin brother, Olivier, are both competing in the international division of the Royal Horse Show®. Their father, Ludo, is a four-time Olympian for Belgium, and was ringside in Toronto to help the twins as they carry on the family name in the sport of show jumping. He was not only the proud father of the winning rider, but also the proud owner of the winning horse, as he owns H&M Harley vd Bisschop in partnership with Ben Beevers.
"I think the Royal is fantastic!" said Nicola Philippaerts. "There is so much culture and history at this show. It's always nice to come here. The crowd not only cheers for the Canadians, but for anyone who rides well."
Source: Press release from the Royal Horse Show