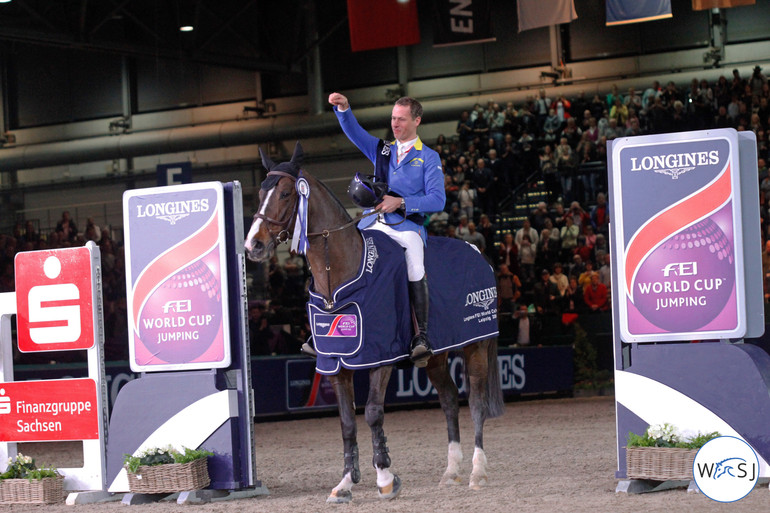 Thank you Taloubet Z! Christian Ahlmann gives credit to his long-time partner for their very last win, that goes into the history books. Photo (c) Nanna Nieminen for World of Showjumping.
The 10th leg of the Longines FEI World Cup Western European League took place this Sunday afternoon in Leipzig, Germany – and it was anything but ordinary. Earlier this week, home hero Christian Ahlmann (GER) announced that this would be the last international appearance for the legendary Taloubet Z – so it was set to be an unforgettable day at the stallion's favourite venue. And, the way it all played out in front of the fully packed Leipziger Messe – it left no eyes dry.
Forty of the very best horse-and-rider combinations in the world were lined up for the 160,000 Euro Longines FEI World Cup Grand Prix of Leipzig, presented by Sparkasse. The 1.60m course set by course designers Frank Rothenberger and Christian Wiegand counted 12 obstacles and 15 efforts in the first round, with a time allowed set to 67 seconds. A whopping number of 15 pairs cleared their way in to the jump-off over a shortened, eight fence-track. "Today might have been a dream scenario for many, but for me it was a nightmare," Frank Rothenberger commented afterwards. "I did not expect to see so many clear rounds. For years already, it has been very hard to get the right amount of clear rounds," he said.
Among the fifteen clear rounds many dreams came true, with young guns such as Maximilian Lill (GER) on Checkers (Coronado x Clerus), Christian Kukuk (GER) on Limonchello NT (Lord Caletto x Calido I), Maurice Tebbel (GER) on Chacco's Son (Chacco Blue x Lancer III), Alberto Zorzi (ITA) on Ego van Orti (Vigo D'Arsouilles x Darco) and Martin Fuchs (SUI) on Cool And Easy (Contender x Riverman) keeping a clean score over the demanding first round. In the end, the class saw seven double clear results; Douglas Lindelöw (SWE) on Zacramento (Cardento x Cortus) was one of them, taking the 6th spot and Max Kühner (AUT) on Chardonnay 79 (Clarimo x Corrado I) ended 7th.
The best five were on top of their game this afternoon, with Carlos Enrique Lopez Lizarazo (COL) on the 13-year-old gelding Admara 2 (Padinus x Murano) leading the way with a time of 43,39 seconds – that seemed unbeatable when it was time for the last to go: Christian Ahlmann (GER) on the 18-year-old stallion Taloubet Z (Galoubet A x Polydor).
Never has there been a silence like the one that fell over Leipzig this afternoon, when the pair got underway. The in-gate was fully packed, riders who had already finished their day all lining up to watch this magic couple in action. Like Frank Rothenberger said in the press conference afterwards: "At first they did not seem that fast – but then he put on his whatever machine it is, and I am sure everyone was happy they won."
Crossing the finish line in 43,19 seconds, Ahlmann and Taloubet Z received standing ovations from the crowds as it became clear that the stallion had just concluded his career doing what he does best: Winning. With Ahlmann celebrating in an untypical emotional manner, his partner Judy Ann-Melchior – also owner of Taloubet Z – was crying ringside, and she was not the only one that could not hold the tears back.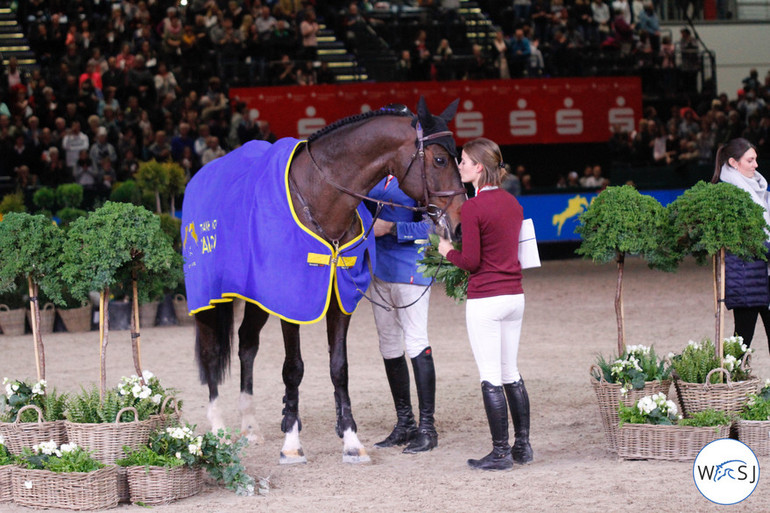 A kiss for a legend: Taloubet Z gets thanked off in Leipzig with Judy-Ann Melchior and Christian Ahlmann by his side. Photo (c) Nanna Nieminen for World of Showjumping.
Harrie Smolders (NED) on the 14-year-old gelding Zinius (Nabab de Reve x Kannan) had to settle for third place with a time of 44,28 seconds, while Marcus Ehning (GER) on the 13-year-old stallion Comme Il Faut (Cornet Obolensky x Ramiro) took the fourth spot with a time of 44,29 seconds. Kevin Staut (FRA) on the 17-year-old gelding Reveur de Hurtebise HDC (Kashmir van Schuttershof x Capricieux Des 6 Censes) placed fifth, after clocking a time of 44,39 seconds in the jump-off.
After the prize giving ceremony Ahlmann and Taloubet Z were joined in the ring by Judy-Ann Melchior and Taloubet's four grooms; Caroline Martin, Emma Lindgren, Elsa Fau and Caroline Schwolow. In an emotional speech, Ahlmann thanked the owners, the Melchior family, for trusting Taloubet in his hands and each person that has taken care of him during his career. Taking off his saddle, Ahlmann then led Taloubet Z out of the ring with the audience rising to their feet, waving the legendary stallion goodbye with white handkerchiefs.
"It feels very, very, good. I am so, so happy," Ahlmann told the media afterwards. "Everything I could wish for, happened today. I am so happy for my whole team and for Taloubet. We had so many good days, he brought me to a different level and if you can finish a career in such a shape, with such a result, in a place like this – better is not possible," he continued. "I am more than happy. I was only thinking about Taloubet today, and only trying not to mess it up. I tried my very best to show him like he normally jumps; like a really, really special horse. Today he showed everything he is able to do and how special he is. I was not thinking about the Grand Prix of Leipzig, I was not thinking about World Cup points, I was only thinking about Taloubet and this situation."
Second placed Lopez was also a happy man: "I am more than happy, I was not fast enough for Christian," he said. "My horse was off all summer and I feel like he came back in a better shape than he ever used to be. I am very lucky to have a horse like this."
Third placed Smolders praised Taloubet Z: "I think today Taloubet deserves all the attention," he said. "I think for the team at Zangersheide this was a dream scenario. But I think we did not give him a present – it was the highest level today, we have seen some fantastic sport and I think the win is what they deserved."
---
Text and pictures © World of Showjumping