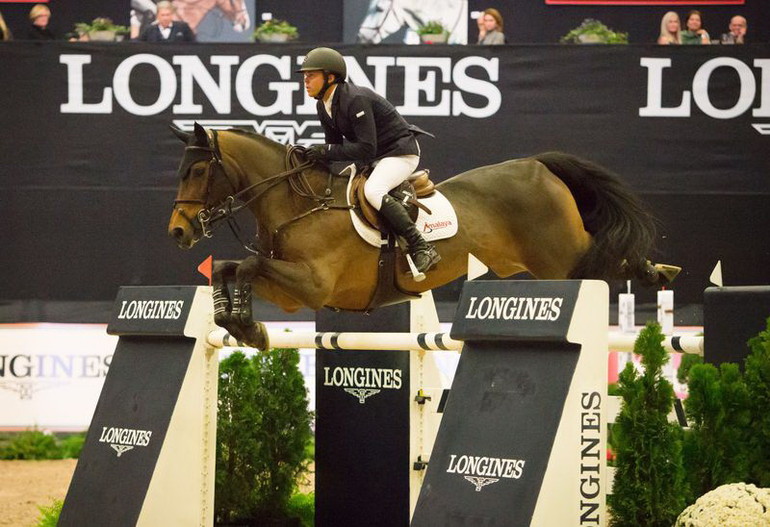 The United States' Kent Farrington repeats last year's National Horse Show victory with the win aboard Voyeur in the $250,000 Longines FEI World Cup in Lexington. Photo (c) FEI/Anthony Trollope.
Kent Farrington (USA) and his 2016 Rio Olympics mount Voyeur (Tolano van't Riethof x Goodwill) ran away with the victory in the fourth leg of the Longines FEI World Cup of the 2016/2017 North American League (Eastern Sub-League). The current world no. 4 rider—and recent Olympic team silver medalist—flawlessly executed a jump-off track with the 14-year-old Dutch Warmblood gelding to defeat a jump-off field of 14, claiming the win in the $250,000 Longines FEI World Cup of Lexington.
Inside the Alltech Arena at the CP National Horse Show, a starting list of 40 horse-and-rider pairs competed over the course designed by Michel Vaillancourt (CAN). A fair and flowing track—featuring a triple combination, a double combination, and two liverpools—set competitors up for success. Fourteen answered all the questions correctly to go clear; a majority of the class's rounds recorded, at most, four faults.
Success came early in the evening, with the first to ride in the order, Danielle Torano (USA), completing a fault-free round to set the tone. And heading into the jump off, a talented pool of riders emerged as top contenders, including three Olympians: Farrington, McLain Ward (USA), and Rodrigo Pessoa (BRA).
"I had my plan for that horse for what I think his weaknesses are and for where I needed to help him," said Farrington about his approach to the course in the first round. "Voyeur's very strong so I just have to watch that he isn't too aggressive."
The track in the final round enticed riders to take sharp turns, but as the rails began to drop, the risk of the sharp angles to the fences became clear with only three going clear. Callan Solem (USA) delivered the evening's first double clear aboard VDL Wizard (Gentleman x Ahorn), recording an efficient time of 40.69 seconds.
But a couple riders later, Farrington shaved almost four seconds off Solem's time, clocking in at 36.93 seconds. Solem went on to finish in second while Molly Ashe (USA) and Carissimo (Calando I x Silvester) landed at third with a time of 45.86 seconds and the final double clear.
"I was really hungry to win something, and I wanted to slam the door closed and make everyone chase me," Farrington said about his deciding round. "It was a big field with a lot of good riders behind me—especially with McLain and his horse from the Olympics [HH Azur]. When you have those kinds of competitors, you have to take a shot or you're not going to win."
Following tonight's event, Kent Farrington currently holds the top position in the Eastern Sub-League standings heading into the next event at the Royal Agricultural Winter Fair in Toronto, Ontario on November 9.
---
Source: Press release from FEI // Picture © FEI/Anthony Trollope