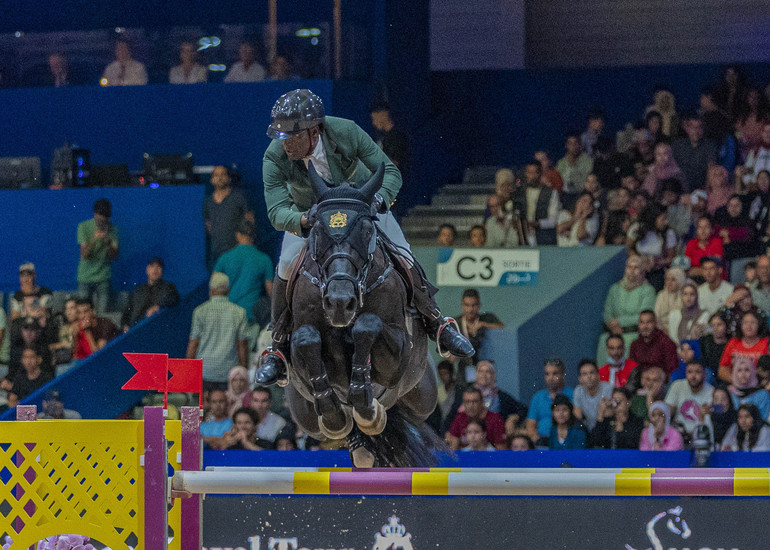 Abdelkebir Ouaddar and Istanbull V.H Ooievaarshof won Sunday's CSI4*-W 1.50m World Cup Grand Prix Sa Majeste Le Roi Mohammed VI in El Jadida. Photo © R&B Presse/ Adèle Renauldon.
The third and last event of the 2022-edition of the Morocco Royal Tour ended with another home win in El Jadida, as Morocco's very own Abdelkebir Ouaddar and Istanbull V.H Ooievaarshof (Casall x Calido I) took the top honours in Sunday's CSI4*-W 1.50m World Cup Grand Prix Sa Majeste Le Roi Mohammed VI.
The Morocco Royal Tour 2022's third stage also hosted the third leg of the six qualifiers in the Longines FEI Jumping World Cup Arab League/North African Sub-League season 2022/2023. The first round counted thirteen fences and sixteen efforts, and had 39 contenders representing eleven nations in it – including ten Moroccans and one Egyptian for the World Cup – with the ten best qualifying for the second round. Jumped over two rounds, the top four delivered double clear results – with Ouaddar being the fastest.
"I have no words... I dedicate this victory to the Moroccans and to His Majesty, whom I need so much to succeed in this sporting career," Ouddar said in a press release from the Morocco Royal Tour. "I won this Grand Prix fair and square, because in this jump-off, there were all the great riders like Luciana Diniz, Jérôme Guery, David Will and Simon Delestre. I am really proud, my horse gave me everything I asked him. I must thank all my staff, Marcel Rozier who knew how to communicate to me this desire to win. And I say a thousand thanks to Istanbull, I'm going to give him a vacation that he has richly deserved."
Simon Delestre (FRA) and I Amelusina R 51 (Dexter R x Chin Chin) took the runner-up position, while David Will (GER) on Zaccorado Blue (VDL Zirocco Blue x Acorado) placed third, Niklaus Schurtenberger (SUI) on Quincassi (Quintero x Cassini) fourth and Jerome Guery (BEL) on Azaria Dinero (Mylord Carthago x Drakkar des Hutins) fifth.