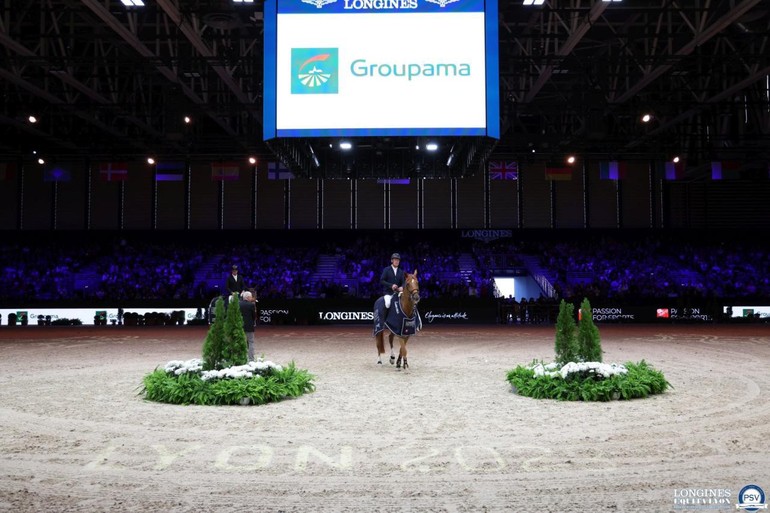 Roger Yves Bost and Ballerine du Vilpion took the win in Friday's 1.50m Prix Groupama in Lyon. Photo © PSV J.Morel.
This weekend, the 2023-edition of Longines Equita Lyon hosts the third leg of the Longines FEI Jumping World Cup Western European League 2023/2024 and the action at Lyon Eurexpo kicked off with a home win for the hosts in Friday's opening CSI5*-W 1.50m Prix Groupama.
Roger Yves Bost (FRA) and Ballerine du Vilpion (Baloubet du Rouet x Quidam de Revel, bred by Christophe Legros) took the win in the 1.50m class judged as a two-phase special with a time of 29.88 – besting a field of 58 horse-and-rider-combinations.
Romain Duguet (SUI) and Bel Canto de Boguin (Grenat de Grez HN x Arpege Pierreville, bred by Jocelyn Guillemette) took the runner-up spot in 30.74, while Kendra Claricia Brinkop (GER) and Ma Belle (Ugano Sitte x Bayard d'Elle, bred by Gust Brosens) placed third in 31.09, Julien Gonin (FRA) and Estrella de la Batia (Diamant de Semilly x Lando, bred by Sabine Dechamboux) fourth in 31.57 and Jessica Springsteen (USA) aboard Naomi van het Keizershof (Cardento x For Pleasure, bred by Leon Otten) fifth in 31.58.