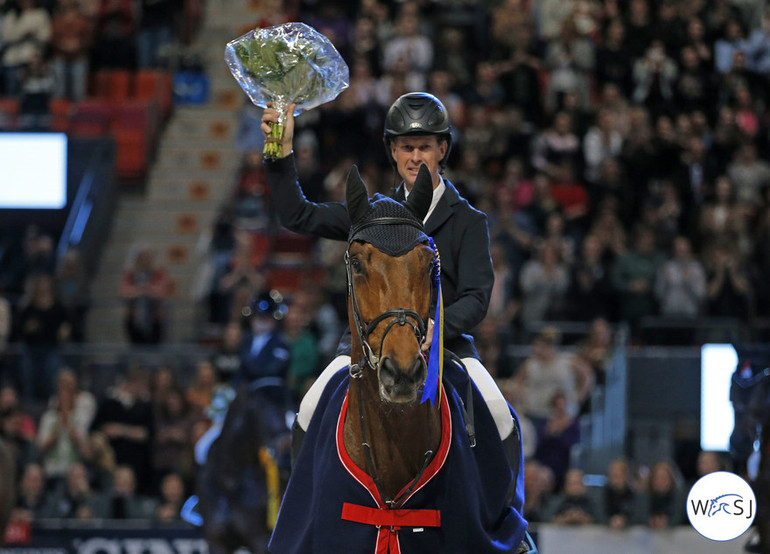 Rolf-Göran Bengtsson and Oak Grove's Carlyle won the Gothenburg Trophy. Photo © World of Showjumping by Jenny Abrahamsson.
Text by World of Showjumping
---
It was Swedish domination in Saturday night's 1.55m Gothenburg Trophy Grand Prix presented by Volvo, with the home riders taking first, second and third and it was Rolf-Göran Bengtsson and Oak Grove's Carlyle (Casall x Corrado I) that topped the class.
Seven riders made it to the jump-off where Irma Karlsson (SWE) with Chacconu (Chacco-Blue x Perhaps van het Molenvondel) took an early lead and put some real pressure on the rest of the field with her 35.47 seconds. The rest of the riders did their best to catch Karlsson, but the risk came on the expense of a fault or they just couldn't match her time. It was not until the very last rider – Rolf-Göran Bengtsson – entered the arena, that the time was bettered. Bengtsson got a great flow in the jump-off and crossed the finish line in 33.27 seconds, more than two seconds faster than Karlsson.
"I have had Oak Grove's Carlyle since he was seven, and back then he was not the best among the group of horses that arrived at the same time as him. Now, he is the only one of those horses still with me. He grew up and became this gentle nice horse that is very careful and scopey. Oak Grove's Carlyle is normally not the fastest horse, but today I got a good flow and I could catch a bit of ground to the last fence," Bengtsson explained.
"He is in some ways very similar to his father Casall – they are both very careful. Another thing they have in common is that in the beginning it was difficult to go fast with Carlyle and it was the same with Casall. But today Carlyle really wanted to go, so it worked out fantastically!" Bengtsson said.
Third place went to Stephanie Holmén with Flip's Little Sparrow (Cardento x Robin Z) who finished the jump-off in 36.60 seconds, while fourth place went to Gudrun Patteet (BEL) with Sea Coast Valdelamadre Clooney (Centeuer Z x unknown) after finishing the course in 38.61 seconds. Fifth place went to Germany's Daniel Deusser with Jasmien v Bisschop (Larino x Chin Chin) after stopping the clock in 34.37 seconds, but with four faults.
---
No reproduction without permission, copyright © World of Showjumping