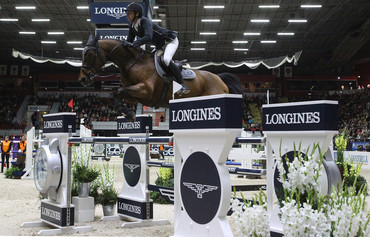 Steve Guerdat and Nino des Buissonnets won the Longines FEI World Cup in Helsinki. Photo Tapio Maenpaa/FEI.
The Swiss riders took full control in Sunday's Longines FEI World Cup in Helsinki, as Steve Guerdat, Martin Fuchs and Pius Schwizer claimed first, second and third in the second qualifier in the Western European League. Guerdat partnered up with his Olympic gold medallist Nino des Buissonnets (Kannan x Narcos II), and bettered his third place from Oslo last weekend to go all the way to the top.
It was the course designer from the World Equestrian Games, Frederic Cottier that had set the track for the afternoon. On the course, Steve Guerdat commented: "The arena is quite tight, the length is ok but if it was three or four metres wider then it would be easier. The fences came up really quickly for the horses and riders, but the courses got better every day and we got more used to it. Today's was the best course of the weekend, and this was definitely the best class."
In the end fifteen out of the forty riders made it to the jump-off. The 7,000 spectators were up for a treat, as the race against the clock for World Cup points unfolded in Helsinki. Third to go the second time around was Brazil's Marlon Zanotelli, who set the early target with a great clear round on Extra van Essene (Diamant de Semilly x Gotthardsen) in 36.18 seconds.
The lead did not last though, as Pius Schwizer pulled off a fantastic clear round on the only eight year old Sixtine de Vains (Calvaro x Damoiseau d'Or), stopping the clock on 35.33 seconds after taking out a stride between the second and the third fence. Kevin Staut, who also rode an eight year old – Ayade de Septon HDC (Wandor van de Mispelaere x Belle d'Avril du Mazy) and Christian Ahlmann with Cornado ll (Cornet Obolensky x Acobat) could not catch up with Schwizer, and neither could last week's winners from Oslo Jur Vrieling and VDL Zirocco Blue N.O.P. (Mr. Blue x Voltaire). The latter slotted in between the Schwizer and Zanotelli though with a time of 35.78 seconds - eventually ending fourth.
As second last to go, Guerdat left little doubt that this weekend he wanted to make it to the top of the podium. In their usual breath-taking style, Steve and Nino shaved off 0.37 seconds on Pius' time when the clock stopped on 34.96. Last in the jump-off were yesterday's Grand Prix winners Martin Fuchs and PSG Future (Cashandcarry x Lorentin I, who pushed in between Schwizer and Guerdat on the podium to take the second place at 35.10 seconds securing a Swiss top three.
Talking about the challenge of riding in today's relatively small arena, Guerdat joked, "Switzerland is a small country so we are used to small things!" And discussing the jump-off, he pointed out that his ride was more difficult than it appeared. "When I saw Pius go, I thought I can go faster than that if I don't fall asleep! But when I was riding it then it seemed quite far from fence to fence and it felt quite slow. But Nino is so quick, there were not too many options and I could still add a stride from 2 to 3 and be quick enough," he explained.
With 35 points already on the Western European League leaderboard, the Olympic gold medallist has only a little more to do in order to guarantee his place in the Las Vegas start-list next April. He intends to pick the last few points he needs over the next few weeks. "Next week I will take Concetto Son to Lyon and I will change horse for Verona the following week. I'll go back on Nino for Stuttgart but I won't be taking him to the final. I want to save him for one more championship," he explained. "I'm very happy! When I saw Pius I knew we would have a Swiss win and I did what I could but I'm very happy with second place!" said Fuchs after his second place.
Result: 1, Nino des Buissonnets (Steve Guerdat) SUI 0/0 34.96; 2, PSG Future (Martin Fuchs) SUI 0/0 35.10; 3, Sixtine de Vains (Pius Schwizer) SUI 0/0 35.33; 4, VDL Zirocco Blue NOP (Jur Vrieling) NED 0/0 35.78; 5, Extra van Essene (Marlon Zanotelli) BRA 0/0 36.18; 6, Cornado ll (Christian Ahlmann) GER 00 36.57; 7, Ayade de Septon Et HCD (Kevin Staut) FRA 0/0 37.24; 8, Edesa S Banjan (Geir Bulliksen) NOR 0/0 37.66; 9, Prime Time des Vagues (Alexandre Fontanelle) FRA 0/0 39.27; 10, Fardon (Anna-Julia Kontio) FIN 0/2 41.11; 11, Sea Coast Forlap DC (Daniel Deusser) GER 0/4 35.90; 12, Gotha FRH (Henrik von Eckermann) SWE 0/4 35.97; 13, Casello (Douglas Lindelow) SWE 0/8 36.50; 14, Connery (Luca Moneta) ITA 0/12 36.48; 15, Ashkari (Yasmin Pinchen) GBR 0/23.
Source: fei.org