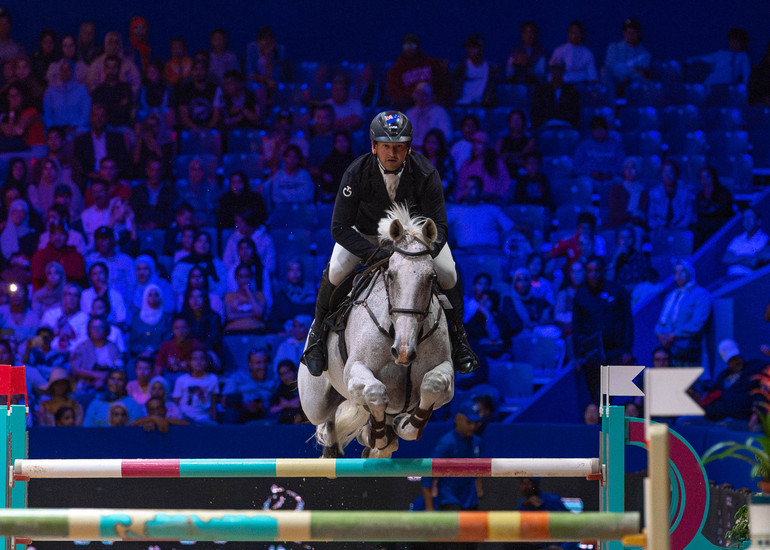 Tom Tarver-Priebe and Fiber Fresh Popeye won the CSI4*-W 1.50m Prix Mapm/Sorec in El Jadida. Photo © R&B Presse /Adèle Renauldon.
The third and last leg of the 2023 Morocco Royal Tour in El Jadida has kicked off, and in Friday's CSI4*-W 1.50m Prix Mapm/Sorec – a qualifier for Sunday's Grand Prix and a class counting for the Longines Ranking – New Zealand's Tom Tarver-Priebe and the 13-year-old Fiber Fresh Popeye (Cardento 933 x Lio Caylon, bred by Kim And Greg Best) took the win with a time of 65.64.
"I know that you have to fight to beat riders like Simon Delestre or André Thieme," Tom Tarver-Priebe said in a press release from Morocco Royal Tour. "But I stuck to my plan, I rode my course taking the options I'd chosen walking the course and today, it worked. Today was our day. And I'm particularly happy because it's my first win here, on the Morocco Royal Tour, and it's a circuit that I love, it's magnificent. I sincerely hope to be invited back next year."
Germany's André Thieme and Paule S (Perigueux x Sir Shutterfly, bred by Ute Jungermann) took the runner-up spot when the clock stopped on 67.07 for the 2021 European Champion, while the current world number ten Simon Delestre and Olga van de Kruishoeve (El Torreo de Muze x Nabab de Reve, bred by Eric Polfliet) placed third in 69.39. Belgium's Marine Scauflaire and Hortus d'Hoogpoort (Diamant de Semilly x Acorado, bred by Patrick Dalle) finished fourth in 70.22, followed by their compatriot Virginie Thonon aboard Edgard de Prefontaine (Contact vd Heffinck x Orlando, bred by Françoise Collart-Duquesne) in fifth in 75.55.