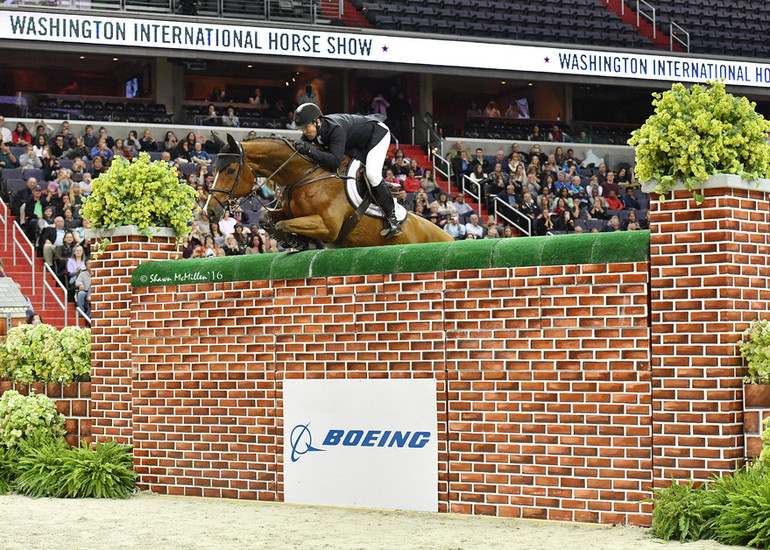 McLain Ward and ZZ Top v/h Schaarbroek Z clear 7 feet in the Puissance. Photo (c) Shawn McMillen Photography.
The 2016 Washington International Horse Show (WIHS) featured a wide range of equestrian sport on Friday showcasing the grace, power, and speed of some of the world's finest horses and riders. A fantastic day of competition concluded with the $25,000 International Jumper Puissance, presented by The Boeing Company, where six horses and riders attempted the impressive wall, and USA's McLain Ward and Aaron Vale tied for first place with clear rounds jumping seven feet.
The Puissance began with the wall set at 1.72m (5'8") in height and moved all the way up to 2.13m (7') through five rounds of competition. All six horse and rider combinations cleared the first round at 5'8". Danielle Torano (USA) jumped the Puissance for the first time riding her own and Jimmy Torano's Cash and faulted in round two to finish sixth. Kama Godek (USA) and her own De Grande, and Andrew Kocher (USA) riding Eagle Valley Partners' C'Havinia, each cleared 1.85m (6'1") and knocked the wall down in round three to finish in a tie for fourth place. Lauren Tisbo (USA) and Tequestrian Farms' Mr. Visto cleared three rounds up to 1.97m (6'6") and dropped a block in round four to place third.
Aaron Vale riding Thinks Like a Horse and Don Stewart's Finou 4, and McLain Ward aboard his own ZZ Top v/h Schaarbroek Z, cleared round four at 2.00m (6'9") and continued on to a fifth and final round at 2.13m (7'). Two veterans of Puissance competition, with Ward having won this class seven times and Vale twice. Each rider guided their mount easily over the imposing height, ending in a tie.
Remarking on the excitement and great competition of the night, Vale stated, "Puissance at Washington on Friday night is always a big night. There are lots of people in the stands, and they always cheer a lot. It is good to have a class where two horses went pretty far. It was a good class."
Ward agreed, "This has always been a special night at Washington. Both Aaron and I have a good history in this class and we enjoy it and the crowd enjoys it. It is nice when it works out well."
Ward and ZZ Top, a 15-year-old Zangersheide gelding (Zandor Z x Latus), also tied for a win in the Puissance in Central Park in September, clearing 6'9".
Commenting on his horse's effort Friday night, Ward noted, "This is only the second time I've shown him, so as far as I know this is the biggest he has jumped. He is a wonderful horse. I have bought and sold him a couple of times now. He has been a great horse for many people and after this he will probably go and be a great teacher for somebody else next year."
Vale plans to jump Finou 4, a ten-year-old Hanoverian gelding (For Pleasure x Concetto), in Saturday night's $130,000 Longines FEI World Cup™ Jumping Washington, presented by Events DC, and used the Puissance as preparation to jump the big fences.

He explained, "He is a very fresh, energetic horse, so my plan was to jump him tonight to hopefully take the edge off him and give him some focus for tomorrow. He has a lot of power and he is pretty limber, so I had an idea he could maybe jump a big fence pretty well. The class was great fun and hopefully it sets me up pretty well for tomorrow night."
Ward and Vale were awarded The Sweet 'N Low Trophy, donated by Mr. and Mrs. Donald G. Tober, as well as The Armed Forces Cup, presented by The Boeing Company. They were also presented The Congressman's Challenge Trophy, donated by the Late Honorable Rogers C.B. Morton and the Late Honorable F. Robert Watkins, for the owners of the winning horses.
---
Source: Press release from Jump Media / Picture © Shawn McMillen Photography