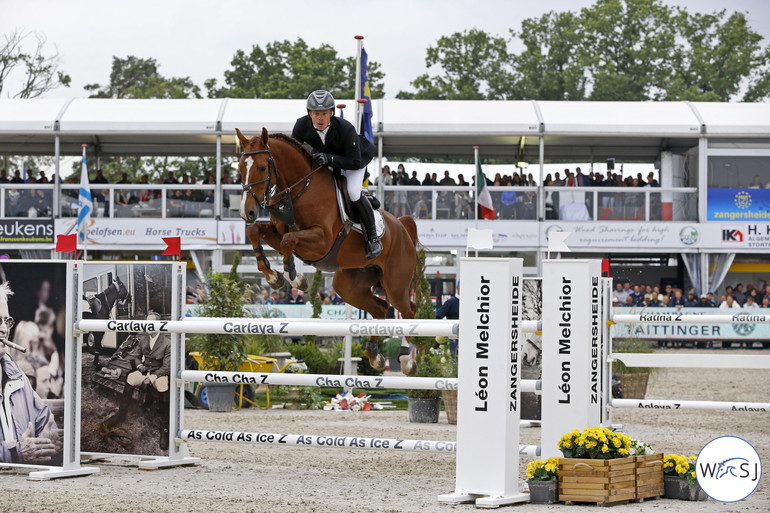 Willem Greve and Garant on the way to the gold medal at the FEI World Breeding Jumping Championships for 5-year-old horses. Photo (c) Jenny Abrahamsson.
After a 20-horse jump-off, it was Dutch rider Willem Greve who could climb to the top of the podium at the FEI World Breeding Jumping Championships for 5-year-old horses. Riding the KWPN-gelding Garant (Warrant x Verdi TN, bred by Gebr. Bosch), Greve claimed gold for the first time in Lanaken after both having collected the silver and the bronze medals at earlier occasions. Ireland's Michael Pender impressed to the maximum, taking both the silver and the bronze today on Irish bred horses.
Although Greve has a lot of belief in Garant, he was quite surprised with the gold: "I came here to give him experience and never expected to be World Champion, but based on Garant's quality he really deserves it," he said.
With such a long start list for the jump-off, it was bound to be a race for the 5-year-olds that were jumping at 1.30m height in the final. As second to go, Michael Pender set the pace with a clear round in 39.04 seconds aboard the mare Z Seven Canya Dance (Can Ya Makan x Cavalier Royale, bred by Anne Hughes). The only 16-year-old that is still in school rides for Ireland's Marion Hughes, and the Dubai-based Team Z7 – the latter the owners of Z Seven Canya Dance as well as Z Seven Caretina.
None of those to come could catch Pender. In fact, it would take himself as well as Willem Greve to beat the time. Aboard the mare Z Seven Caretina (Coltaire Z x Caretino, bred by Marion Hughes), Pender produced an even faster round to slot into the top two positions with the new time to beat at 38.86 seconds.
However, coming in towards the very end Greve snatched the victory. And it was not only fast, but also beautiful to watch as the Dutch rider piloted Garant to a smashing time of 38.46 seconds to bring home the gold and the World Champion-title.
Garant was bought only in May this year, and was quite green when he arrived at Greve's stables doing lots of small rounds during the summer months. However, the gelding has stepped up quickly and takes everything in his stride. "My horse jumped fabulous also during the first two days here, and gave me a really good feeling. However, you need a little bit of luck as well," Greve smiled adding "I had two horses qualified for the final today, and he was the second horse so I ended as last to go in the jump-off. Last year I ended up third in this class, and then I was in the beginning of the jump-off. I knew I had to give full speed, Michael put a lot of pressure on everybody. But, with such a good horse it makes life a little bit easier."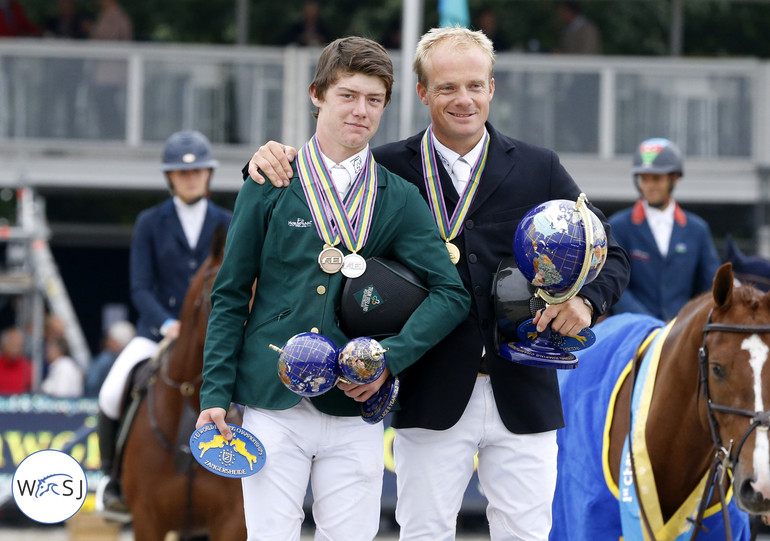 There were only two riders on the podium after the 5-year-old final in Lanaken; Willem Greve who won the gold and Michael Pender who took the silver and the bronze. Photo (c) Jenny Abrahamsson.
"I knew Michael set a real fast time. And with twenty in the jump-off you have to give everything," a happy Greve continued. "It was all or nothing, and today it was all."
Pender was also delighted with his two medals. "It's my first time here. I have done some championships before on ponies. This is different," said Michael making everybody laugh with his understatement. "I am still going to school, I have two more years left and then I start," he continued referring to a professional career that seems to be pretty well underway already.
Just like Garant, Z Seven Caretina and Z Seven Canya Dance are sired by stallions that themselves have been successful in the top sport in addition to having top dam-lines. "Z Seven Canya Dance is by Can Ya Makan, a horse that Marion Hughes rides and that has competed successfully at international Grand Prix level and it's a really good horse," explained Michael who was been riding for Hughes since the beginning of the year and who thanked the owners of his two medal winners for their support.
"People from all around the world come here, and that makes this venue so so special," said Greve highlighting the importance of these championships for young horses. "I always come here with pleasure. It is a bit a gamble to make it to the jump-off, because there are so many horses. One year you have more luck than the other year, but with the stallion approval, the foal auction, the Sires of the World and the Championships this is a real, real event – nothing can beat it," Greve said. "To win a medal here with a young horse that you own and produced yourself, well it makes me really proud."
---
Text © World of Showjumping // Picture © Jenny Abrahamsson