A complex international market in need of further regulations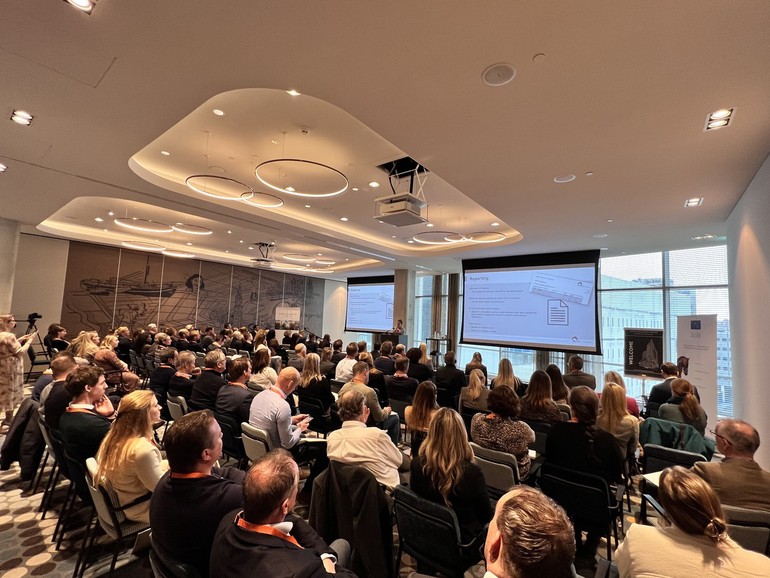 On November 11th, Schelstraete Equine Law held its 2nd International Equine Law Congress in Amsterdam, the Netherlands. Photos © Schelstraete Equine Law.
Text © World of Showjumping
---
On November 11th, Schelstraete Equine Law held its 2nd International Equine Law Congress in Amsterdam, the Netherlands. The first edition of the International Equine Law Congress, held in 2019, focused on the pre-purchase examination, and this time around the topics were centred around the legal aspects of horse breeding as well as trade in foals, semen, embryos and oocytes.
Bringing stakeholders together
An open letter sent to the World Breeding Federation for Sport Horses (WBFSH) in 2019 sparked Luc Schelstraete's – the founder of Schelstraete Equine Law – interest in the legal issues concerning horse breeding. Asking for help in enabling a fair, ethical, and transparent production of foals, the open letter signed by 15 of the biggest names in horse breeding worldwide has not yet resulted in any solution. With the 2nd International Equine Law Congress focusing on the issues addressed in the open letter, Schelstraete was hoping to bring all the stakeholders together to discuss the different aspects of this complex topic.
Moderated by Zachary Calo, the 2nd International Equine Law Congress had multiple speakers from the different stakeholder groups taking part. Dr. Tom Stout – a professor in veterinary medicine from Utrecht University – spoke about the veterinary developments in horse breeding, while Jannie Spanner and Emma Lorenzen from VetEmbryo APS discussed Intracytoplasmic Sperm Injection (ICSI), going into detail about how they manage their contracts, as well as pointing out the risks and advantages they believe are included in the method.
Advantages and risks of assisted reproductive technologies
Dr. Tom Stout explained how he believes that assisted reproductive technologies such as artificial insemination, embryo transfer and ovum pick-up have several advantages when it comes to genetic selection, sub-fertility, international transport, storage and biosecurity. However, Dr. Stout also pointed out that in his opinion the potential disadvantages might include inbreeding, effects on fertility, foal health and general safety, as well as welfare issues as some of the procedures can be very invasive. The invasiveness of some of the methods, the risk of human error as well as the pressure created by the financial trade value were some of the factors Dr. Stout highlighted as what he sees as possible challenges when it comes to the ethics of assisted reproductive technologies.
Dr. Stout pointed out that at Utrecht University, the number of reproductive procedures of embryo flushes and artificial insemination with cooled semen has remained levelled, while the number of OPU and ICSI transfers has grown, reaching around 800 procedures done in 2021. Furthermore, Dr. Stout spoke about how he believes that the next step in horse breeding will include pre-determining the sex of the embryos, while research on progeny performance and health as well as genetic and genomic testing will be needed.
When it comes to ICSI, Arnaud Evain – director of the Selle Francais studbook – shared some of his opinions on what he thinks are the main issues in international horse breeding. Evain was of the opinion that while ICSI can be of great help when dealing with subfertility issues, it should not be used as a breeding method, as he believes it does not widen the genetic base and therefore does not benefit the wider perspective of breeding – even though it can be a useful method in preserving some rare genetics. An interesting point that the representatives from KWPN as well as from the SF studbook mentioned, was that, in their view, even though the number of embryos created using the ICSI method has risen, the number of registered ICSI foals is still relatively small in both studbooks.
Trust based co-operation
Jannie Spanner and Emma Lorenzen from VetEmbryo APS, based in Denmark, highlighted how they believe the business of horse breeding is a trust-based co-operation. They explained how the contracts they use with their clients differ greatly, from a client that for example uses semen stored at their laboratory to a client who purchases semen directly from a stallion owner. While the situations can be complex, Lorenzen and Spanner pointed out how they believe it is always important to make sure that the client understands the procedure, the steps and timeframe, semen conditions and potential risks, cross-border/EU-regulations, responsibilities, the inherent small risk related to DNA analysis as well as prices and payment.
When it comes to semen, there are many factors that must be considered: Is the semen ICSI free to start with, and how should the results be reported? Are the EU health certificates in order? What is the number of straws and how many sessions are allowed? Are there third parties involved, and who should receive the reports of the results? Who owns the rest of the semen and what needs to be done before any embryos can be transferred?
United Nations Convention on Contracts for the International Sales of Goods (CISG)
Professor Dr. Burghard Piltz presented the United Nations Convention on Contracts for the International Sales of Goods (CISG) and the advantages he sees in applying this convention, while Patrick Vettenburg shared his views on VAT aspects in horse breeding.
The CISG governs international sales contracts between private businesses, excluding sales to consumers and sales of services as well as sales of certain specified goods such as airplanes and boats. Dr. Piltz explained that it can be used as a legal instrument for owners of stallions, mares or genetic products, and that it trumps national law, applying to all member states of the European Union except Malta and Ireland. However, CISG does not apply to sales by auction.
As Patrick Vettenburg pointed out, VAT is not harmonized in the EU, and in his opinion, it is a real patchwork. Vettenburg explained what should be kept in mind when taxing the flow of goods and services from origin to consumer: The country of destination as well the physical flow of goods are the two leading principles when determining which country's VAT applies. While a reduced EU VAT rate for live equines and the supply of services related to live equines is being discussed, it is not yet in force.
The right of withdrawal and transfer of ownership
Luc Schelstraete himself spoke about the right of withdrawal and distance contracts, while the challenges in determining transfer of ownership were explained by his colleague Piotr Wawrzyniak.
When it comes to the right of withdrawal, especially for auctions, Schelstraete pointed out that special attention should be paid to the general auction conditions and other general purchase conditions. When the seller is a professional and the buyer is a consumer, consumer protection grants the buyer a right to withdraw. However, public auctions are excepted from the right of withdrawal, while an online auction is not considered a public auction. With the transfer of ownership, problems arise from various jurisdictions and laws that apply, since there is a difference between countries in determining when the transfer of ownership has actually taken place.
The role of studbooks and WBFSH
The function of the studbooks was introduced by Ralph van Venrooij – head of breeding at KWPN studbook – while actual problems in trading of foals, semen, embryos and oocytes were addressed by Bérengère Lacroix from WBFSH and Arnaud Evain, director of Selle Francais studbook.
Ralph van Venrooij explained how the core duties of studbooks involve the registration of foals, implementation of breeding programs with both mare and stallion selection, monitoring performance and population progress as well as monitoring genetic defects and inbreeding. While the WBFSH has approximately 150,000 members from 80 studbooks worldwide that register about 100,000 foals annually, Van Venrooij pointed out how he believes that there is a rapidly growing need for more cooperation between studbooks.
Bérengère Lacroix, from WBFSH and Arnaud Evain, director of Selle Francais studbook, presented their opinions on how finding good practices of managing genetics could offer more transparency and traceability in the global market. They believe that the existing European legislation regarding health certificates could be the tool for better transparency and traceability.
One of the biggest issues seemed to be the fact that when things go wrong, there is no one to turn to; the WBFSH as an independent, international umbrella organization of studbooks is only an association and will not interfere in commercial matters between their members. While some regulations are in place – from European regulations and EU directives to various national rules – the international trade of semen, oocytes, embryos and foals can end up very confusing. When a stallion owner, a mare owner, an ICSI laboratory and a consumer buying an embryo all live in different countries, determining which VAT should be applied can turn into a challenge – never mind a situation where something goes wrong, with the question of jurisdiction at the core as one needs to decide which country's legislation should be followed. A lot of regulations already exists, but the actual enforcement does not seem consistent, and fighting fraud can sometimes lead to conflicts with the EU's aim of free trade.
For more information, visit schelstraete-equine-law-congress.com and schelstraete.nl.
---
About Schelstraete: The midsize law firm Schelstraete, founded in the Netherlands in 1989, has more than 30 years of experience in the fields of Equine, Sports Law, Tax, Business, Art and Litigation at an International level. Schelstraete has its head office in s'Hertogenbosch, the Netherlands, with additional offices in London, New York, Paris and Doha. At its meeting room in Amsterdam, Schelstraete provides legal services to many foreign clients.
Practicing law for more than 33 years, founder and Senior Partner of the law firm, Luc Schelstraete has developed the international equine legal business as a niche. Already in 2015, Luc initiated and founded the Alliance European US Asian Equine Lawyers with alliance partners in more than 12 countries. Separate from his specialization in Equine law, Luc has a broad experience in Art law, International Contracting and Litigation. Luc is a legal counsel of VSN (Dutch Association of Sport Horse Dealers) and of many high ranked multinational equine entrepreneurs, trainers, equine authorities, National Federations and top athletes.