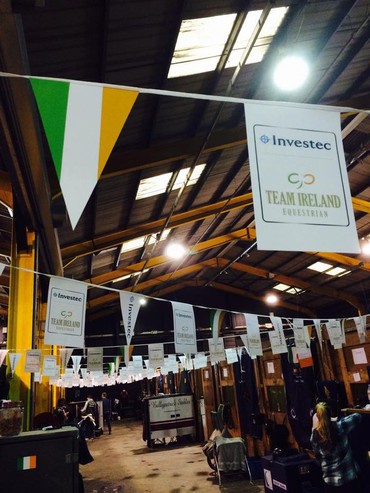 The flags are up in the Irish camp!
Hi everybody,
Very sorry, but we are not taking any stunt show bookings yet. Nikki was a good girl and kind of loved the derby class; she only had one down and a little misunderstandment at the banks - but was still placed 9th.
She thinks that qualifies her to redecorate the stable set up, by pulling all the hangers down and opening shaving balls in front of her stable to mix them up with all the coolers. And as she still is a little child she didn't quiet get that a NO is a NO. So you turn around after renewal, and she surprises you happily with an even bigger job done. So after spending the day with picking shavings out of black wooly sheets it was time for the speed class where Quiet Easy took over the lead just to get beaten by next rider Emanuele with 5 seconds, but he stayed in second place!
The 2 stallions have been resting today for the big jobs tomorrow. Cheese will go jumping the youngster in the huge grass ring, and Romanov his Nations Cup. He already wore his new team gear out this afternoon; think zebra looks great on him.
Meanwhile Math - Greg's groom - put up about 2000 flags across the Irish stables so we are ready to go!
Marlen