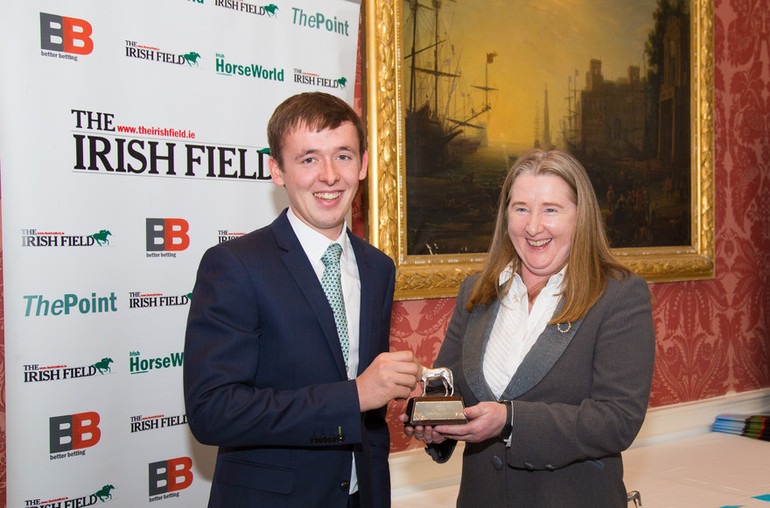 Betram Allen was honored with 'The Irish Field Senior Show Jumper of the Year'. Photo (c) The Irish Field.
For a third consecutive year, Bertram Allen has won The Irish Field Senior Show Jumper of the Year Award. Allen flew in to receive his prize at The Irish Field Awards at the K Club in Straffan, Co Kildare after finishing second in the five-star Grand Prix of Bordeaux this weekend.
Receiving his award, Allen said: "This is a lovely award to win, and now to do it three years in a row and see the other names on it (list of previous winners), its special, so I am delighted". Once receiving his award, Allen got a taxi straight to Dublin airport to head for the Hong Kong Masters.
Allen landed five-star victories all over the world in 2016, including at the prestigious Hong Kong Masters, Paris Saut Hermes and at the Global Champions Tours in Hamburg, Cannes and Monaco, just to name a few. He was a member of the winning Irish team in the Furusiyya Nations Cup of St. Gallen and he secured over €500,000 when part of the Global Champions League winning team, with British legend John Whitaker, in Doha last November.
Allen finished out November in style when repeating a phenomenal feat of winning three cars at the four-star show in Stockholm, Sweden, the highlight being the Grand Prix win aboard the brilliant Molly Malone V. He continues to grow his top string of horses and picked up yet another five-star victory at London Olympia with High Valley at the end of December.
Winner of The Irish Field Junior Show Jumper of the Year was Kildare teenage sensation Michael Pender (16). Despite his young age, Michael beat off some of the toughest competition in the world to win two medals, a silver and bronze, at the World Breeding Championships for Young Horses in Lanaken, Belgium, last autumn. Michael won his medals on Irish-bred horses in the five-year-old horse classes despite stiff competition in the final from seasoned international riders.
On home turf, Michael enjoyed a successful Dublin Horse Show, winning the five-year-old championship aboard Z Seven Canya Dance and he went on to be awarded the Michael Meller Young Rider Style Award and the coveted RDS Bursary Prize. He then moved to Millstreet International Horse Show where he claimed the prestigious Boomerang Final and later returned to that venue for the Junior European Championships where he finished 12th individually.
---
Source: Press release from The Irish Field / Photo (c) The Irish Field