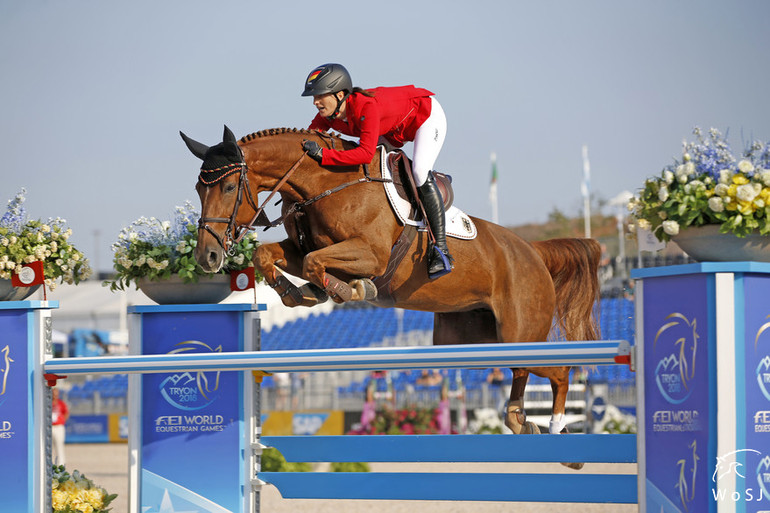 Simone Blum and DSP Alice at the 2018 World Equestrian Games in Tryon, where they won individual gold and team bronze. Photo © Jenny Abrahamsson/WoSJ.
At the age of 16, Simone Blum's 2018 World Champion DSP Alice (Askari x Landrebell) will be retired from the sport during the 2023-edition of CHIO Aachen. "I wouldn't be where I am now without Alice," Simone Blum said in a press release from CHIO Aachen. "She has always been my soulmate. Because she is so unique, we have a very special connection."
"The atmosphere in Aachen is unique. I am very much looking forward to letting Alice revel in the applause of her favourite crowd," Blum said about the venue where the two helped Germany win the Mercedes-Benz Nations Cup in 2018.
In the late summer of 2017, DSP Alice was the name on everybody's lips. The chestnut mare was 10-years-old, and had started to make her presence known on the international showjumping scene with Blum in the saddle – winning five-star classes in Gothenburg and Lausanne. The year after, following a strong summer season, the pair jumped to global fame when winning individual gold and team bronze at the World Equestrian Games in Tryon. In 2019, the couple crowned yet another impressive season with team silver with the German squad at the European Championships in Rotterdam – their last championship together, as Alice sustained an injury. After more than a year away from international competition, Alice made a comeback in St. Tropez, France, in October 2020, but was unfortunately soon out of action again. Making only a few international appearances in 2021, Alice returned to competition at the beginning of this year, before the announcement of the retirement for the now 16-year-old mare was made today.
A ceremony to celebrate DSP Alice will take place on June 29, between the two rounds of the Mercedes-Benz Nations Cup at CHIO Aachen.
At World of Showjumping, we wish Alice a very happy retirement!