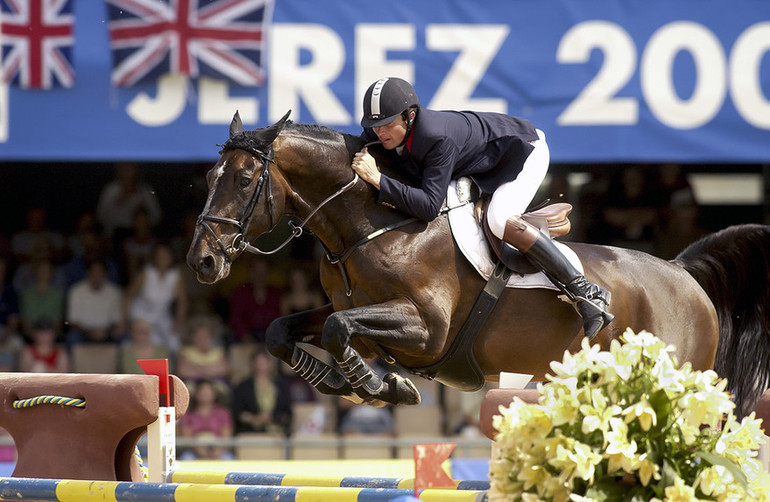 Diamant de Semilly and Eric Levallois at the 2002 World Championships in Jerez. Photo © Dirk Caremans/www.hippofoto.be.
Text © World of Showjumping
---
After an impressive six years on top of the WBFSH Sire Ranking for jumping horses, the late Chacco-Blue (Chambertin x Contender) has been pushed down to second on this year's edition of the prestigious list – by no other than Diamant de Semilly (Le Tot de Semilly x Elf III).
Diamant de Semilly last topped the ranking back in 2016, while Chacco-Blue has held firmly on to the number one spot since 2017. After sadly passing away in 2022, at the age of 31, Diamant de Semilly is now back as the leading sire with Mumbai (dam Ischgl de Muze, by Nabab de Reve), Odense Odeveld (dam Firenze Odeveld, by Querlybet Hero), and H&M Miro (dam Indiana, by Kannan) as his top three offspring.
Chacco-Blue now sits second – separated by only 77 points from Diamant de Semilly – with Up Too Jacco Blue (dam Celestial Up Too, by ARD VDL Douglas), Chalou (dam Gremlina, by Baloubet du Rouet) and Miss Blue-Saint Blue Farm (dam Magnolia Mystic Rose, by VDL Zirocco Blue) as his three top ambassadors.
The late Kannan (Voltaire x Nimmerdor) is up from 4th to 3rd, with James Kann Cruz (dam CSF Telly Cruz, by Cruising), MoM's Toupie de La Roque (dam Walloon de Muze, by Nabab de Reve) and GL Events Dorai d'Aiguilly (dam Bijou Orai, by Toulon) as his best three progeny. After being 3rd last year, Mylord Carthago *HN (Carthago x Jalisco B) is ranked 4th this year followed by VDL Zirocco Blue in 5th – up from last year's rank ten.
The ranking includes validated FEI results from October 1 2022 to September 30 2023.
---
WBFSH Top 10 Sire Ranking Jumping 2023
1 (2) DIAMANT DE SEMILLY – 26077
2 (1) CHACCO-BLUE – 26000
3 (4) KANNAN – 22013
4 (3) MYLORD CARTHAGO – 16906
5 (10) VDL ZIROCCO BLUE – 13523
6 (5) TOULON – 13291
7 (6) CASALL – 12904
8 (7) CARDENTO – 12764
9 (8) ELDORADO VD ZESHOEK – 12534
10 (16) COMME IL FAUT –10294
The brackets indicate the sire's ranking position in 2022
---