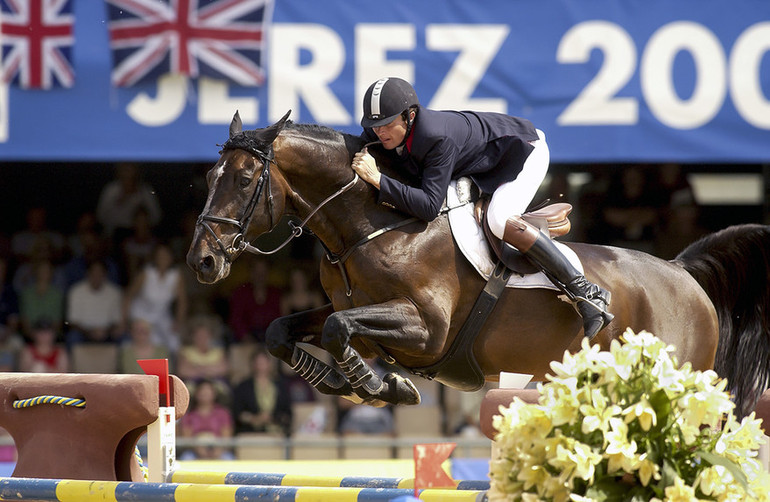 Diamant de Semilly and Eric Levallois at the 2002 World Championships in 2002. Photo (c) Dirk Caremans/www.caremans.be.
Diamant de Semilly tops the 2016 Rolex WBFSH Showjumping Sire Ranking. This is the second year in a row that the stallion heads this prestigious ranking list.
For Pleasure, rank four last year, is the new number two while Cornet Obolensky remains as rank three on this year's edition of the list. Casall Ask moves up from rank nine to four, while Kannan is down from rank two to five. Kashmir van't Schuttershof climbs one spot to rank six, as does Balou du Rouet to rank seven. Rank eight is Chacco-Blue, up two spots on this year's list. Baloubet du Rouet is down from rank five to nine, while Cardento moves up from rank thirteen to ten.
Father and son Baloubet du Rouet and Balou du Rouet impress as they are both in the top ten. Another strong stallion line is that of Quidam de Revel who himself is ranked 11th, while his son Nabab de Rêve is 13th and then then his grand-son Kashmir van't Schuttershof 6th.
Rolex WBFSH Top 10 showjumping sire ranking
1 (1) DIAMANT DE SEMILLY - 16943
2 (4) FOR PLEASURE - 15676
3 (3) CORNET OBOLENSKY - 15133
4 (9) CASALL - 12901
5 (2) KANNAN - 12721
6 (7) KASHMIR VAN'T SCHUTTERSHOF - 11992
7 (8) BALOU DU ROUET - 11658
8 (10) CHACCO-BLUE – 11637
9 (5) BALOUBET DU ROUET – 10985
10 (13) CARDENTO - 9711