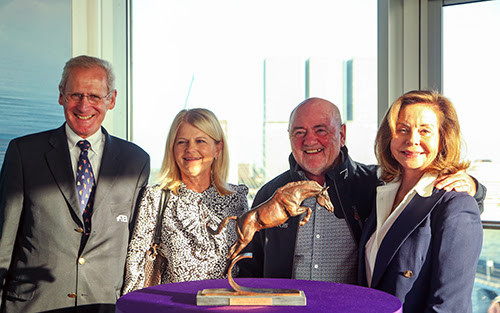 Mr John Roche, Director of Jumping at the FEI, Mrs Baleri, Mr Luigi Baleri and Mrs Robin Parsky, Vice-Chairwoman of the JOC. Photo © Claire Simler.
From press release by the Jumping Owners Club
---
Mr Luigi Baleri, owner of Clooney 51 and Chaplin, has been awarded the Owner of the Year trophy for 2018 by the Jumping Owners Club. The award ceremony took place yesterday evening in Rotterdam (NED), in the presence of Mrs Robin Parsky, Vice-Chairwoman of the Jumping Owners Club and Mr John Roche, Director of Jumping at the FEI.
This award, created in 2004 and approved by the FEI, illustrates the importance of recognizing the involvement of the owners by riders' side in building an international career in show jumping.
Ridden by Swiss Olympic silver medallist Martin Fuchs, Clooney 51 enjoyed a string of successes throughout 2018, including winning the individual silver medal at the FEI World Equestrian Games in Tryon (USA), wins in the 5* Grand Prix of Basel (SUI), Zurich (SUI) and Lyon (FRA) and a 5th place in the 18th Rolex IJRC Top Ten Final. Clooney also won the team bronze medal at the European Championships 2017 in Göteborg (SWE).
Dominique Mégret, Chairman of the Jumping Owners Club, was pleased with the success of Luigi Baleri for the 2018-season. "The Jumping Owners Club is proud to highlight the importance of owners in equestrian sports. To achieve such consistent results shows the quality of Luigi Baleri's choices over time in terms of horses and of riders and for that he is an example for horse owners around the world. As a member of the Jumping Owners Club, Luigi Baleri confirms its life long commitment to our sport."
"We are proud to share our support for this well-deserved recognition and congratulate this year's award winner Mr Luigi Baleri," FEI President Ingmar De Vos said. "Horses owners are instrumental in bringing equestrian people together and promoting and developing the sport. The breadth of expertise they share with their riders has proved to be invaluable, their contributions to help develop optimum strategies with their riders are clearly demonstrated in their accomplishments and their deep understanding of the horse industry are all reasons to be acknowledged and celebrated. We wish you continued success and also thank you for your commitment to this great sport."
The trophy, an original bronze sculpture representing a horse, was awarded to Mr Luigi Baleri by the JOC Vice Chairwoman, Mrs Robin Parsky, outside the Longines FEI European Championships, in the presence of Mr John Roche, Director of Jumping at the FEI, and the whole team surrounding Mr Baleri and his horses, including Martin Fuchs.