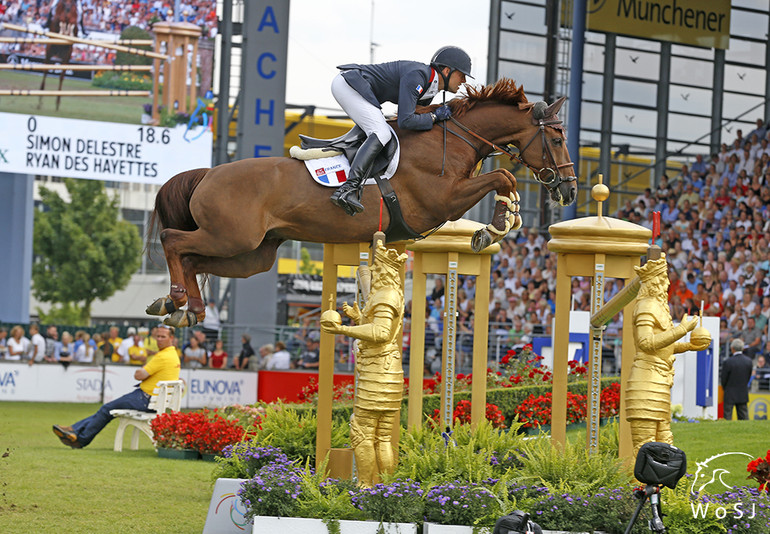 Simon Delestre and Hermès Ryan at the European Championships in Aachen 2015. Photo © Jenny Abrahamsson for World of Showjumping.
At the age of 17, Hermès Ryan will be retired from the sport, Simon Delestre announced today.
With Delestre in the saddle, Hermès Ryan (Hugo Gesmeray x Ryon d'Anzex) has had a long and successful career – which has lasted for more than a decade. The pair's first big win together came in Gothenburg in 2014, when they topped a CSI5*-W 1.50m class, and from there on the two went from strength to strength. In 2014, they topped the CSI5*-W 1.60m Masters in Lyon, and the year after they won the CSI5* 1.60m Grand Prix of Antwerp. Later that same year, the two were victorious in the CSI5*-W 1.60m FEI Jumping World Cup™ in Verona, and in 2017 they won the 1.60m World Cup in Lyon. In 2018, they won the CSI5* 1.60m Grand Prix Hermès in Paris, then in 2019 the CSI5*-W 1.60m Grand Prix in Amsterdam and a few months later they claimed another victory in the CSI5* 1.60m Grand Prix Hermès in Paris. The pair closed off 2019 with a victory in the CSI5* 1.60m Longines Grand Prix of Paris at the Longines Masters, before they in 2021 repeated their Longines FEI Jumping World Cup™ victory in Verona. In addition to countless other victories and podium finishes, the pair also took the individual bronze medal at the 2015 European Championships in Aachen. Last weekend, the two took their last of many, many wins, when topping the CSI5* 1.50m Trophée Casino de Monte-Carlo in Monaco, and now the French rider has made the decision to let the tiny chestnut gelding bow out while on top.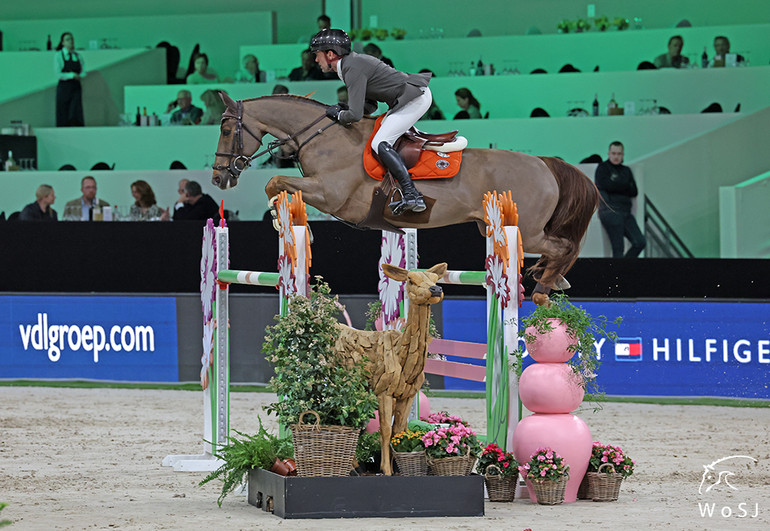 Simon Delestre and Hermès Ryan in Den Bosch earlier this year. Photo © Jenny Abrahamsson for World of Showjumping.
An announcement from Delestre on the retirement reads (unofficial translation):
"It's hard to find the best moment, but seeing you leave the international stage with a last victory makes me happy.
Thank you is the first word that comes to mind for everything you have made me experience. Your desire, your energy, your talent, the trust you've placed in me, has been flawless.
Words fail no matter what. It's time for you, after one last Marseillaise played in your honour this weekend, to retire from the sport.
It is very difficult for me to imagine the competitions without you, you who have followed me for 12 years, including 9 at high level. There will always be an emptiness, a lack of having you by my side, you who were able to overcome any situation with your extraordinary talent.
What a luck for a rider to one day cross paths with a genius like you!
You will have marked minds, both with your personality and your talent. The jumping world will long remember your atypical story and your countless performances.
I would like to thank my entire team, my family, my wife, my co-owners and everyone who had the opportunity to work with Hermès Ryan, we lived through some difficult situations at times, but the ending was always happy. I would also like to honour the unquestionable competence of my groom Audrey, always taking good care of our horse, that of his osteopath Nicolas, his blacksmith Christian and his veterinarian Jerome. Thanks to everyone's involvement, as a 17-year-old horse, Ryan still has the physique, and the moral of steel!
You are and will remain my friend, my soulmate, my partner. You have lived with our family through all the different stages of my life that led me to who I am today.
We will throw you a great party so everyone can celebrate, once again, how talented you are and relive your best performances.
In the meantime, you will stay at the stables to be pampered, before adjusting to your new life in the field.
Simon"
At World of Showjumping, we wish Ryan a happy retirement!