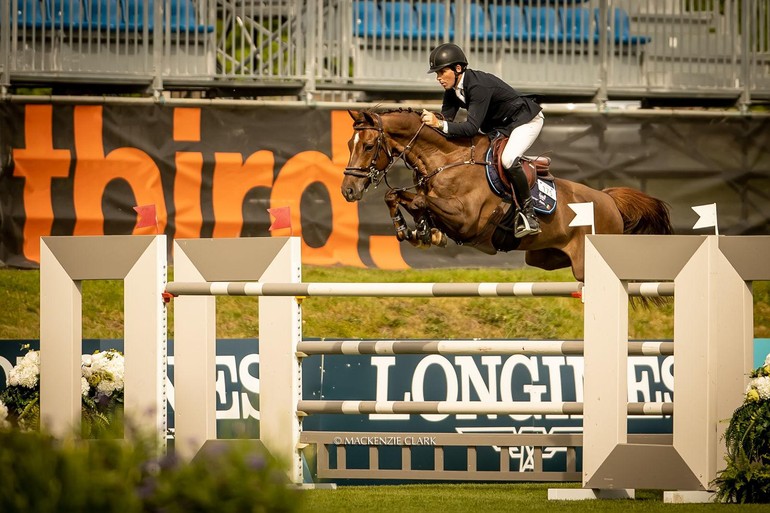 Conor Swail's Theo 160 (Christian 25 x Calando IV), bred by Jenny Abrahamsson, continues to top the WBFSH Breeders Ranking for 2023. Photo © Mackenzie Clark.
Text © World of Showjumping
---
Conor Swail's Theo 160 (Christian 25 x Calando IV) tops the 2023 WBFSH Breeder Ranking for the second month in a row. The 11-year-old Holsteiner gelding is bred by World of Showjumping's very own co-founder and photographer Jenny Abrahamsson, and tops the ranking with a total of 1163 points. The ranking includes results for the period from 1 October 2022 to 31 May 2023.
Julien Epaillard's Donatello D'Auge (Jarnac x Hello Pierville) – bred by his wife Susana Epaillard Garcia Cereceda – is up from rank four to two with 1111 points, tied with David Will's My Prins van Dorperheide (Zilverstar T x Winningmood) – bred by Stoeterij Dorperheide – who also was second on last month's ranking. Just like last month, Arkuga (Arko III x Heartbreaker) – bred by John and Laura Renwick, and recently sold to Canada after being successful with James Smith – is rank four with 1065 points. Kent Farrington's Landon (born Crack de Nyze Z, Comilfo Plus Z x Quadrillo) – bred by Danny Nijs – stays as rank five on 964 points.
The Breeder Rankings are published monthly from the April extraction cycle onwards. At the end of the cycle, the breeder of the horse with the most points in each discipline is crowned WBFSH Breeder of the Year for each respective discipline. The top breeders are celebrated during the Longines WBFSH Breeder Awards.
For the studbooks, BWP still leads the way on 4968 points, with My Prins van Dorperheide, King Edward (Edward x Feo, bred by Wim Impens) and Kalinka van't Zorgvliet (Thunder vd Zuuthoeve x Flipper d'Elle, bred by André Braeckeveldt) leading the way. The Holsteiner Verband goes up from rank three to two, with a total of 4933 points – with Theo 160, Zaccorado Blue (Zirocco Blue VDL x Acorado I, bred by Tanja Schramm) and Darc de Lux (Darco x Contender, bred by Morten Augustinus) as their best three horses. Stud Book du Cheval Selle Français drops from rank two to three with their 4855 points, with Donatello D'Auge, Bibici (Norman Pre Noir x Nelfo Du Mesnil, bred by Daniel Millet) and Cayman Jolly Jumper (Hickstead x Quaprice Bois Margot, bred by Nathalie Chevalier) as their top three ambassadors.