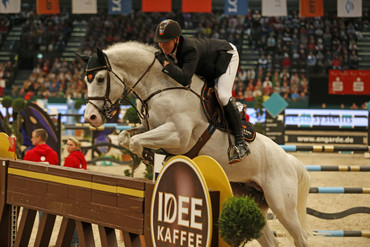 David Will climbs 13 spots on the latest Longines ranking. Photo (c) Jenny Abrahamsson.
With the latest Longines Ranking out, let's look at its biggest movers and shakers within the top 100.
Edwina Tops-Alexander (AUS) had a good month, and climbs ten spots from rank 29 to 19. Christian Ahlmann (GER) is up eight spots to rank 20, following the Australian rider. Simon Delestre (FRA) goes from rank 30 to 22, and Bassem Hassan Mohammed (QAT) from rank 38 to 30. Bassem's compatriot Sheik Ali Bin Khalid Al Thani also moves upwards, from rank 41 to 33. Hansi Dreher (GER) is up from rank 43 to 36, Harrie Smolders (NED) from rank 46 to 39.
Another Dutch rider climbing is Wout-Jan van der Schans who goes from rank 66 to 59, Jos Verlooy (BEL) goes from rank 77 to 64, and then Lorenzo de Luca (ITA) from rank 88 to 73. Jumping from rank 79 to 66 is Hagen Grand Prix winner David Will (GER), while Douglas Lindelöw (SWE) goes up from rank 74 to 68. Another Italian rider climbing after a good April is Piergiorgio Bucci who goes from rank 89 to 75, Yann Candele (CAN) jumps from rank 83 to 78, while Jerome Hurel's performances for France takes him from rank 97 to 82. Going from rank 96 to 89 is Todd Minikus (USA), while Omer Karaveli (TUR) goes into the top 100 from rank 103 to 95 as does Niels Bruynseels (BEL) who after a great weekend at CSIO5* Lummen climbs from rank 119 to 100.