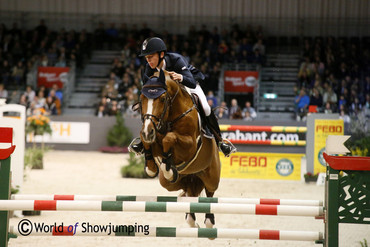 Bertram Allen with Romanov. Photo (c) Jenny Abrahamsson.
Ireland's 19 year old Bertram Allen pulled off yet another big win on Sunday, when he went to the top in the three star Dortmund Grand Prix on Romanov (Heartbreaker x Fedor). Up against an international field mostly made up of older riders and younger horses, Allen broke through the 50-strong startlist to become one of just seven combinations moving on to the jump-off.

A second faultless round, coming home with half a second in hand over German runner-up Mario Stevens and Brooklyn (Balou du Rouet x Arpeggio), saw Allen collect not just the trophy of the Grand Prix of the Federal Republic of Germany, but also the white Mitsubishi car that went with it. Third place went to another home rider; Jörg Oppermann on Che Guevara (Concept x Rebel Z I),

Afterwards Allen said: "I'm very lucky to have such a great team of horses, and to see Romanov win here today at the age of 17 is just marvellous."

Allen, who is now based in the west of Germany, also paid tribute to his German trainer Marcus Ehning. However, the teacher is now in danger of being overtaken by his pupil, as with today's ranking points added to his tally, the Irish rider might shortly break into the top ten of the world's show jumping ranking, where Ehning is currently ranked at number nine. Allen jumped three places in last month's Longines table to hover just outside the top ten at number eleven, and another success like Dortmund will almost certainly propel him into the elite rank by the end of March.
Source: Press release from Horse Sport Ireland