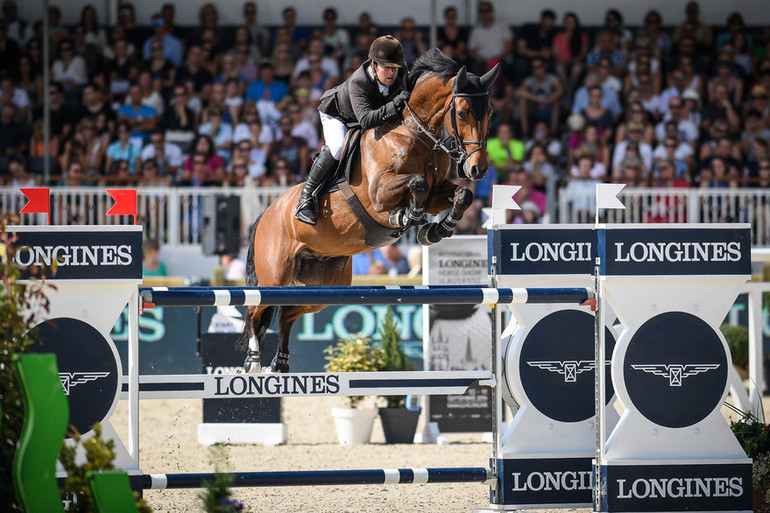 Robert Whitaker and Catwalk IV won the Longines Grand Prix of Lausanne. Photo (c) Longines Public Relations.
The Brits wiped out the competition in Sunday's CSI5* Longines Grand Prix of Lausanne, with Robert Whitaker and Catwalk IV leading the way.
The thirteen best riders after the first round moved on to the second one. Only three riders managed to produce clear rounds over the opening track; Timothee Anciaume (FRA), Patrice Delaveau (FRA) and Douglas Lindelöw (SWE). These three riders were joined by four riders on one single time penalty, and six of the fastest ones on with one rail down.
However, it would turn out that there would no double clears in this 1.60m Grand Prix. Robert and the 13-year-old stallion by Colman x Corleone was the best combination with a single time fault picked up over the first round track, and then going clear in the second to finish on one penalty in total.
Whitaker's compatriot Emma O'Dwyer on the 10-year-old gelding HHS Figero (Guidam x Cavalier Royale) also went over the time allowed, but both in the first and the second round to record three penalties in total. However, it was still good enough for the second place as none of those clear in the first round managed to repeat their performances in round two.
William Funnell was the third British rider on the podium, riding the 15-year-old stallion Billy Congo (Vechta x Animo Elite). With four faults from the first round, followed by a fast clear in round two – Funnell completed the British podium in this 270 000 Euro Grand Prix.
Douglas Lindelöw had to see a pole fall in the second round, to finish fourth with Zacramento (Cardento x Cortus). Fifth place went to a home rider; Romain Duguet and the Kannan-mare Quorida de Treho recorded five penalties in total.
---
Text © World of Showjumping // Picture © Longines Public Relations