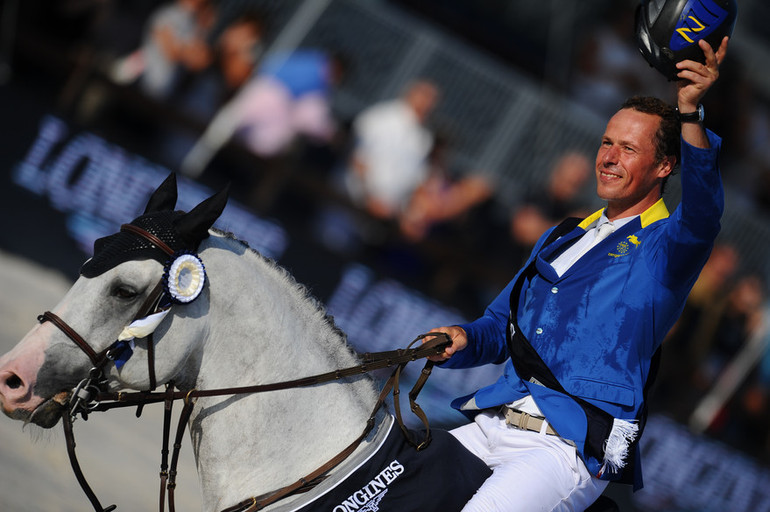 Christian Ahlmann and Caribis Z won the €300.000 Longines Grand Prix of Saint-Tropez. Photo (c) Marco Villanti/LAOHS.
It was Christian Ahlmann (GER) and the 10-year-old Zangersheide stallion Caribis Z (Caritano x Canabis Z) that won Saturday's Longines Grand Prix at the 2017 edition of the Longines Athina Onassis Horse Show in Saint-Tropez.
The Grand Prix turned into a difficult competition, with only six horse-and-rider combinations out of the 38 entered jumping clear over the 1.60m track set by Uliano Vezzani (ITA). The course consisted of thirteen fences, and included a combination at 4ab and a triple combination at 9abc.
"It was in general a tough class. We had faults everywhere, on the line with the double it was a lot of faults same with the triple. In general I must say it was big, but it was fair and we had faults everywhere. I did not expect such a tough course like this, because we only had 38 starters. But, we had to jump for the money today," said Ahlmann after the competition.
In the end, it was Jerome Guery (BEL) on Garfield of Tiji (Quasimodo Z x Goldspring de Lauzelle), Peder Fredricson (SWE) on H&M Christian K (Namelus R x Calvados), Christian Ahlmann (GER) on Caribis Z, Piergiorgio Bucci (ITA) on Bohemian Rhapsody (Balourado x Landjonker), Alberto Zorzi (ITA) on Rackham'Jo (Diamant de Semilly x Alcamera de Moyon) and Kevin Staut (FRA) on Reveur de Hurtebise HDC (Kashmir van Schuttershof x Capricieux Des 6 Censes) that joined the jump-off.
As first to go, Guery set the time to beat at 37.36 seconds and put some serious pressure on those to come. On his relatively inexperienced 10-year-old gelding H & M Christian K, Fredricson went for a steady clear without too much risk stopping the clock at 39.82 seconds.
As next to go, Christian Ahlmann – second in last year's Longines Grand Prix behind John Whitaker – went all in, saving a lot of time with a tight turn into the double and then an even tighter one to the following vertical before he raced down the two last stretches to take over the lead in 36.43 seconds.
Piergiorgio Bucci gave it a real go, but the risk had its costs and the Italian rider made his exit on nine penalties. Bucci's compatriot Alberto Zorzi had more luck however, and started off quiet before he picked up the pace on Rackham'Jo to cross the finish line in 37.77 seconds and slotting into third.
As last to go, Kevin Staut could have secured another home win – but it was not to be. A mistake in the double, left the French crowd favourite in fifth place and the victory with Ahlmann.
"It was amazing," said Ahlmann of his win afterwards. "Carabis Z did more than a great job. It was a tough class today, with only six clears. Especially in the jump-off he really was fighting, and he showed how good he is and how much quality he has."
"It was our day today, so we are really happy!"
---
Text © World of Showjumping // Picture © Marco Villanti/LAOHS