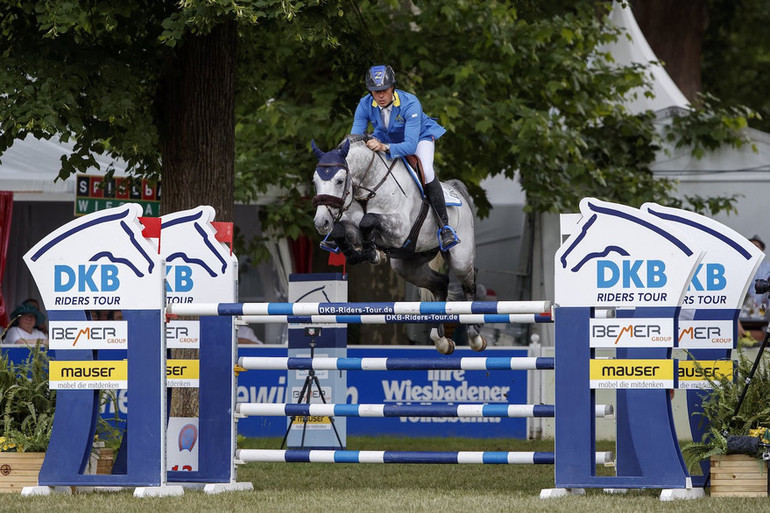 Christian Ahlmann and Clintrexo Z won the DKB-Riders Tour Grand Prix of Wiesbaden. Photo (c) Stefan Lafrentz.
For the first time in his career, Germany's own Christian Ahlmann won the Grand Prix of the City Wiesbaden – also the third leg of the DKB-Riders Tour. With a time of 45.84 seconds aboard the 9-year-old stallion Clintrexo Z (Clintissimo x Rex Z), the stallion did his job fault-free in round two of this 1.60m CSI4* Grand Prix and somewhat managed to surprise his rider. "He has improved a lot from Hamburg to Wiesbaden. That he would do it all so nicely, even with such a fast tempo and such risks in the jump-off – I did not expect," said a visibly satisfied winner. "I risked it. Therefore, it feels even better that he can do it so well, and helps me in that."
"I love to ride in Germany," said runner-up Sergio Alvarez Moya. "I love the enthusiasm of the audience, Germany is a horse country. And besides, I have many friends here – a German girlfriend even." Aboard the 9-year-old Luchino (Lucciano x breeding unknown), the Spanish rider clocked a time of 46.82 seconds in the jump-off after also being one of the seven clear riders in the first round that were joined by another five with faults for the second round against the clock.
Wilm Vermeir from Belgium finished third with Dm Jacqmotte (Toulon x Indoctro), with a time of 46.89 seconds in the jump-off. "In Belgium, we rarely have so many visitors at the shows, this is very nice," said Vermeir. "I do not ride the Global Tour, but I want to jump at the good events. Finally I have two very good horses. I would like to come to Münster," said the Belgian rider referring to the next stage of the Tour.
Austria's Max Kühner finished fourth on Alfa Jordan (Air Jordan x Lancelot), while Germany's Elisabeth Meyer was fifth on Monodie H (Carthago x Zeus).
Together with Ahlmann, Denis Nielsen and Matthew Sampson lead the DKB-Riders Tour after three legs are completed.
---
Source: Press release from the DKB-Riders Tour // Picture © Stefan Lafrentz