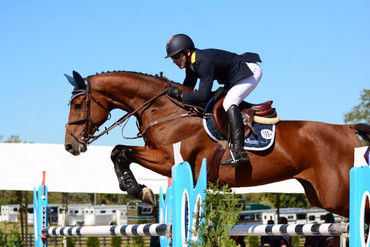 Ilan Bluman and Ladriano Z. Photo (c) SEL Photography.
On the same weekend that Colombian President Juan Manuel Santos was awarded the Nobel Peace Prize, countrymen and cousins Ilan and Daniel Bluman took first and second place respectively in the $130,000 CSI3* Grand Prix presented by Split Rock Farm during the Split Rock Jumping Tour's Bourbon International.
The Grand Prix saw 33 horse-and-rider combinations start over a course designed by Oscar Soberon, Dallas, TX. After the first round there were seven who had qualified to compete in the jump-off.
Richie Moloney of Ireland, riding Equinimity LLC's Slieveanorra was the first to return. Moloney raced around the course in a time of 38.97 seconds but had a rail down for four faults. He was followed by fellow Irishman Daniel Coyle with Fortis Fortuna, owned by Susan and Ariel Grange. Fortis Fortuna took down two rails for eight faults. The next rider, Abigail McArdle, representing the US, and Adamo, from Plain Bay Sales LLC, took the field. They would also incur eight faults. Ali Wolff and Casall, owned by Blacklick Bend Farm, followed with a score of four faults, in a time of 39.19 seconds.
Daniel Bluman and his Bacara D'Archonfosse entered the ring with a different plan. His jump-off round was slow and precise and the plan worked. The pair turned in a fault-free performance in a sedate time of 47.43 seconds.
Ilan Bluman was just as precise with his round but stepped up the pace. His mount, Ladriano Z, owned by Blue Star Investments, answered the call with a clear round in 40.43 seconds.
That left only Freddie Vazquez of Puerto Rico, and Messenger Hill's Bachelor 4 as a threat to the Blumans' grip on the top awards. Vazquez was not up to the task as Bachelor 4 took down a rail for four faults in 40.78 seconds.
"I don't know what to say, I am just really excited," said Ilan Bluman after the prize giving. "This is my second FEI ranked win. I have been working for that for almost five years. I am really happy with my horse, he is amazing. I got him when he was six and he is now only eight, so he is really young. I like him so much. I think he likes me too so it is a really good thing. I had the same plan that I had two days ago. I wanted to go clear. The riders before me had one down, two down, so I wanted the clear but I wanted a little bit faster than Daniel. So that was my plan."
When asked about stealing the win from his cousin Daniel, Bluman stated that "If I win, he wins and if he wins, I win", a very diplomatic answer and one that guarantees a peaceful barn."
The Fist Pump Award, a signature element at the Split Rock Jumping Tour and the Bourbon International CSI3* was a tie this year. EquiThrive, sponsor of the award for athletes showing the most enthusiastic expression of their extraordinary accomplishments, decided to award the $500.00 check to two riders who both demonstrated the signature move. This year the recipients of the Fist Pump Award were Ilan Bluman and Bryan Dietz.
---
Source: Press release from Classic Communications // Picture © SEL Photography