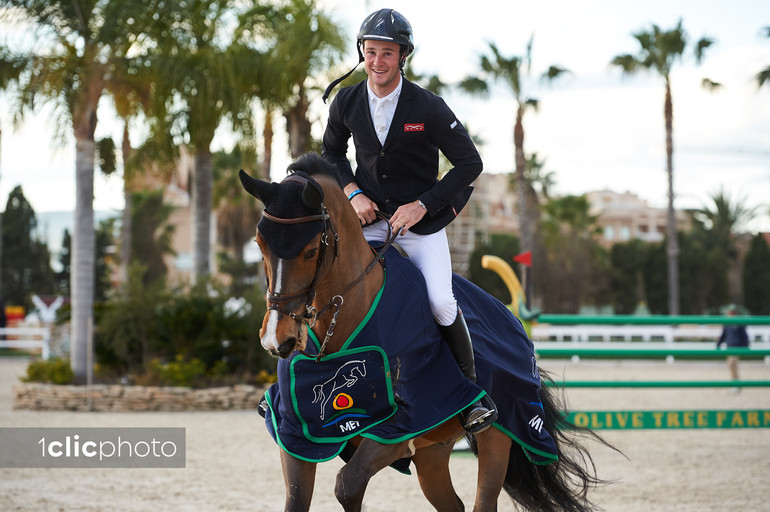 Constant Van Paesschen and Isidoor van de Helle won Sunday's CSI2* Grand Prix presented by Oliva Nova Beach & Golf Resort at the Spring MET 2020. Photo © Hervé Bonnaud / www.1clicphoto.com.
Press release from the Mediterranean Equestrian Tour
---
With only five to go in the jump-off, Constant Van Paesschen (BEL) and Isidoor van de Helle (Canturo x Qredo de Paulstra) snatched the win in Sunday's CSI2* Grand Prix presented by Oliva Nova Beach & Golf Resort after a lightning fast round. This was the pair's second win in two days at the Spring MET I, as they also took the top honours in Saturday's world ranking class.
There was no time to waste in today's jump-off, as no less than 28 of the 75 horse-and-rider combinations in the Grand Prix delivered clear rounds over Elio Travagliati's 1.45m first-round track. "I think the class was super built," Van Paesschen commented. "The time could perhaps have been a bit tighter, but there was not much else to be done differently. We have great riders here and they have also brought some of their best horses, so that makes it really difficult to build."
Twelfth in the ring against the clock, Matthew Sampson (GBR) was the first to bring the time down under 32 seconds as he crossed the finish line in 31.77 aboard Geneve R (Eldorado Vd Zeshoek x Berlin). At this stage, Sampson's time looked hard to beat – but two pairs to come would prove to be able to do just that.
Three riders later, Margaux Rocuet (FRA) produced an incredible round with Trafalgar Kervec (Quaprice Bois Margot x Diamant de Semilly) – shaving the time to beat down to 31.67 seconds, giving her 13-year-old gelding a big hug after crossing the finish line.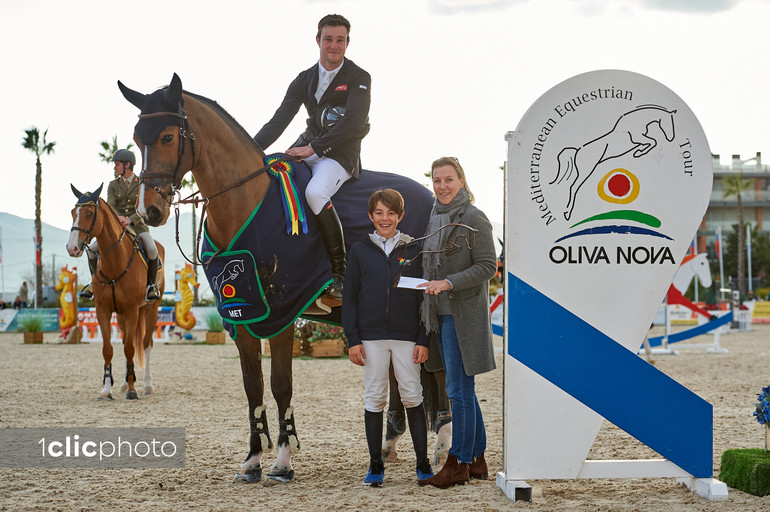 The happy winners: Constant Van Paesschen and Isidoor van de Helle. Photo © Hervé Bonnaud / www.1clicphoto.com.
While Alberto Zorzi (ITA) got close with Vauban du Trio (Nervoso x Desir du Chateau), it was not enough and he slotted in behind Rocuet and Sampson. The same went for Marlon Modolo Zanotelli (BRA) and Luigi d'Eclipse (Catoki x Calato), who with their 32.30 seconds had to settle in after Zorzi.
Coming in next, Van Paesschen went for the only option: All or nothing – snatching the win from Rocuet by 0.21 seconds. "I went flat out," Van Paesschen laughed. "I was advised to go on seven and then four strides on the opening line. My horse has a big stride, so I went for that option – however, the seven turned out to be quite long but we got there! I also took one stride out on the next line – only two other riders did that – and then it was seven long down to the last. I just prayed it would stay up!"
"Not many two-star shows has a similar line-up of horses and riders that we see here for Spring MET I. In my opinion, it is a real compliment to the organising committee here – it confirms this is one of the best tours in the world," Van Paescchen commented on the star-studded field of competitors for Sunday's Grand Prix.
"I am really happy with my horse," the Belgian rider continued. "I have had him since he was eight, and I think he really trusts me by now – I can ask him almost everything despite the fact that he is blind on his right eye. I think he knows he is one of my favourites, so he gives that little extra!"
"We almost parted ways when I stopped riding for his previous owner, but luckily we found an agreement and could secure him for me – so it all worked out!" Van Paesschen smiled.
Spring MET I continues with another week of competition, concluding with a CSI3* Grand Prix on Sunday 2nd of February.