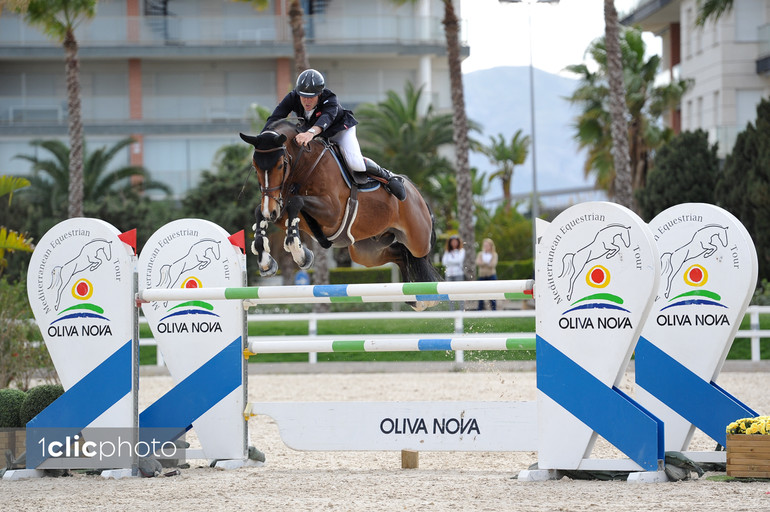 Constant Van Paesschen closes off Spring MET II with a win in the CSI3* Grand Prix presented by Oliva Nova Beach & Golf Resort. Photo © Hervé Bonnaud / www.1clicphoto.com.
Press release from the Mediterranean Equestrian Tour
---
Constant Van Paesschen (BEL) and Isidoor van de Helle (Canturo x Qredo de Paulstra) made the most out of the last day at Spring MET II 2020, when taking the top honours in Sunday's CSI3* 1.50m Grand Prix presented by Oliva Nova Beach & Golf Resort.
Only five of the 56 riders in the Grand Prix managed to answer all the questions asked by course designer Frank Rothenberger (GER), who had set a tough thirteen-fence track that included open water, a double as well as a triple combination towards the very end. Many fell victim to the time-allowed; seven horse-and-rider combinations managed to leave the fences intact but crossed the finish line on the wrong side of the clock. "The time-allowed definitely played a part today, as it was a little short," Van Paesschen said. "As to the course, it was very well built and had some delicate lines. The last line asked the horses to really give an effort, with the triple combination placed close to the audience and The Club."
First out of the five riders in the jump-off, was Karline De Brabander (BEL) on Fantomas de Muze (Sandro Boy x For Pleasure). However, an unfortunate misunderstanding on the last fence cost the pair a clear round. As next in the ring, Kathrin Müller (GER) on Conan 44 (Con Sherry x Kolibri) set the time to beat at 44.43 seconds followed by Ruben Romp (NED) on Bugatty GO (Concorde x Numero Uno) that finished on four faults. Now it was down to Nicolas Delmotte (FRA) and Urvoso du Roch (Nervoso x Grand d'Escla). The French rider did not disappoint, and delivered yet another beautiful round to take over the lead in 42.99 seconds.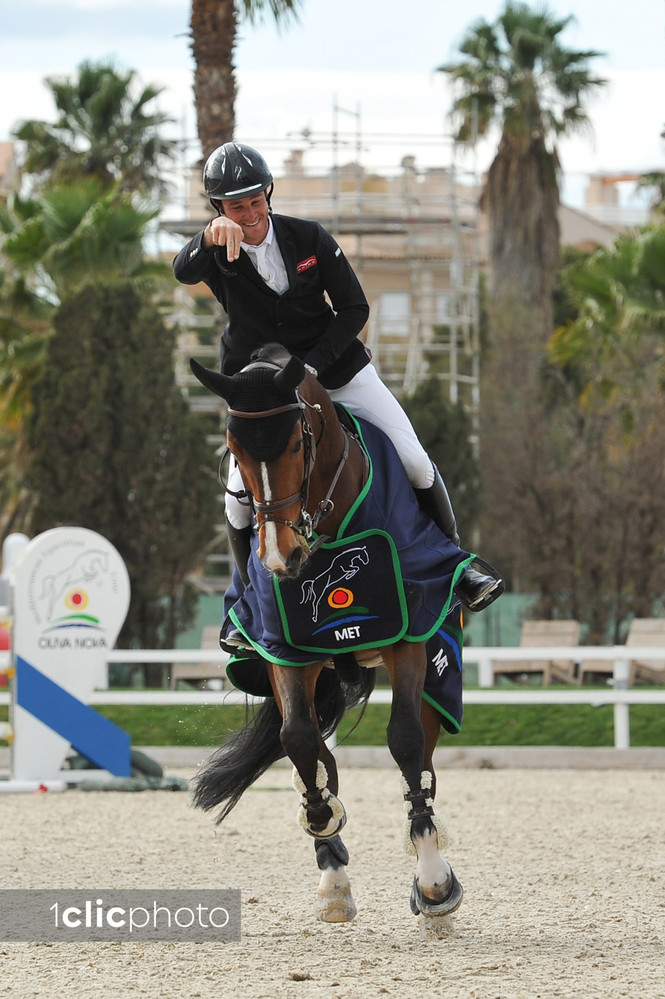 Constant Van Paesschen and Isidoor van de Helle celebrate their win. Photo © Hervé Bonnaud / www.1clicphoto.com.
As last to go Constant Van Paesschen and Isidoor van de Helle took advantage of their position, and without taking too much risk the pair cruised around to a time of 42.75 seconds to take their second Grand Prix victory of the Spring MET 2020-season.
"I did not watch the three first riders, as I was getting ready," Van Paesschen said. "However, when I was walking down to do my jump-off I saw that it was only one clear. Nicolas was right before me, and he did not go too fast so I thought I would give it a go. However, in the first Grand Prix of Spring MET II I had the last fence down in the jump-off and I did not want that to happen again. My horse jumped amazing though, he always tries so hard – and today it was enough for the win. It was a nice revenge after that rail in week one's Grand Prix."
"My horse owner Amandine Wittouck was also here today, which made the win extra special," Van Paesschen added.
"When you can end a tour like this, it's always a great feeling!" Van Paesschen smiled. "After my six weeks here in Oliva, I am where I was hoping to be with my horses. Isidoor feels amazing and all my horses are in great shape. I feel like I am on the right way for the rest of 2020. But before we continue my horses will get a well-deserved break!"
The Spring MET 2020 will be back on March 10th with the third part of the tour that runs until March 29.