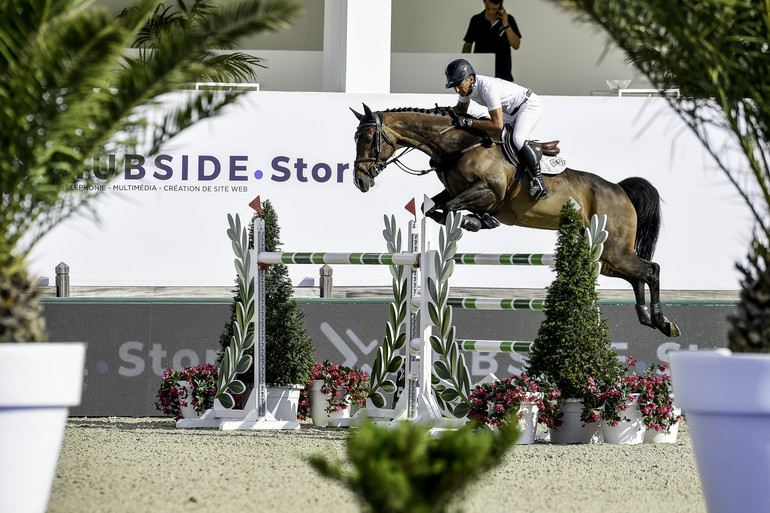 Thierry Rozier and Star won Thursday's biggest class at Hubside Jumping in Grimaud. Photo © Marco Villanti for Hubside Jumping.
It was a French trio on top in Thursday's feature class at Jumping Hubside in Grimaud, France – a CSI5* 1.50m competition against a clock.
Fastest of all were Thierry Rozier and Star (Singulord Jot, Oes x Caretino) – already familiar with the winner's circle at Hubside Jumping – that raced to the win with a clear round in 59.44 seconds. Following in runner-up position was Mathieu Billot on Apache de Liam (Ogano Sitte x Hildon Urleven Pironnière) in 60.28 seconds. Julien Anquetin with Blood Diamond du Pont (Diamant de Semilly x Arpege Pierreville*HN) and Simon Delestre with Chesall Zimequest (Casall x Concerto II) tied in third after they clocked a time of 62.41. Austria's Max Kühner was the one to break up the French domination when finishing fifth with Vancouver Dreams (Valentino x Stakkato) in 62.56 seconds.
"Thursday is my day!" Rozier laughed after taking another win in Grimaud. "The great thing about Star is that when we go in the ring, I know we can try anything. I'm very lucky because she is naturally very fast and careful."
"Star is really amazing! I try to take advantage of these good times because the competition season is a bit complicated this year. Fortunately, we can count on organizers like Sadri Fegaier. I really want to thank Sadri for all he does for our sport. This weekend we also have a set of riders worthy of a championship! Winning in front of all these great riders is always a little something extra for me!" the happy winner concluded.
Earlier in the day, Germany's Christian Kukuk won the 1.45m class aboard Botaro (Balou du Rouet x Gralshueter). Kukuk left home riders Julien Epaillard and Roger Yves Bost behind him in second and third.