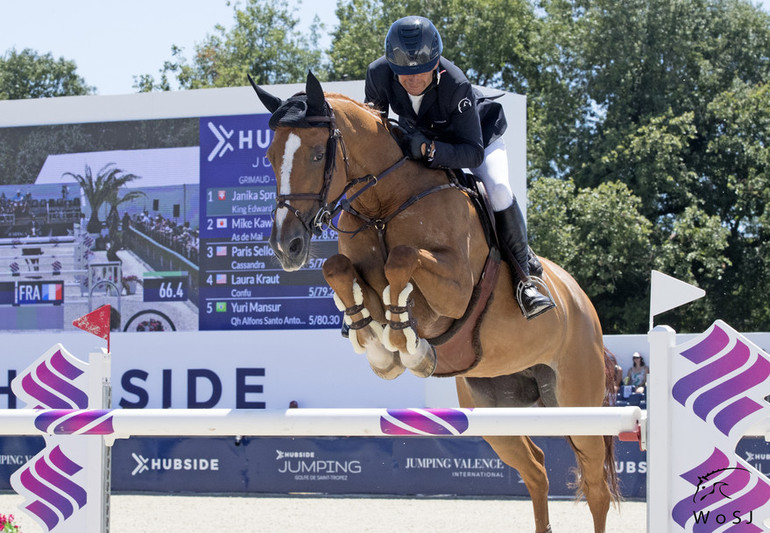 Venezia d'Ecaussinnes with Thierry Rozier in the saddle. Photo © Jenny Abrahamsson for World of Showjumping.
Thierry Rozier has announced that his top horse Venezia d'Ecaussinnes (Kashmir van Schuttershof x Lys de Darmen) will be retired from the sport, at the age of 15. On his Instagram profile, the French rider writes: "Venezia will take part in the final competition of her athletic career at the Hubside Jumping. Venezia gave me access to the highest level, the best deadlines. Venezia gave me everything during these years, and it is out of respect for her that her owner and I decided to put an end to her career. She deserves to retire in top shape to make us beautiful foals. Thanks Venezia."
With Rozier in the saddle, Venezia d'Ecaussinnes recorded wins at venues such as Cagnes-sur-Mer, Gorla Minore, Knokke and Le Touquet, as well as podium finishes in big classes in Lausanne, Paris, St. Tropez and Valence. In 2018, the pair was travelling reserve for the French team for the World Equestrian Games in Tryon, USA.
Earlier this week, Rozier also announced that his 11-year-old success mare Star (Singulord Joter x Caretino) has been sold to Japan's Mike Kawai.
At World of Showjumping, we wish Venezia a happy retirement!